What Happens When You Quit Smoking
Quitting smoking is difficult for anyone and there are a number of ways you can do it and you can support your loved one quit, Stoptober is the best time to quit smoking, as there are a number of amazing tips, resources and you'll have a whole community of people doing it at the exact same time as you all battling smoking cessation.
One of the best ways to encourage you to quit smoking and to keep it that way is to know the facts, so we wanted to let you know exactly what happens to your body once you finally quit smoking for good, and how quitting smoking can have some really crucial health benefits, from decreasing your chances of lung cancer, increasing lung function, lowering your blood pressure, and decreasing your chances or coronary heart disease or having a heart attack.
Here's what happens to your body once you quit: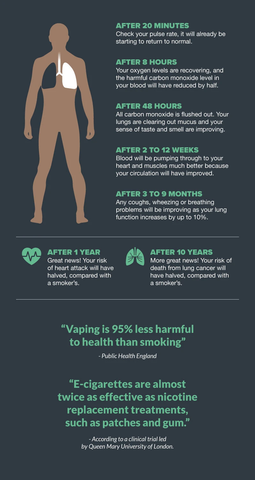 If you're looking to quit, we recommend using a low powered pod kit, or vape pen combined with nicotine salt e-liquids, or a disposable vape kit.