Vaporesso Luxe XR Vape Kit Review
Come and see the latest sub-ohm kit manufactured by Vaporesso - Vaporesso Luxe XR Vape Kit. It has a similar appearance to the Vaporesso LUXE X Vape Kit which features a futuristic and mechanical design and build, what's more, Vaporesso Luxe XR Vape Kit also has a transparent body and pod which allow you to see the e-liquid remaining and the circuit board of the device clearly. Vaporesso Luxe XR is a compact and powerful vape kit which can deliver smooth MTL vaping and warmly cloudy DTL vaping. Let's see what can we expect from this small yet powerful vape kit.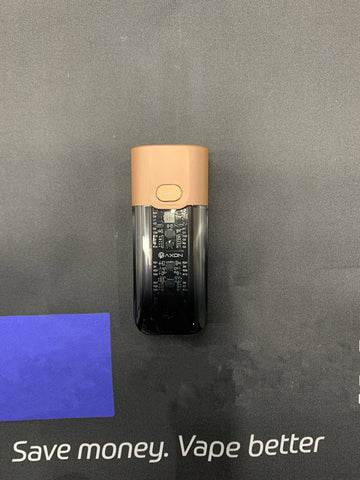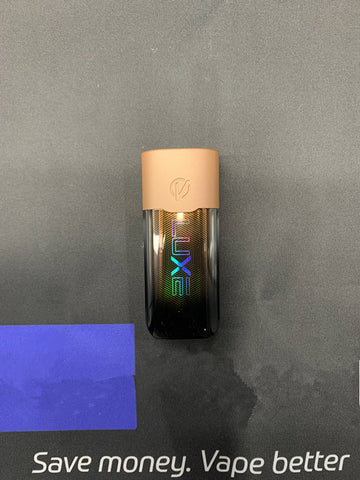 The Vaporesso Luxe XR Vape Kit in my hand is Gold, however, it is more like the colour of bronze. The appearance of the Vaporesso Luxe XR did not surprise me because it was so much similar to the Vaporesso LUXE X Vape Kit which I reviewed a couple of weeks ago. The same transparent visible circuit design, one button control, and the same coil resistance (0.4ohm and 0.8ohm), and both of them can stand firm on the table. On the front side of the Vaporesso Luxe XR sitting a button which can turn the device on / off and fire, you can clearly see the circuit board of the device through the transparent coating, and the AXON chip is on the centre of the circuit board; on the back side, you can see the classic "V" logo engraved on the metallic surface, a colourful spectrum can be seen in some particular angle, and the "LUXE" is written on the back of the device. And the Type-C fast charging port is on the bottom of the device. The Vaporesso Luxe XR offers a solid grip and mechanical design as a whole, I'd always love to pick it up and play with it for a while because the smooth texture and solid build make it comfortable for use.
"Say goodbye to uncertainty
I want my future to be clear and solid
Say goodbye to vapidity
I want my future to be flavorful and colorful" said the Vaporesso on the product Vaporesso LUXE series.
What's in the box?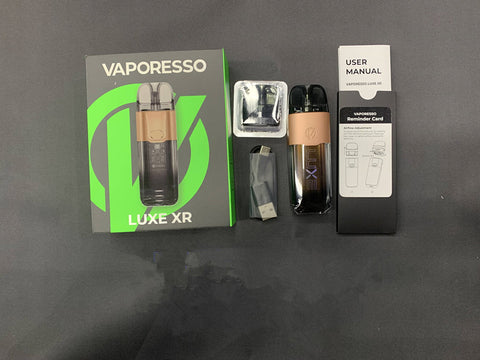 ·1 x Vaporesso Luxe X Battery
·1 x Vaporesso Luxe XR Pod(RDL)
·1 x Vaporesso Luxe XR Pod(MTL)
·1 x GTX 0.4ohm mesh coil
·1 x GTX 0.8ohm mesh coil
·1 x Type-C Cable
·1 x User Manual & Warranty Card
·1 x Reminder Card
The Vaporesso Luxe XR Vape Kit that I got was pre-installed with the Vaporesso Luxe XR Pod(RDL) and GTX 0.4ohm mesh coil, and the MTL pod and 0.8ohm mesh coil was wrapped in a single package.
Main Features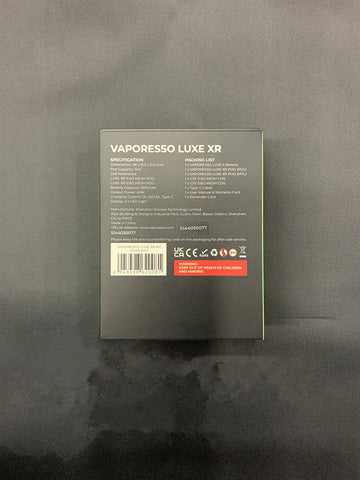 ·Compact sub-ohm pod kit
·MTL & DTL Vaping
·Mesh Coils
·Adjustable Airflow
·Fusion design of industrial style and futuristic
·Solid and clear triple coating on the device
·98 x 31.5 x 21.6 mm
·1500mAh Built-in Battery
·5W - 40W Output
·5ml/2ml(TPD)Pod Tank
·4ohm mesh coil pod
·8ohm mesh coil pod
·Charging Current: DC 5V/1.5A, Type-C
·Display: 3 x LED Lights
It is the first 40W pod system with non-replaceable coils from Vaporesso. The transparent body shows a futuristic style and sense of mechanical design. Supported by the COREX technology AXON chip, you can experience a surprisingly boosted flavour and bigger clouds from such a compact pod. The SSS leak-resistant technology with a built-in coil can ensure a simple vaping experience. LUXE XR is the most compact, simple and stylish pod system that can do DTL vaping. The Vaporesso Luxe XR is powered by a built-in 1500mAh battery, delivering 5W-40W output, and the Vaporesso Luxe XR pods are respectively pre-installed with 0.4ohm mesh coil and 0.8ohm mesh coil, bringing DTL vaping and MTL vaping. Thanks to the AXON Chip, it can automatically recognize pod resistance, so there is no set-up required when you switch to another pod.
The single-button design makes it easy to understand and use, and it is the same operation as the Luxe X does - You can turn it on/off the device by hitting the fire button five times and activate the device to vape by pressing the fire button. What's more, there are 3 LED lights hiding on the front side, the lights will glimmer when you press the button, otherwise, they will hide in the dark when not operating.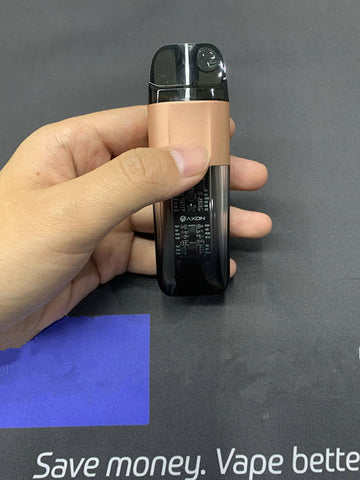 Performance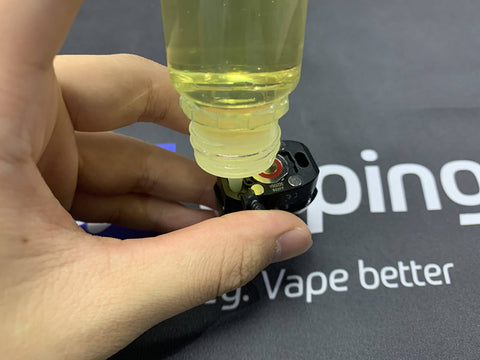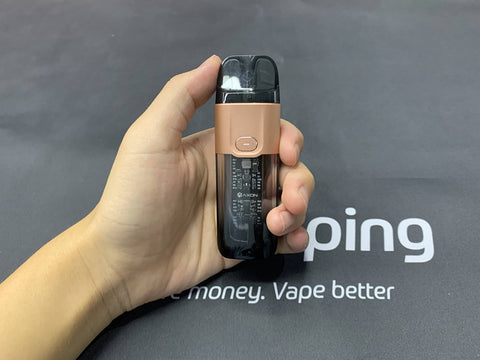 Since the Vaporesso Luxe XR Vape can do MTL and DTL, I used nic salt e-liquid and high VG e-liquid to test the flavour profile and vapour production. Firstly, I filled the 0.4ohm pod full with 70VG/30VG Dinner Lady e-liquid. Always remember to prime the coil before using a new pod - let the e-liquid fully soak the coil, and about 3-5 mins later, let's vape.
It was a very powerful device! The first puff I took was deep and long, I can feel the warmth of the vapour when inhaled yet the e-liquid featured an icy mixture, so a cooling sensation kicked back as I exhaled the big fluffy cloud. The earlier puffs were great! However, things went not so good as I took more puffs - there were condensates on the tube in the mouthpiece which made me cough for a while. Maybe I vaped too hard so I decided to go for an MTL vaping. I filled the 0.8ohm pod with 20mg nicotine strength of salt e-liquid, the thing was that you can get a good MTL vaping experience but in a relatively loose way - even if you horizontally switched the pod for a tighter inhale. And the flavour profile was well expressed.
It is rather simple to use this device:
Turn on/off: hit the fire button 5 times;
Activation: press the fire button to vape;
Pros and Cons
Pros
·Nice fusion design of futuristic and mechanical;
·Compact and powerful pod vape kit;
·Great texture, smooth and metallic surface;
·Powerful and consistent output;
·Simple operation and easy to use;
·Convenient and innovative airflow control(by horizontally flipping the pod);
·It CAN STAND FIRM on the table;
Cons
·Condensates often occur after taking some puffs which is not good for the vaping experience;
Verdict
The Vaporesso Luxe XR is no doubt a compact and powerful Vape Kit which can do MTL and DTL vaping, and it also features a nice appearance with a futuristic and mechanical design, the comfortable grip and solid build are a big plus. Although the condensates often appear after some continuous puffs, you can fix it by inhaling between intervals. If are looking for a compact yet powerful vape kit that can do MTL and DTL vaping, the Vaporesso Luxe XR vape kit is a good choice.