VAPORESSO LUXE XR MAX Review: The LUXE XR on Steroids!
Product intro and specs
The LUXE XR MAX is the latest AIO/pod system by VAPORESSO. VAPORESSO has been consistently making great products for quite some time now, so it should be a name every vaper is familiar with.
The LUXE XR MAX is an update to their recent LUXE XR, which I reviewed about half a year ago. It comes with a much larger battery (listed at 2800 mAh,) an 80-watt output, and takes pods that have a massive 5 mL capacity and are compatible with the LUXE X and XR. The pods take replaceable coils of the GTX line, powered by VAPORESSO's COREX coil tech.
Price: TBA (at Element Vape)
Colors: Black, gray, silver, blue, red, white, green
Specifications
·Dimensions: 106.5 mm x 32.1 mm x 26 mm
·Pod capacity: 5 mL/2 mL (TPD)
·Battery capacity: 2800 mAh
·Output power: 80 watts
·Charging current: DC 5V/2A Type-C
·Display: 0.54-inch OLED Screen / 2 x RGB LED light
Kit contents
·1 x VAPORESSO LUXE XR MAX battery
·1 x VAPORESSO LUXE XR pod (DTL)
·1 x VAPORESSO LUXE XR pod (MTL)
·1 x GTX 0.2-ohm mesh coil
·1 x GTX 0.4-ohm mesh coil
·1 x Type-C cable
·1 x Warranty card / manual
Build quality and design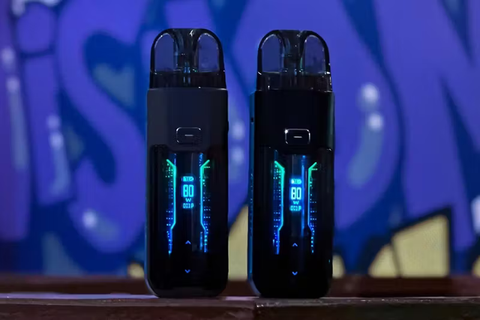 The LUXE XR MAX is a medium-sized rectangular pod that is larger than an MTL pod and more like a small vape mod. It is larger than a standard pod system due to the battery size and the high wattage output. It's got some weight to it and feels sturdy and durable.
The front panel features a see-through cover, so you can see the chip along with LED lights behind it. As a geek myself, I really like see-through cases. Unlike the previous version, the XR MAX colors are full-body, minus the front and back panels. They offer a total of seven colors. I got the gray, and the design really feels like a mixture of classic and modern.
There are three buttons on this device. There is the main physical button above the screen, which acts as a fire button, an on/off button, and a menu button. There are also up and down arrow touch buttons below the screen. The device is button activated, so there's no auto-draw activation.
The screen is a basic black and white rectangular screen with wattage, a puff counter, and a battery meter with percentage. All in all, it's a well-built and good-looking device.
Getting started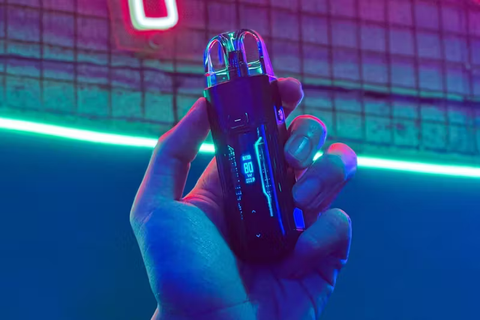 The LUXE XR MAX is a more advanced pod system built for DL vaping, but it can be used for MTL vaping with the MTL coils (which are not included in the package).
The basic usage is just five clicks of the fire button to turn on and off, four clicks to enter the menu, and three clicks to adjust the wattage. When in smart mode, it only lets you adjust the wattage within the recommended range of the coils.
There is an air slider on the side, so you can adjust from an MTL to a DL vape. My device only came with one pod (the XR DL pod,) but VAPORESSO lists the MTL pod in the kit contents as well. Hopefully, retail units will include it.
Filling the pod is easy. The pod itself is magnetic and just pops in and out with little effort.  It's not tight in there, but the magnets hold it in place well with no wiggle. Once the pod is out, there is a little black rubber plug on the bottom that you remove to expose the fill hole.
The pod is pretty much fully visible; it is, however, hard to see the juice level due to the dark tint. I really don't know why that's so common when clear pods are so much better for use. I get the looks, but not when it gets in the way of function.
Overall though, with the exception of the dark-tinted pods, I'm very happy with the usage of the device.
Performance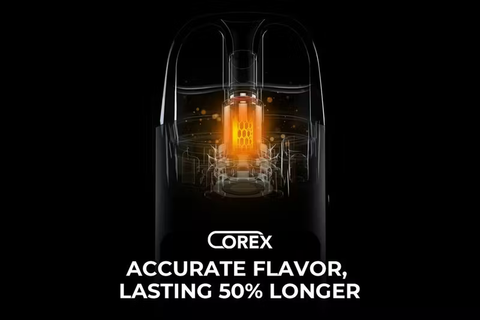 Coil performance is what really makes or breaks a device. I've reviewed quite a few devices in this line, so I have tried many coils, with the MTL coils working better for me. This device comes with two options, both for DL vaping. A 0.4-ohm coil, rated for 26-32 watts, and a 0.3-ohm coil, rated for 45-60 watts. Both are mesh coils.
I always feel like these low-power DL coils around 30 watts kind are in no man's land, but that's my personal preference. This power range doesn't pack enough punch to really be DL for me. If you like vaping at these wattages, the 0.3-ohm does a decent job at being a portable small DL vape.
Testing the 0.2-ohm coil, I found it performed best at around 55 watts. It provides solid flavor and coil life for a pre-made DL coil. Still, after using so many of these, I think the best vape on this line comes from the MTL pod with the 0.8 and 1.2-ohm mesh coils, which aren't included but are compatible.
Battery life and charging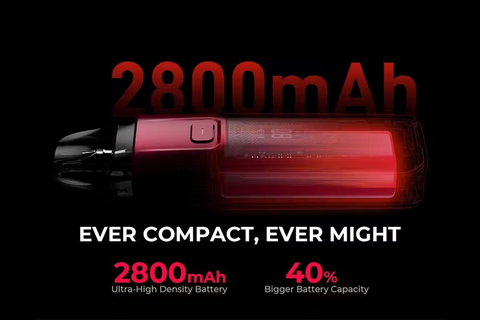 The XR MAX almost doubles the battery capacity of the XR. In MTL, it should be an all-day vape without having to charge for most people, but as a DL vape, you'll probably need to charge it during the day.
The internal battery is listed at 2800 mAh, and they list the charge rate at 2A. The charging port is USB-C, and it's located at the bottom of the device, so it has to lay down while charging. Not a big deal, but I prefer devices that can stand up while charging.
I tested their listed specs, and for the charge rate, I got a max of 1.47A. It is a little overrated–1.5A would have been more apt. For charge time, I got about 65 minutes, which is close to the category average since most of the faster ones charge in about an hour, give or take a few mins.
The usable battery is around 2400 mAh, so I consider it a bit overrated. However, to be fair across the board, most devices are rated about 20% higher than you actually get. This one is about 15%, so pretty average rating. It does have passthrough vaping as well.
The battery meter is on the screen and shows a percentage, and it also tells you how long until it's full when plugged in, which is really nice.
Pros / Cons
·Good build quality
·Lightweight and durable
·Small enough to be pocketable
·Refillable pods
·Good flavor from the 0.2-ohm coil
·Charges fast enough (65 minutes)
·Great capacity (5 mL)
·See through front panel makes it look awesome
·Easy to use and fill
·Passthrough vaping
·Seven color options
·Adjustable airflow
·Cross-compatible with the other LUXE pods and coils
·Pods are tinted too dark
·Battery is slightly overrated
·Charge rate overrated (1.47A)
Gallery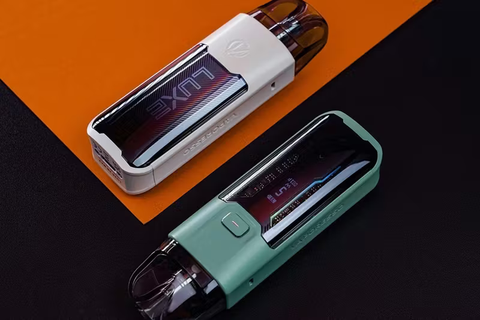 Verdict
Overall, VAPORESSO did a good job upgrading on their LUXE XR with the XR MAX. It's about double the battery size and has enough power to give a good DL vape, which makes it a good on-the-go device without being too big. It can also do a good MTL if you buy the MTL pod and coils for it. Another great device by VAPORESSO and a meaningful upgrade over the original.