VAPORESSO Invites Users to Connect This Valentine's Day
Press Release
SHENZHEN, Feb.14, /PRNewswire/ — VAPORESSO, the world-leading vaping brand, is launching a Valentine's Day campaign via its website to recommend the best gifts for the traditional lovers' festival while encouraging users to create shared memories between themselves and the brand.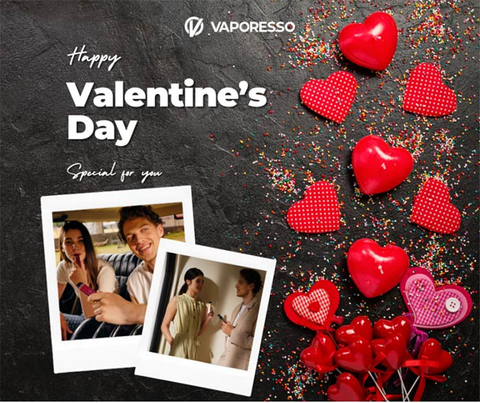 Since its inception in 2015, VAPORESSO has been dedicated to establishing a smoke-free world while raising the quality of life for its users. Based on its continuous innovation, strict quality control, and substantial commitment, VAPORESSO creates products that can fit all levels and styles of vapers.
In line with the BIG IDEA for the year 2023 – INNOVATE AT ONCE and its goal of creating the industry's number-one brand, VAPORESSO presents its unhesitating approach to innovation and fearlessness about the unknown future through the campaign.
"This Valentine's Day will be another perfect opportunity for VAPORESSO to connect with our millions of users. Adhering to the brand's DNA, cementing the company's commitment to innovation from product inception to design and device sales, we call on all its users to embrace the latest trends while remaining inclusive and adhering to their own style as a new era dawns in 2023,"
said Jimmy Hu, Vice President of VAPORESSO.
VAPORESSO's brand recommendations for Valentine's Day are the award-winning XROS 3 and 3 MINI products. Boasting a 1,000 mAh high-density battery, the XROS 3 has built up a reputation as one of the most reliable and robust vape products available on the market.
The vaping solution can run for 48 hours off a single charge. The product comes equipped with a neon indicator to let the user know straight away how much battery power is left, doubling down on comfort and practicality.
The XROS 3 also employs a sleek rounded design to make sure that the mouthpiece suits users' lips perfectly, booting their MTL (mouth to lung) experience comprehensively. The device is equipped with the company's innovative COREX Heating Tech for rapid and even heating, delivering good flavour and providing the most accurate flavour reproduction.
The company has sold over 40 million pieces from the XROS series since it launched in 2020. The XROS 3, the latest version of the series, has also taken home multiple awards to date thanks to its innovative and trendy design. Recent plaudits include a prestigious Red Dot Award in 2022 as well as numerous Muse Design Awards.