Vape Pods VS Mods & Tanks-Which of these vape setups are best for you?
Vape pods VS mods and tanks, which one is better? Can this even be answered? Either way, i'm going to look at both vape pods and mods/tanks to see how they stack up against each other!
Many vape brands are moving toward pod kits, but is this the right way forward? And can vape pods ever truly compete with the trusty mod & tank combo? Read on to find out more!
Vape Pods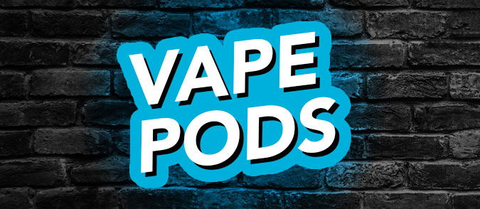 Around 5 or 6 years ago, some of the first true vape pods began to appear, with JUUL being a notable example. These kits pretty much had one aim at the time; to be as easy to use as possible.
At the time most pods were being produced by large scale companies like myblu and Vype. It did not take long for the other vape brands to join in however, and slowly we began to see other pod kits flood the market.
The landscape soon changed and now as of 2020 there are many different pods to choose from. Manufacturers are in some cases focusing much more on this type of kit, such as SMOK with its RPM series. Adding OLED screens with a variety of settings to choose from can provide the functionality of a mod, with the convenience of a pod.
The look and feel of vape pods has also improved since being debuted, particularly the vapour production which can not only rival some mods & tanks, but actually exceed them.
How do these kits really stack up to a traditional mod and tank though? And if you want a definitive vape experience, do you still need to have a separate battery and tank?
Vape Pod benefits
A vape pod has many benefits over mods & tanks. The most noticeable perk is easy maintenance and use, which makes a pod kit ideal for new vapers. Some have disposable tanks/coils so you can throw away the old one and simply replace with a new one to keep vaping.
Others have simple push fit coils that are quick to replace and mess free for the most part. This ease of use approach has seen many new vapers making the switch with pods instead of traditional e-cig kits, which isn't a bad thing! Yes, mod & tank combos also have push fit coils, but the overall ease of use helps pods pip the top spot in my opinion.
Vape pods are also compact and lightweight compared to some mod/tank combos, with most people finding them better to carry about.
Pod kits are also great to use with nic salts, perhaps the best kits around to gain the full benefit of this alternate liquid. Many seasoned vapers use pods with nic salts and a regular mod & tank with standard premixed juices.
Vape Pod Drawbacks
There are some drawbacks with pod kits, but it comes down to what type of vaper you are as to whether these bother you or not.
Battery life on pods tends to be quite weak compared to a mod & tank, especially dual 18650 mods. You can get some pod kits with larger batteries, but these are not as widespread.
Pods limit the option to use different coils and tanks. This is one area where mods & tanks really shine, since you can replace a tank for something completely different when needed; you can't do that with a pod!
A lot of vape pods are MTL (mouth to lung), although there are a few that cater to DL (direct lung) vapers. This lack of choice could be irritating to people who like to create large clouds of vapour. There are some vape pods that can produce serious clouds however, which just shows how far they have come.
Lastly, a lot of pods do not feature replaceable batteries. The SMOK RPM80 Pro and VOOPOO DRAG X are notable examples that do, but most do not. Having to wait to recharge can be a pain, as I like to rotate batteries so I always have a charged set ready to go.
Mods & Tanks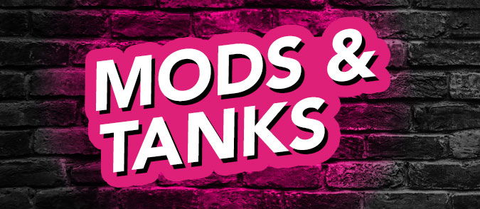 Mods & tanks offer vapers true freedom to choose what's best for them. This type of e-cig has been around for years, and is the most common setup used by vapers.
But is the mod/tank combo better than a vape pod? Or is this kind of setup beginning to show its age? Let's take a closer look.
Mods & Tanks Benefits
Mods & tanks are without question, the most versatile setups you could use. Different mod sizes are available and there is a tank for literally any vaper. Battery life can be as much or as little as you want, and the ability to customise vape settings is available for advanced vapers. Pods have customisable settings too, but nowhere near the level of freedom offered by a mod & tank combo.
Mods & tanks do not force you to use proprietary hardware (like pods), so if you need more powerful performance, you can replace the tank if needed. Some vapers will start off with a basic MTL tank, then simply buy one with sub-ohm capabilities to upgrade. This does depend on the mods power, but most can handle tank upgrades easily.
You can use virtually any vape liquid on a mod & tank combo. High VG is very well suited as vape pods often struggle to use it effectively. This is a major advantage and one that often sways a vapers decision.
Finally, mods & tanks offer unrivalled vapour production that vape pods simply cannot compete with. If using a sub-ohm tank, RDA or RDTA with a high VG liquid, you can produce huge clouds that pods could only dream of doing.
Mods & Tanks Drawbacks
Like vape pods, the drawbacks with mods & tanks will largely depend on personal preference, but should be mentioned nonetheless.
Mods & tanks can be heavy and cumbersome, making it harder to carry some of the larger ones around. Vape pods mostly do not have this problem and if you need something lightweight, might be the better option.
The settings can be complicated and confusing. Multiple modes and VT (variable temperature) settings for different wire types are a nightmare for some vapers, who just want to crack on and vape.
Leakage can be a problem for some. A large majority of tanks will not have this issue, but it is a fact that some tanks can have a tendency to leak. Whether its bad coil design or a broken seal, it can be frustrating for vapers to deal with, especially if you're out when it happens! Vape pods tend to be more resilient to leaking, so if you need a fuss-free e-cig, pod kits could be the answer.
Conclusion
So should you choose a vape pod, or go for a mod & tank combo? If you are still a little unsure, I have simplified things below into an easy summary.
Vape Pods
Pod kits are ideal for new vapers looking for a simple, hassle free introduction to vaping. They are lightweight, compact, easy to use/refill/maintain and usually very affordable. If you're a new vaper and don't fancy anything too complicated, you should invest in a vape pod.
Existing vapers looking to get in to nic salts would love pods. These kits are ideal for getting the most out of this type of vape liquid and would be a worthwhile investment. Equally if you need a back up kit you can chuck in a pocket or leave in the car, then a vape pod should be considered.
Remember, if you want a kit that can produce the very best amounts of vapour, then vape pods are probably not for you. That's not to say that some pods can't chuck clouds with the best of them, you only need to look at the SMOK RPM160 or Wismec R80 to see just how much pod kits have evolved.
Mods & Tanks
I personally consider the classic mod & tank combination to be the definitive vaping experience. New vapers who don't mind a little additional maintenance will be giving themselves the best chance at making the switch to vaping permanent.
There are many easy to use mods & tanks, such as the TECC arc 5 and TECC arc Mini which are ideal for any new vaper.
Cloud chasing vapers will find that (at the moment) there is nothing better than a mod & tank setup. The ability to use high VG liquid, whilst keeping a less powerful MTL tank on hand for nic salts offer true vaping freedom.
The ability to customise the vape experience through different settings means that no matter how you evolve throughout your vaping journey, mods & tanks will always be able to evolve with you.