Vape Delivery: How To Receive Vaping Products Through the Mail
Vape deliveries in the US are now restricted by the PACT Act, which has banned all vape deliveries by the United States Postal Service unless companies comply with rigorous regulations. Many vape retailers are either trying to follow the rules or find private carriers willing to accept packages. Some private carriers will still take vape deliveries. There are other solutions that retailers have come up with to circumvent the PACT Act without breaking the law.
Vape Delivery Rules in the US
The PACT Act was originally intended to clamp down on illegal, black-market tobacco smuggling in the US through the Postal Service. However, the law was updated to include electronic vaping devices that were classified as tobacco products by the federal government from the USPS to the FDA.
The laws were amended to prevent underage buyers from receiving illicit vaping products via the mail without having to present any ID. In addition, regulators wanted to close the loophole that allowed minors to order nicotine vaping products that they would not be able to buy in person at brick-and-mortar stores.
The PACT Act is a federal law that applies equally to all states and governs cross-border commerce between the states. When the federal government announced that they would be banning deliveries of vaping products, many private carriers like UPS, FedEx, and DHL also announced they would be prohibiting vape deliveries.
But the new laws do not constitute an outright ban on all vape deliveries. They only impose stringent requirements on retailers who wish to use the USPS to ship their products. Some online vape retailers have either chosen to:
·Observe the new laws and make adjustments to their shipping policies

·Create new shipping networks with private carriers who are willing to take vaping products

·Pay the necessary excise taxes and keep records of all online vape transactions
Some vape retailers have chosen to do all three to continue serving their customers and keep their businesses alive. But customers may not be able to receive vape deliveries in some states. However, others can still get vape products in the mail if the seller has met all the requirements.
How to Get Vape Juice Delivered
Vape juice is a tobacco product like any other vaping device or electronic nicotine delivery system (ENDS). Therefore, it is governed by the same rules and regulations prohibiting the USPS or other private carriers from shipping and delivering them. However, there are some ways buyers can still receive vape juice. But it depends on whether the seller has found a shipper willing to carry it.
Retailers who wish to ship vape juice must comply with the government's various regulations to access USPS shipping routes. The PACT Act does not expressly prohibit vape deliveries. But instead puts in place several rules that retailers must follow, such as:
·Clear labels that indicate there are tobacco products inside
·Age verification at checkout and delivery

·Adult signatures and ID checks for all packages upon delivery

·Proper record maintenance for local and state tax authorities
The fact is that many small businesses are having a hard time keeping up with the cost and burden of these regulations. But many other retailers have decided to try and keep up with the government's rules and regulations to continue serving their customers.
How to Get Deliveries From VaporFi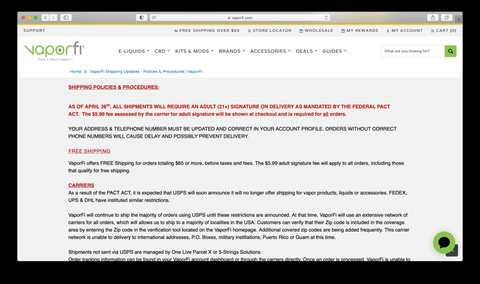 VaporFi is an online vape retailer that has regularly shipped vaping products throughout history. And the company continues to ship to its customers throughout the US. The company states that it anticipated the new PACT Act regulations on its website. As a result, they made arrangements to ship through independent, private carriers all across the country.
This new shipping network does not cover all regions. And customers must enter their zip code into a special section on the VaporFi website to see if they are eligible. If not, they can contact VaporFi directly to put themself on a call list so they will be notified when their area becomes available.
How to Get Deliveries from KandyPens
KandyPens is not affected by the PACT Act regulations since it sells and manufactures only cannabis vaping devices. They are not classified as tobacco products. There has been no change to their delivery policy. And they continue to ship their goods to all addresses in the US and internationally.
How to Get Deliveries From EightVape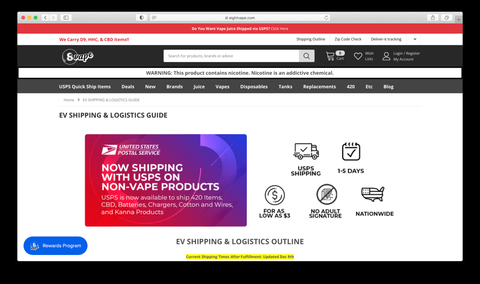 EightVape is a large online vape retailer that has also changed their shipping methods to get around the PACT Act. The company has also turned to independent carriers that cover a select number of regions in the US. However, the new network does not cover some individual states and regions. So customers must first use the Zip Code Checker on the company's website to see if they are covered.
The company must also deal with vape restrictions in various states. So customers should first know those laws before ordering anything from EightVape. The company also has a waitlist for customers to sign up if the new shipping network does not cover them. It also recommends that customers ask friends and family to accept orders to their addresses to forward them on afterward.
Which Is the Best Vape Carrier?
Now that the PACT Act has made it difficult for companies to ship vaping products to their customers, customers have many questions about how to receive their purchases. Unfortunately, there are no easy answers. Some companies were prepared for these restrictions. They made connections with new carriers to cover their pre-existing networks. In contrast, other companies did not believe the government would go so far as to prohibit vape deliveries in the USPS.
But customers themselves do not have to worry about how to ship the order. Instead, retailers are the ones who must contend with this dilemma. Therefore, customers who want to buy vapes, nicotine juice, or other vape products online should be aware of what steps the company they want to buy from has taken and make sure they understand that there are some cases when they cannot receive any product.
FAQ
Can you Postmates a vape?
The short answer is yes. You can order tobacco products, including real cigarettes and vaping goods, from Postmates. But you must show proper ID when the courier arrives.
Conclusion: Vape Deliveries: What To Do To Get Vapes in the Mail
What do you think about the new PACT Act regulations? Do they go too far? Do they punish vapers unfairly? Let us know in the comments section below.
The PACT Act regulations blindsided the vaping industry when it was already contending with the FDA and its PMTA scheme. It seemed like one more attack the government was unleashing on the vaping industry aimed at crippling the industry and punishing anyone who wanted to vape.
But, just like with every other piece of legislation that the government throws at it, the industry responded by finding ways to get around the new rules without breaking the law. The Act does not prohibit vapes from being sent through the USPS. It only makes it more difficult for the business to do so.
Some businesses have chosen to comply with the regulations to be able to use the USPS. In contrast, other companies have made connections with other carriers to continue serving their customers, even though not all customers can be served as they used to be.