UWELL Cravat Review: A Dependable Pod Vape for Beginners
Product intro and specs
The UWELL Cravat is the latest pod system by UWELL. UWELL is a company that doesn't pump out a ton of products but has been known for making some really good ones, and their coils have consistently been some of the best you on the market. The Crown line of tanks has been very beloved for good reason. They have been a true quality-over-quantity company that tends to support its products longer before moving on to new ones.
The Cravat is a pod system that goes back to the basics. Its internal battery is listed at 300 mAh and comes with pods that have a 1.5 mL capacity. It is a truly beginner-friendly device, with no buttons, modes, or fancy technologies. It takes refillable pods with built-in high-resistance coils and seems to be made for higher-strength nicotine salt juice.
Price: $12.99 (at Element Vape)
Colors: Silver, grey, blue, red, orange.
Specifications
·Dimensions: 103 mm x 19.3 mm x 9.0 mm
·Battery capacity: 300 mAh
·Max wattage: 9 watts
·Chassis material: Zinc-alloy
·Draw-activated firing mechanism
·Pod capacity: 1.5 mL
·Charging: Type-C port
Kit contents
·1 x Cravat pod system
·1 x 1.2-ohm Cravat pod
·1 x Type-C charging cable
·1 x User manual
Build quality and design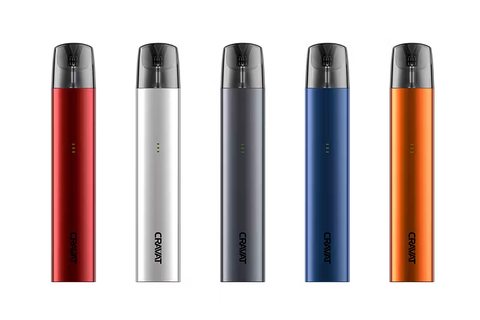 The Cravat is a tiny pen-styled pod system that is about as small as they come. Very similar to a JUUL that was all the rage for a while until other vape companies started making their own versions.
The Cravat actually feels like a mix of the JUUL and the original Caliburn. It measures 103 mm x 19.3 mm x 9 mm and can easily fit in key pockets in jeans. It also weighs very little but feels really solid in the hand and doesn't feel cheap at all—probably due to its aluminum body.
It's offered in five colors and the color makes up the entire body, so they all are different and don't look alike as we've seen in other systems. There are no buttons on the device at all; it's inhale to fire. The front has three small LEDs for battery charge that stay on for about a second or two after you finish your inhale.
All in all, it's a pretty simple device that fills a single purpose, with no bells and whistles.
Getting started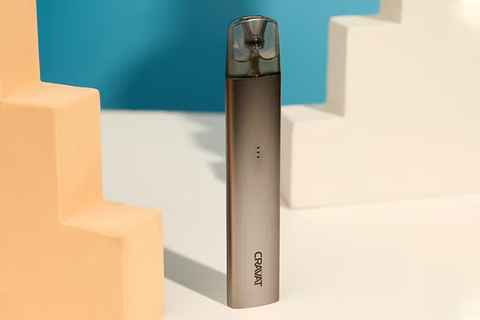 The Cravat is a pod system that's perfect for beginners. No buttons, no screen, no settings. Just inhale when you want to vape and pocket it when you are on the go.
Filling the pod is simple. The pod itself is magnetic and comes in and out very easily. It's not tight in there, but the magnets hold it in place well with no wiggle if you shake it. To remove the pod, just grab it and pull it out. To put it back in, just pop it in and the magnets will grab it. Really easy and simple as it should be. There is a black rubber plug on the side that you remove to expose the fill hole.
The pod is only about half exposed, so you have to tilt it to check for juice, and on top of that, it is hard to see juice level because it's very darkly tinted. I wish all companies would just make clear pods and then offer a tinted one separately if people wanted looks over functionality. I'm always a function-first kind of guy and would much rather see clear pods—but it's far from a deal breaker here.
Overall, the usage is perfect for first-time vapers looking to quit smoking.
Performance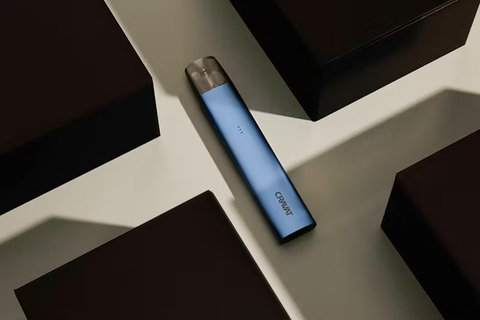 The most important part of any pod device is going to be the coils. As I mentioned in the intro, UWELL is well-known for having great coils, and this one is no exception.
There is only one option here, which is a pod with a 1.2-ohm built-in coil. I like only one option in a device like this which is made to be simple. However, only one pod comes with the device, which is a bit disappointing. I wish they would include a spare pod.
I used 50/50 20-24mg nic salt juices in it and the flavor was great for a beginner pod system. The draw is very tight—much tighter than the vast majority of pod systems out there. It is a real cigarette-like MTL draw.
I was able to get about 30 mL of juice from it which is excellent life.  I typically look for around 10 mL of life in coils like these.  That makes these pods excellent in my book and with UWELL's history, these coils should be a safe bet.
Battery life and charging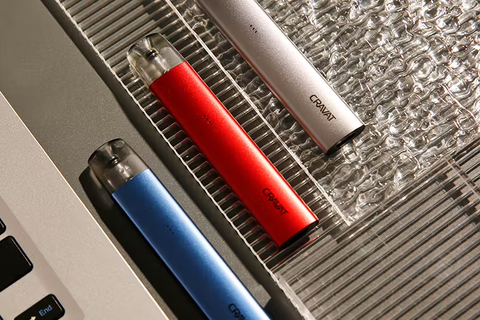 Battery life seems very sufficient for a device like this. It comes with an internal battery listed at 300 mAh however no charge rate is listed. The port is Type-C and it's located at the bottom of the device, so it has to lie down while charging. Not a big deal, but I prefer ones that can stand up while charging.
I tested all this and for the charge rate, I got a max of 0.63 amps. If I was to rate it, I'd give it a 0.5-amp rating, however most companies would rate it as 1A since they usually round up to the nearest half amp. For charge time, it's 39 minutes, so really good there—most pods charge in 30-60 mins depending on the battery size.
For battery size, I got a usable 290 mAh which is excellent. Most devices are rated about 20% higher than you actually get, so many companies would list this as 350 mAh, but UWELL gave us a very fair listing for battery size. It does have passthrough vaping as well.
The LED acts as a battery meter and the color shows the charge left on the battery:
·Green: 60-100%
·Blue: 30-60%
·Red: 0-30%
I'm a bit disappointed that UWELL went with a three-step battery indication as I feel that four steps are better, but most companies seem to be sticking with three steps lately.
Pros / Cons
·Good build quality
·Lightweight and compact
·Very beginner friendly
·Five color options
·Pods are held in firmly
·Great flavor
·Great coil life
·Charges fast enough (39 minutes)
·Great battery rating
·Good battery life
·Passthrough vaping
·Pods are tinted too dark
·Pods only half exposed (have to tilt to see juice level)
·Only one pod included
·Three-step battery mete
Gallery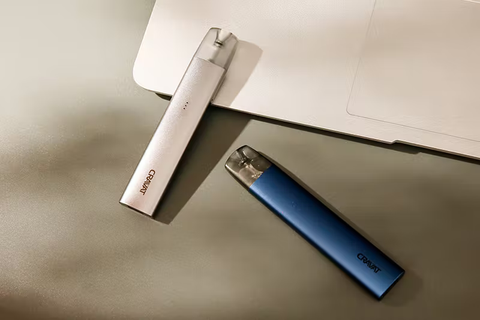 Verdict
Overall, UWELL really nailed this device as a beginner-friendly pod. It's made for people looking for a JUUL alternative or looking to quit smoking, and it does that perfectly in an extremely easy-to-use package that is well-built with great coils. If you are a beginner vaper, or just want something to use on the go with your high-strength nicotine salts, I can recommend it.