Uwell Caliburn Tenet Review - a Bold New Look!
Uwell has made a name for itself over the past couple of years with the super popular Caliburn series, from the Uwell Caliburn A3 and Caliburn G to the compact Uwell Caliburn Koko kits. All of these small pod kits have impressed in terms of style, usability and flavour in a pocket-friendly size thanks to the consistently-good Caliburn coils. But now it looks like they're moving away slightly from the previous smooth and steady designs by redefining the established name with a brand new look. Take a bow Uwell, because the Caliburn Tenet is a bold change of pace with a steampunk look. The design is so detailed and rugged - but how does it perform?
Which Coils Can You Use From Uwell?
The good news is for those who love the Caliburn series, Uwell hasn't rocked the boat with a new set of coils for the Uwell Caliburn Tenet. Instead, think of it as purely a new device in terms of design and features. That's because they've opted for the same popular Caliburn G and G2 MTL mesh 0.8 Ohm & 1.0 Ohm MTL coils, in addition to the 1.2 Ohm mesh.
Producing stellar flavour and a nice throat hit, it's just what's needed when your preference is mouth-to-lung vaping.
Therefore, the Tenet is a fantastic option for a new vaper or someone wanting an experience closer to smoking than a cloudy vape. Anyone who bought one of the previous Caliburn's and rated it highly will love the similar performance and fresh new design. It utilises the same Pro Focs technology to maximise your vape juice and they have improved the pod itself slightly compared to previous versions.
With the kit, you will get the UN2 0.8 Ohm and the 1.2 Ohm coils, while the 1.0 Ohm coil is available to buy separately. This means with the coils provided in the kit, turn the adjustable airflow and alternate between the different coils, to get a tighter (1.2) or looser (0.8) MTL draw via the curved mouthpiece.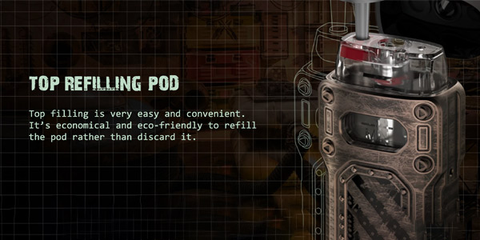 Functionality and How to Use the Device
The device is simple to use, with no menu to navigate through different features and settings. Because it's geared towards beginner vapers and those not wanting a fuss, all of the control to adjust your vape is via the adjustable airflow wheel, which you turn at the bottom of each pod. To turn on the Caliburn Tenet, just click the fire button five times. Then if you want to lock the fire button and auto-inhale only, it's two presses of the fire button, and you will see the battery indicator flash. This is a new feature Uwell has added, which you'll also find with the sleek Uwell Caliburn A3.
Like the Uwell Caliburn G2, Uwell has added vibration technology with the Caliburn Tenet to highlight low voltage, open circuit, pod connectivity and over-time vaping. You can charge the Caliburn Tenet at the bottom of the device, where the type-c USB port is located. Because it's an improved 750mAh battery capacity, it should last MTL vapers throughout the day unless you use it excessively. With the smaller Koko Tenet, there is a bigger battery at 950mAh capacity, but it is auto-draw only.
To fill your e-liquid, the mouthpiece snaps off to reveal the top fill method, which fits most vape juice bottles and is easy to top up on the move or when vaping at home. The pod connections are magnetic when you want to replace your push-fit coils.
Appearance Breakdown
What's most impressive about the Caliburn Tenet and why it is so different from previous models in the series is the design, which is flawless. Grooved with rivets and screws on the shell, it's a creation that stands out and provides anti-slipping technology. This always comes in handy when placed on your office desk! It's got a rugged look which looks like something out of a punk film or wouldn't look out of place among an army soldier!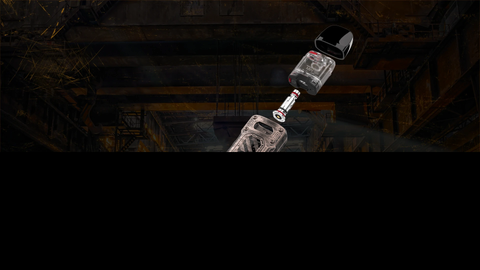 Made with a mixture of aluminium alloy and PA, it's a sturdy vape kit that doesn't provide the protection a Geekvape model would but gets a seal of approval for style. The case alone it comes in looks detailed and the vape itself weighs around 50g, which is not heavy but not light either, for a pod device. With e-liquid windows on both sides of the device, you will always know your levels so you don't run low and burn your coils prematurely.
Overall, the amount of effort they've put into the development of each Caliburn Tenet device is a definite step away from the typical smooth Caliburn's we've seen previously and gets a 10/10 for looks. Available in olive green, iron gray, copper red and carbon black, they give off a unique vibe that's something different from what we've seen previously. So kudos Uwell!
Key Features and Specifications of the Uwell Caliburn Tenet
·750 mAh battery capacity
·Max 16W output
·Mesh coils
·2ml refillable pods
·Adjustable airflow
·Locking feature
·Top fill device
·Fire button and auto-draw
·E-liquid window
·Battery indicator
·Works with Caliburn G and G2 coils
·Weight: 50.4g
·110mm x 25.1mm x 16.3mm
Any Disadvantages?
It would've been nice if Uwell had offered the same battery capacity as the Tenet Koko with the Uwell Caliburn Tenet slimmer pod version. But you can't have everything! Each vaper needs to decide what matters to them most and when or where they intend to use the device.
Verdict
To summarise, this is a fantastic device, with a stylish bold design. We love the level of detail and time they've spent on each device, from the packaging to the form factor. It's easy to grip when you want an inhale, easy to use and refill when needed, plus a simple push-fit coil system we've previously seen with the Caliburn G series.
The battery size is generous enough for MTL vaping and the flavour is solid and consistent with each inhale. Overall, any vaper of any level would be pleased with this device, whether they wish to vape MTL or a restrictive direct lung hit.