Uwell Caliburn Tenet and Tenet Koko Pod Mods Bring Incredible Flavor and Vapor to Everyone
When I was tasked with reviewing the two new Uwell Tenet Pod Mods, the Uwell Caliburn Tenet and the Uwell Tenet Koko, I was hesitant to do it. Both Tenet pod mods are very different vape devices than I use daily. Still, I accepted the assignment and by the end of the review period I was completely sold on today's pod mods. The Uwell Tenets are remarkable in every way.
A Little Background
Being a part of the World of Vapers for more than a dozen years, I started my vaping journey with those small cigarette-shaped e-cigarettes. E-cigs (what they were called back in 2010) from Blu, and a hundred other names, provided very little flavor, various amount of vapor (clouds), and while they helped millions of smokers become ex-smokers, things quickly changed. (I must be honest; when Blu was working with a company that provided vape juice, Johnson Creek), Blu was the absolute best of the best back then. I still miss their glossy black e-cigarettes with John Creek flavors. Anyway…
Moving Up and Up…
From there I slowly moved up to better and better devices and vape juice as technology improved at lightspeed. Eventually I encountered my all-time favorite mod and tank "Kit" called the Uwell Valyrian Kit, (my reviews dating back years will attest to this) a beautiful mod and sub-ohm tank that delivered incredible flavor from my favorite vape juice brands, along with massive clouds of vapor that could always permeate my surroundings with hints of vanilla, peach, strawberry, blueberry, and dozens more.
Thankfully Uwell continues to make the Valyrian mod and tank, (which I plan to review here) and although we've lost several dozen vape juice companies since 2019, it's still possible to get great flavors from the companies that survived the onslaught of regulations. In my case, I'm very satisfied with the vape gear I'm able to use and the vape juice I can continue to buy.
The Rise of the Pod Mods
Most Vapers today use much smaller devices than I did (and do), because they are easy to use, indiscrete, inexpensive, with exceptionally good performance in flavor fidelity and even cloud production. Not to mention incredibly crafted and beautiful devices.
All the best vape manufactuers over the years have used their vast knowledge accumulated over the past 12 years and moved into the pod mod segment of the industry with fantastic devices.
Enter the Uwell Caliburn Tenet Pod Mods
The Uwell team knows all about tremendous flavor delivery and massive cloud production, so when Uwell turned its attention to the pod mod segment, people paid attention.
The latest pod mods to come from Uwell is the Tenet line. Consisting of the long, thin Caliburn Tenet and the very small, square shaped Caliburn Tenet Koko, both refillable and rechargeable systems sell for under $30USD and yet deliver performance that can satisfy nearly every Vaper who began their vape journey when the Big-Dog Mods ran wild.
Uwell Innovation in the Caliburn Tenet Pod Mods
Innovation is the key to survival, and if it becomes necessary to scale down in size and power, companies like Uwell became experts at maintaining the core features of their bigger mods and tanks; safety, flavor delivery, and a more-than-enough vapor clouds to make using a pod mod a genuine pleasure.
The 16W Caliburn Tenet
The Uwell Caliburn TENET 16W Pod System, has an internal and rechargeable 750mAh battery, a tough and rugged exterior design, and is compatible with Uwell Caliburn G/G2 Coils and Pods. Specifications are listed below.
The Tenet line is constructed from a durable aluminum alloy. The Caliburn Tenet Pod has a strong and nearly invulnerable chassis, with its sleek metal unibody design.
New to the Tenet line, Uwell has introduced haptic feedback to make the Caliburn Tenet much more intuitive. With its dual firing modes, the Caliburn TENET can be button or draw-activated, making vaping a breeze. For some of us, we feel more in control when we activate the mod by pressing a "fire button", while others want that automatic way of just lifting it up and taking a puff. The Caliburn Tenets allow for both.
Additionally, the TENET can use the Caliburn G or G2 Pods and Coils that deliver exceptional flavor and vapor from your favorite vape juice or nicotine salts and can adjust the airflow via pod based rotating dial.
Freebase Vape Juice and Nicotine Salts Vape Juice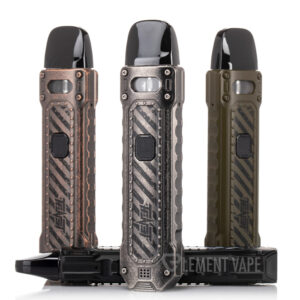 Briefly, the fact that both Tenets can use freebase nicotine vape juice and nic-salt vape juice means that every Vaper can enjoy the pod mods. Freebase vape juice is usually higher in VG (vegetable glycerin) and come in very low natural nicotine strengths. For instance, I use a 3mg freebase nicotine vape juice that is an 80/20 mix of VG and PG.
Nicotine Salt vape juice is offered in 20mg, 30mg, 50mg and even 65mg nicotine strengths. They are also a more expensive formulation. Nic-salt bottles are usually 30mL in size and sell for the same, or more, price of 100mL or 120mL freebase nicotine vape juice.
The one thing I'll say about nic-salt blends is this; if you have a nicotine addiction, a good pod mod like the Tenet, and a delicious nic-salt 50mg nicotine mix, will satisfy any craving you might have for nicotine, whenever you want.
Which Uwell Caliburn Tenet Fits You Best?
As you can see below there are some small differences in the specs of both pod mods. The biggest difference is the shape of the mods. One is long and slender, the other is box shaped. Both are magnificently constructed and have beautiful design options and color options. The one you want will depend on which shape appeals to your everyday use.  For myself, the Caliburn Tenet Koko was my choice, while Dave chose the long and slender Tenet.
Uwell Caliburn TENET 16W Pod System Features:
•Dimensions: 110.9mm by 25.1mm by 16.3mm
• Battery Capacity: 750mAh
• Max Wattage Output: 16W
• Chassis Material: Aluminum-Alloy
• Charging: Type-C Port
• Operation: Button / Draw Activated Firing
• Pod Series: Uwell Caliburn G2 Pods
• Fill System: Top Fill
• Pod Material: PCTG
• Pod Capacity: 2mL
• Pod Connection: Magnetic
• Coil Installation: Press Fit
• Coil Support: Uwell Caliburn G/G2 Coils
• Haptic Feedback
• PRO-FOCS Technology
• Juice Level Viewing Window
Kit Includes:
•1 Caliburn TENET
• 1 Caliburn G2 Pods
• 1 0.8ohm Caliburn G Coil
• 1 1.2ohm Caliburn G2 Coil
• 1 User Manual
• 1 Type-C Cable
Available Color Options:
Carbon Black, Copper Red, Iron Grey, Olive Green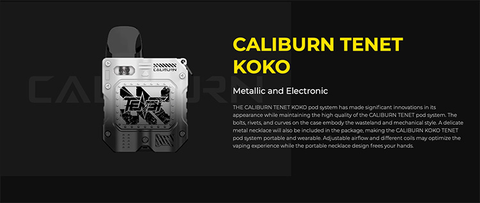 The Uwell Caliburn TENET KOKO 18W Pod System, featuring a 950mAh battery, aluminum-alloy housing, and works with Caliburn G/G2 Pods and Coils. Crafted from durable aluminum, the chassis of the Caliburn TENET KOKO Pod System offers a strong and protective chassis, safely encapsulating the 950mAh battery within. Utilizing coils and pods from the Uwell Caliburn G and G2 Series, the TENET KOKO is perfect for those that love portable pod system that deliver plenty of flavor.
Uwell Caliburn TENET KOKO 18W Pod System Features:
•Dimensions: 73.7mm by 50mm by 18mm
• Battery Capacity: 950mAh
• Max Wattage Output: 18W
• Chassis Material: Aluminum-Alloy
• Charging: Type-C
• Operation: Draw-Activated
• Pod Series: Uwell Caliburn G/G2 Pods
• Fill System: Top Fill
• Pod Material: PCTG
• Pod Capacity: 2mL
• Pod Connection: Magnetic
• Coil Installation: Press-Fit
• Coil Support: Caliburn G/G2 Coils
Kit Includes:
• 1 Caliburn TENET KOKO
• 1 Caliburn G2 Pods
• 1 0.8ohm Caliburn G Coils
• 1 1.2ohm Caliburn G2 Coils
• 1 Type-C Cable
• 1 Metal Lanyard
• 1 User Manual
Available Color Options:
Black and White, Copper, Grey, Red and Black
The Bottom Line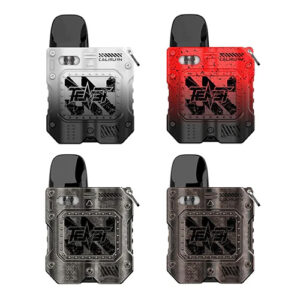 As a reviewer that has more than 400 reviews written over the past 12 years, and probably another 400 devices I didn't review, I have a reputation of telling the reader (or video audience from 8 years ago) the raw truth. So, here goes…
Uwell is a great company. I remember the first time I vaped a Valyrian sub-ohm tank… I was stunned at how pure the flavor was, and at the time, the capacity of the Valyrian tank was perfect for my needs. I am, without a doubt, a Vaper that wants big flavor and even bigger clouds of vapor. Will either Tenet meet my daily needs? No, they will not.
However, …
While most Pod Mods today are a thousand times better than they were 8 or 9 years ago, I carried one with me everywhere I went. The reason is simple; I couldn't take my large mod and tank with me when I went to the movies, or in a restaurant, or anywhere except a walk in the park, or in my own car. I didn't much like them back then, but my hand-to-mouth needs had to be met, and a pod mod fit the bill.
But today, with pod mods like both tenet Pod Mods, give me the option I never had back then, performance. The Uwell Caliburn Tenets can use freebase vape juice… MY vape juice. The flavor is nearly identical to the flavor I get in my Valyrian sub-ohm tank, and the vapor is more than satisfactory. Now, when I go out, I can grab a Tenant and enjoy those vape moments where using my big mod and tank an inappropriate place.
Each Caliburn Tenet earned a grade of A+ for the Pod Mod Category.
Price, performance, design, construction, and replacement coils, inexpensive pods, and a lot more, demonstrate that vape innovation is alive and well.
Recommendation: Buy!