UWELL Caliburn A3: Third Time's the Charm?
Product intro and specs
The Caliburn A3 is the latest entry in quite possibly the longest line of pod vapes out there. Thankfully UWELL has categorized the Caliburns, with the A line being more directly aimed toward beginners, and the G line as well as the (newly introduced) X line catering to the more advanced vapers.
The Caliburn A3 is released one year after the excellent A2 and comes with a set of updates on the design and some new features and functions. The A3 is smaller, takes pods that are shaped slightly differently, has a button lock feature, and charges much faster than the A2.
If you are curious to find out if it is worth upgrading from the A2 to the A3, or if you're just in the market for a new pod vape, keep reading!
Price: $24.99 (at Element Vape)
Colors: Black, silver, red, blue, grey, green.
Specifications
·Dimensions: 109.8 mm x 21.3 mm x 11.7 mm
·Net weight: 31 grams
·E-liquid capacity: 2 mL
·Output power: Maximum 13 watts
·Materials: Aluminum alloy / PCTG
·Pod specifications: FeCrAl Meshed 1.0-ohm
·Battery capacity: 520 mAh
Kit contents
·1 x Caliburn A3 device
·1 x Meshed 1.0-ohm Caliburn A3 refillable pod (pre-installed)
·1 x Meshed 1.0-ohm Caliburn A3 refillable pod (spare)
·1 x User manual
Build quality and design
As expected, the build quality of the A3 is excellent. The chassis is metallic (aluminum alloy), and it is lightweight but well-built. The button is textured and clicky, and the bottom of the device is plastic, with the battery LED shining under a textured plastic layer.
Unfortunately, the device only has a juice window on the front—I never understood this design choice, especially since it makes juice monitoring harder. Thankfully the pods are clear, so you can see how much juice is left if you hold the device against the light. The pods are also magnetic, and while the magnet isn't very strong, the pod feels secure when in the device.
Compared to the Caliburn A2, this is a slightly shorter and thinner device, and the mouthpiece is more comfortable due to it being a bit more contoured. This, along with the AK2's, are my favorite Caliburn mouthpieces to date.
There's not much more to discuss here. The A3 looks good, feels nice in the hand, and looks like a Caliburn A product. Outside of the lack of a second juice window, it takes a thumbs up.
Getting started
The A3 uses the signature Caliburn filling design, where you need to push the flat side of the mouthpiece to remove it and fill the pod through the red-marked hole. UWELL claim that the mouthpiece is easier to remove on the A3 compared to previous models, but I never had much of an issue removing the mouthpiece of the A2 anyway.
As for basic operations, the device can be used in draw-activation mode, as well as using the button. There's your standard five clicks to turn on/off, and a newly introduced button-lock function with two quick presses of the fire button. That's a very useful feature, especially for those who will be using it in draw-activation mode, because it prevents accidentally firing the device in your pocket.
Performance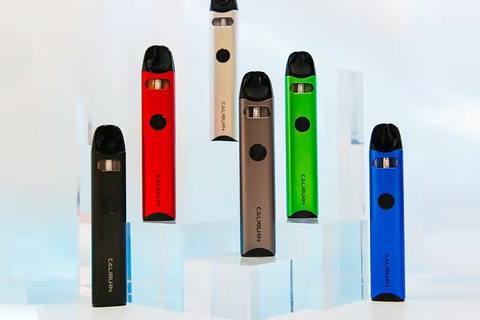 The A3 takes 1.0-ohm mesh coils that adopt UWELL's PRO-FOCS technology. UWELL claim that they have upgraded the tech, but I honestly don't think that you will be able to feel much of a difference compared to the pods of the A2. I am unfortunately out of A2 pods, so I can't test this, but flavor has always been solid with Caliburn devices, and I have no complaints with the A3.
As for the draw, it is the usual A line medium MTL draw. It used to feel a bit loose for my liking, but after reviewing all these pods during the last couple of years, I have become accustomed to it. It is warm enough for mid-strength nicotine salt (20-30 mg) or 9-12 mg freebase juice, and the throat hit is solid.
Coil life has been great, with the first pod I tested lasting for over 20 mL of juice. I tested it with a clear freebase e-liquid, so your mileage may vary depending on the juice you'll be using (nicotine salts and sweet juices are more taxing on coils).
I haven't noticed any leaking during the last couple of weeks, only some juice accumulation around the pod. As always, I expect some comments complaining about leaky pods, but I'm confident that this will be due to the popularity of the device—if UWELL sell a lot of those, some vapers will experience leaking. I don't feel that it is leak-prone with 50VG and above, which is what you should be using with devices like this one.
Battery life and charging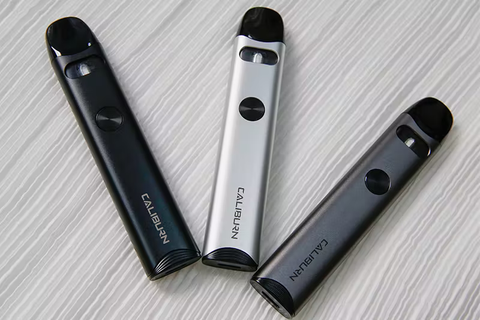 Same as the A2, the A3's battery is rated at 520 mAh. I went through almost one and a half pod on a charge (2.5-3 mL,) which is a bit less than the 3 mL I was getting from the A2. My guess is that the battery is a tiny bit overrated, but with the A3 being a smaller device than the A2 overall, battery life is solid.
UWELL claim that the A3 needs 15 minutes to charge fully. I timed a full charge at 30 minutes, which is slower than they claim but much faster than the 52 minutes of the A2. For what it's worth, the pulsing light turned green at exactly 15 minutes, so maybe that's what they are referring to. Regardless, that's excellent charging speed. The device also supports passthrough, so you can use it while it's charging.
As for battery indication, there is a bright LED light under a thin plastic layer near the bottom of the device. The light shows battery level when vaping and pulses when plugged in:
Green: 60-100%
Blue: 30-60%
Red: 0-30%
When charging is complete, the light will stop pulsing and stay on green.
Pros / Cons
·Great build quality
·Practical form factor (slightly smaller than the A2)
·Very easy to use
·Comfortable mouthpiece
·Clear pods
·Button and draw-activated
·Great flavor
·Good coil life (20 mL)
·Satisfying medium (to slightly loose) MTL draw
·Great for mid-strength juice
·No leaking (just a bit of condensation)
·Good battery life
·Fast charging (31 minutes)
·Not a big upgrade over the A2 in performance
·Juice window only on one side
Gallery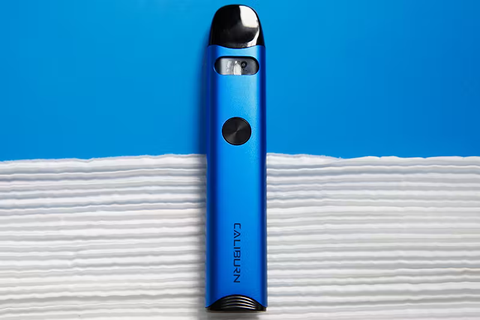 Verdict
As expected, UWELL nailed it with the A3. It is an excellent beginner-friendly vape with a solid coil, good battery life, and quick charging. It also introduces a very useful button lock feature to the A line, which is a feature that all pod vapes should offer.
That said, if you already have the A2, I'm not sure that faster charging and button locking bring enough to make the A3 a worthwhile upgrade. But if you are scanning the market for a dependable and easy-to-use pod vape, the Caliburn A3 is an excellent choice—and a great Christmas gift for your smoker friends!