The Unbelievable Uwell Caliburn AK3 13W Pod Kit – A Review
A review of the Uwell Caliburn AK3 Pod Mod Kit? Indeed. In my mind, the last couple of years I've seen a major divide between vape products, and Vapers themselves. One the one side there are people like me: old time Vapers using high wattage mods and sub-ohm tanks. On the other side, new, or recent, Vapers that pick up inexpensive, disposable pod mods.
Uwell is a manufacturer we have a huge amount of respect for. We've been reviewing their high wattage mods and sub-ohm tanks for years. We just scheduled a review for early January for the new Uwell Valyrian 3 200W Kit. We can't wait to get our hands on it. 
For today, we're looking at this brand-new pod mod, the Caliburn AK3.
Before I carry on about specs and performance, I have to say something about the overall size of this incredibly SMALL mod. Coming in at just 67.5mm, by 44.1mm, by 12mm, this cool looking mod would fit in the palm of just about any average size adult. Yet, for it small size, the flavor fidelity, the draw-activated vapor, and its 520mAh battery (accompanied with super-fast USB-3 charging) the AK3 is one heck of a mod.
Features & Specifications:
While I'm not a steady user of pod mods or nicotine salt vape juice, Uwell Caliburn AK3 will be a real delight to people that do use pod mods.
The AK3 features an internal and rechargeable 520mAh battery, which is recharged via the now-standard USB-C port. USB-C charges so much faster than the old-style micro-USB that it's arrival on the vape scene was celebrated by all.
Using a plus-ohm, 1.0ohm MTL (Mouth-to-Lung) pod it activates with a straight up draw or by using the Fire Button. It's top-fill pod tank has a capacity of 2mL of high nicotine, nic-salt, vape juice.
If you're familiar with the previous Caliburn AK2, the AK3 is a slightly updated design, improving longevity and, especially, performance.
Uwell Caliburn AK3 13W Pod System Features:
• Dimensions: 67.5mm by 44.1mm by 12mm
• Battery Capacity: 520mAh
• Wattage Range: 13W
• Resistance Range: 1.0ohm
• Chassis Material: Aluminum-Alloy
• Charging: Type-C Port
• Operation: Dual-Activation – Button & Draw
• Pod Series: Caliburn A3 Pods
• Fill System: Top Fill – Mouthpiece Cover
• Pod Material: PCTG
• Pod Capacity: 2mL
• Pod Connection: Magnetic
• Coil Installation: Press-Fit
Includes:
• 1 Caliburn AK3
• 2 1.0ohm Caliburn A3 Pods
• 1 Silicone Lanyard
• 1 User Manual
Available Options:
Cyan, Gold, Red, Silver
Special Specifications Worth Noting

Portable and Wearable
The Caliburn AK3 is equipped with a silicone lanyard for portability. Vapers can wear the CALIBURN AK3 around the neck to free the hands. It can look like a fashionable accessory (?) at times. The AK3 comes in multiple colors, and are inexpensive enough to buy various colors to match with different daily outfits.
Large E-liquid Check Window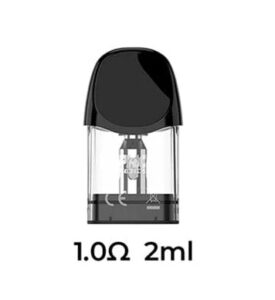 A definite spec worth mentioning is the 'racetrack-shaped' e-liquid check window. At a glance it provides an instant view of the e-liquid left in the tank.
Pro-FOCS Flavor Adjustment Technology
Uwell's patent Pro-FOCS flavor adjustment technology can highly restore the flavor of e-liquid. Users will enjoy authentic and pure flavors. For me, this is one of the most important aspects of any pod mod, authentic flavor. Uwell has always been spot on when it comes to authentic flavor profile delivery, and this tiny pod mod does not disappoint.
Price MSRP and Street
The MSRP, or suggested retail price, is under $30USD, and most vendors, including EightVape, offers the AK3 Pod Kit for just $23.88.
Is 2mL Capacity Just Too Small?
The Uwell Caliburn AK3 uses a thin vape juice called nicotine salts. The amount of nicotine in most nic-salts ranges from 20mg to 50mg. To put that into perspective, using my Uwell Valyrian 3 Sub-Ohm Tank with a capacity of 6mL, and using the sub-ohm coil of just .32-ohm, I will vape through all 6mL in one-third the time of the 2mL capacity pod using 50mg nic-salts. Why?
The Caliburn AK3 has a maximum wattage output of 13W. My Valyrian 3 outputs 230W, and the .32-ohm coil I use in the Valyrian 3 tank performs best at 64W. My freebase nicotine strength is just 3mg. Simply put, I will vape a lot more vape juice than anyone using the Caliburn AK3 with 50mg nic-salts at 13W.
Yes. 2mL capacity in a pod mod make for nic-salt vape juice is plenty.
Bottom Line & Conclusions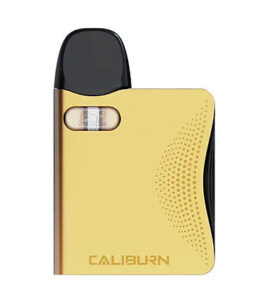 I come from an age before 2016, before the governments began to feel the tax pinch from the loss of tobacco users and tobacco taxes. For me, especially where I live in the US, I am free to continue using incredible vape gear like the Uwell Valyrian 3 Kit, with thick, flavorful low-nicotine freebase vape juice. To be honest, the Uwell Caliburn AK3 pod mod kit is not a product I would normally use.
That's not to say I'm not impressed with just about everything the AK3 offers. I love the price point, the multiple color choices, the incredible flavor from the coils used in the pods, and if I were a nicotine salt user, I'd own every color.
Rechargeable Pod Mods and the Youth Culture
But here's the thing; I am seeing more and more young people with pod mods all over. I think the size, price, and performance appeals to young people that used to smoke cigarettes. People in the twenties, and even thirties that are desperate to get away from the dangers of cigarettes are turning to pod mods in droves. And that, despite the government panic over tax losses, is a very good thing indeed.
Uwell is known for building high quality vape gear. It was no surprise to me to see them get into the smaller pod mod marketplace and bring with them all that they have learned in the marketplace of larger, more powerful mods and tanks.
Spread the Cheer

With the holidays upon us, why not pick up a Caliburn AK3 and a bottle of nic-salt vape juice as gifts to every cigarette smoker you know?
Or, if you use a pod mod yourself, pick up the new AK3 and enjoy the impressive new performance from the new model.
To review the Caliburn AK3 I purchased a bottle of Beard Vape No. 32 Cinnamon Funnel Cake, with 30mg nicotine salt. Beard Vape Co. is my current favorite vape juice brand, and Cinnamon Funnel Cake in 3mg nicotine freebase is incredible.
To my surprise and amazement, the flavor profile between were practically identical. The only major difference was the 'throat hit'. A pod mod with nic-salt has a hardier throat hit, something smokers love about pod mods.
For a period of days, I keep both my 230W mod and my Caliburn AK3 13W (filled with the same flavor profile) side by side on my end table. Of course, at the end of the review period I went back to my high wattage, sub-ohm kit and thick 3mg nicotine vape kit. But, man, pod users in Vapeland will love the AK3. Believe it.