The 11 Best Smok Vape Devices
Over the last decade, Smok has established itself as one of the world's leading vape brands and are a firm favourite with both customers and staff here at E-Cigarette Direct (even landing a spot in our list of Best Vape Brands).
Launching in 2010, Smok was first known for high-powered mods but have since expanded their product range to a wide variety of devices suited to all kinds of vapers, making big waves in the pod device market with their popular Nord series. 
Focused on innovation, Smok are known for both quality and quantity – releasing a huge number of quality devices each year and with no sign of slowing down. 
With so many Smok devices to choose from, compiling a list of the best Smok vape devices was difficult but, based on personal experience, popularity and customer feedback, we've chosen 11 of the best. 
What is MTL & DL Vaping?
Do note that vape style here refers to Mouth-to-Lung (MTL) or Direct Lung (DL). Not sure what they mean? See our guide MTL v. DL for an explanation. 
Best Smok Vape Devices at a Glance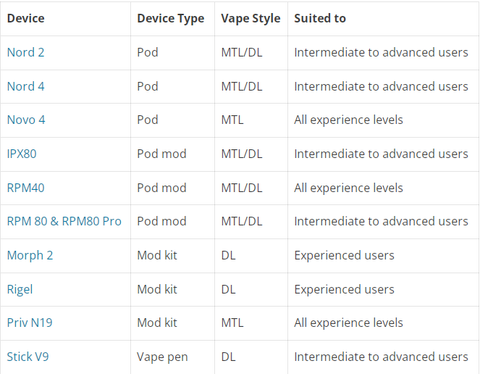 Best Smok Pod Devices
Nord 2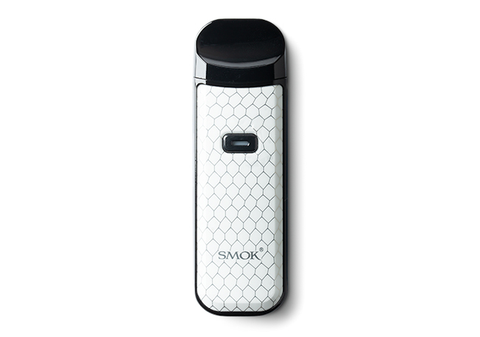 The original Smok Nord was hugely popular and its follow up, the Nord 2, improved on this with increased power, battery life and versatility. 
A compact pod device with a simple, single-button design, the Nord 2 can output more than double the power output of the original (40W compared to 15W) and has an increased battery capacity of 1500mAh. 
Compatible with both Nord and RPM coil ranges, the Nord 2 supports both MTL and DL vaping styles, meaning it suits both more and less experienced vapers and can stay with users as they become more experienced. 
What's to like:
·Increased power
·Longer battery life
·Supports different vaping styles
Nord 4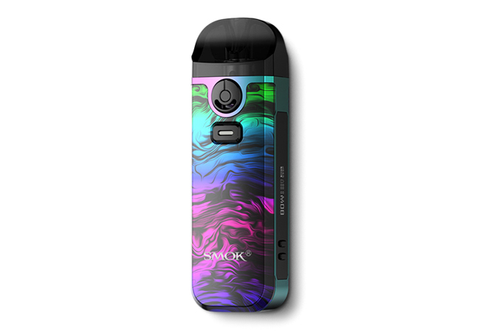 From the Nord 2, we skip straight to the Nord 4 (as Smok's Nord X is considered the 3rd in the series). The latest adaptation of the Nord offers even more power, battery life and versatility than its predecessors with the inclusion of adjustable airflow control. 
Complete with a stylish makeover including a chic leather finish, the power output of 80W is double that of the Nord 2 and more than 4 x the original Nord. The 2000mAh battery also means you can use it for substantially longer between charges when used at the same wattage as the Nord 2 (40W). 
The Nord 4 works with both RPM and RPM2 coil ranges that allow it to support both MTL and DL vape styles, while the new inclusion of a rotating airflow control means you can precisely control your air intake to create a tight and restricted or more airy vape style with large clouds. 
What's to like:
·4 x the power of the original
·Stylish leather finish
·Precise airflow control
Novo 4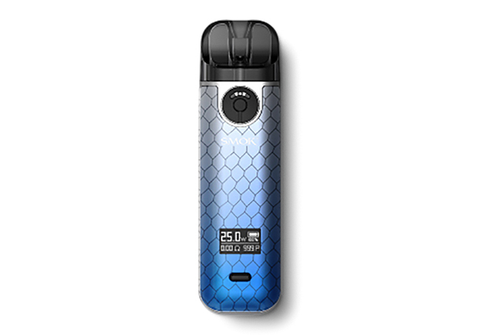 The Smok Novo 4 makes this list as it caters to vapers of all experience levels. The 25W device strikes a balance between being easy for you to get to grips with if you are new to vaping, while also giving you room to experiment as you become more experienced.  
For newer users, it has all the easy to use features you would want for a first kit –  simple, single-button design, easy filling pods and push-fit coil installation. 
The Novo 4 works with LP1 coils for Mouth-to-Lung vaping and features an easy to use airflow wheel. The inclusion of this adjustable airflow feature allows you to experiment with and tailor their draw between airy or more restricted.
To help users better understand how their device is working, the Novo 4 also features a small OLED screen displaying data such as wattage and coil resistance. 
Also see the Novo 4 Mini – which features a smaller size and upgraded battery capacity. 
What's to like: 
·Airflow control wheel
·OLED screen
Best Smok Pod Mods
IPX80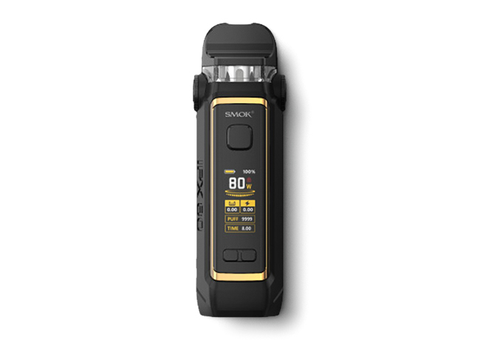 If you're an outdoorsy vaper, you need a device that can withstand the elements, has a battery that lasts and is small and light enough to easily carry around. 
The Smok IPX80 combines a compact yet super-tough design and a long-lasting battery to create a pod mod ideal for using outdoors. Named after its IP67 rating, the device is water, dust and shock resistant, outputs up to 80W and has a 3000mAh battery capacity – ideal for day trips in the great outdoors.
Working with both RPM and RPM2 coils, you can use the IPX80 for both MTL and DL vaping styles.  The device also features a smooth and precise adjustable airflow control and a bright display screen that allows you to view device data in even the darkest conditions.
What's to like:
·Super tough
·Long-lasting battery
·Supports MTL & DL 
RPM40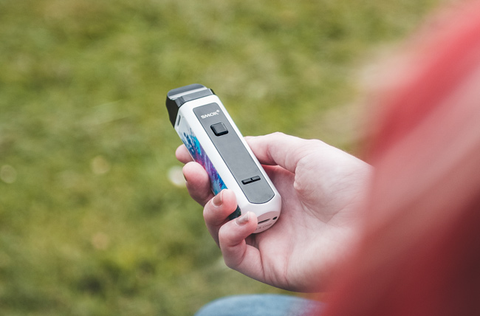 Combining the compact size and simplicity of a pod system with the cloud production you'd expect from more high-powered mods, the Smok RPM40 has proven popular with both our customers and staff. 
Compatible with Nord coils, the RPM40 also delivers impressive flavour and can support both MTL and DL vaping styles. 
The 40W device has a 1500mAh battery that can provide all-day vaping when used at more modest wattages and a brightly coloured screen that allows you to view device data such as wattage, battery life and puff counter. 
What's to like: 
·Great flavour
·Impressive cloud production
RPM80 & RPM80 Pro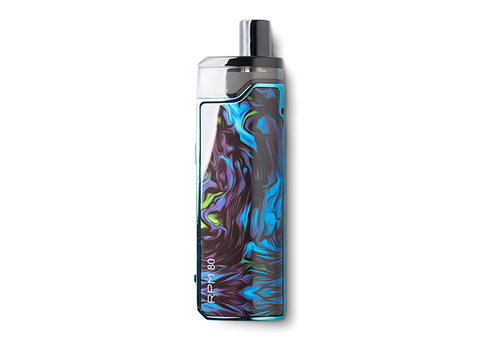 Truly summing up what is meant by 'pod mod', the Smok RPM80 and RPM80 Pro devices combine the power and cloud potential of a mod device with the simplicity of a pod system. 
Suited to intermediate to more advanced users, the devices provide more versatility than your average pod device with a choice of 2 compatible pod and coil options. Working with both RPM and RCG coils, they support both MTL and DL vaping and are capable of some serious clouds when paired with lower-resistance coils at higher wattages. 
The device's brightly coloured screen allows you to keep tabs on your device, displaying data including wattage and battery life. You can even adjust the colour scheme of your display screen to suit your preference. 
The difference between the RPM80 and RPM80 Pro lay in the battery design. The RPM80 features a fixed, 3000mAh battery, whilst the RPM80 Pro has a convenient external battery design (using 1 x 18650 battery) which means the battery can be quickly replaced when it runs out with little interruption to use.
What's to like:
·Combines power and ease of use
·Support both MTL & DL vape styles
·Choice of fixed or external battery design 
Best Smok Mod Kits
Morph 2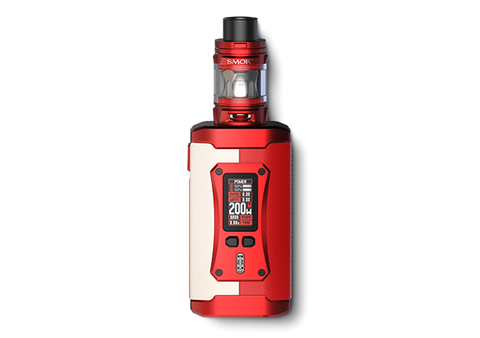 Featured as one of our best vape kits, the Morph 2 isn't the newest Smok device, but its combination of tough yet stylish design and big power has ensured long-lasting popularity.
The Morph 2 kit combines the 230W Morph 2 mod with the TFV-Mini tank and V2 coils. Pairing high power with the low resistance of the coils makes this a great choice for Direct-Lung vapers who want big clouds and great flavour.
With a choice of both standard Variable Wattage (VW) mode or the more advanced Temperature Control (TC) mode, the Morph 2 kit is suited to intermediate to advanced users and features a lightweight yet tough zinc alloy and leather construction. For extra convenience, the mod is powered by dual 18650 batteries which provide plenty of battery life and are easily swapped and replaced when needed. 
What's to like: 
·Compact & lightweight, yet tough
·Great flavour & thick, dense vapour
·Convenient replaceable batteries
Rigel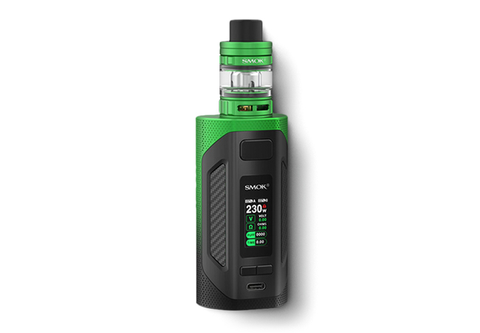 The Smok Rigel mod and tank kit provides plenty of power, dense vapour, fast-firing and a convenient battery design that means you'll never be without your vape for long. 
Delivering up to 230W, the powerful Rigel mod uses 2 x 18650 batteries that can be quickly replaced when needed and has a firing speed of 0.001 for instant vapour production. 
Suited to more experienced, Direct-Lung vapers, the included Smok TFV9 tank uses low-resistance V9 coils. Combined with the high power of the mod, this kit is great for cloud chasers and has large airflow holes to create an airy vape with lots of vapour. 
The Rigel mod has a vivid colour screen displaying important device data and a choice of 6 themes means you can adjust the display to your choice of colour. 
Also see the Rigel Mini for a lighter, more compact 80W version.
What's to like: 
·Plenty of power
·Great cloud production
·Convenient external battery design
Priv N19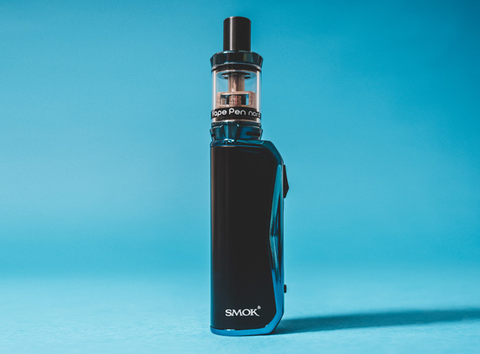 Mod kits don't always have to be bulky, complicated and restricted to experts. 
For the Priv N19 kit, Smok has paired the Priv N19 mod with the Nord 19 tank to create a compact and lightweight MTL kit with decent cloud potential and super easy-to-use features. 
The Priv N19 mod features a single button design and 4-level power output that makes wattage selection simple. The maximum 30W power output, paired with the mod's 1200mAh battery, also means the device has an impressive battery life for its size.
The included Nord 19 tank works with Nord coils and when paired with the 0.6Ω coil can produce decent vapour clouds for an MTL device. The tank's adjustable airflow ring also means you can create a tight or airy vape depending on what you prefer. 
What's to like:
·Compact & lightweight
·Easy to use wattage selection
·Great battery life
Best Smok Vape Pen
Stick V9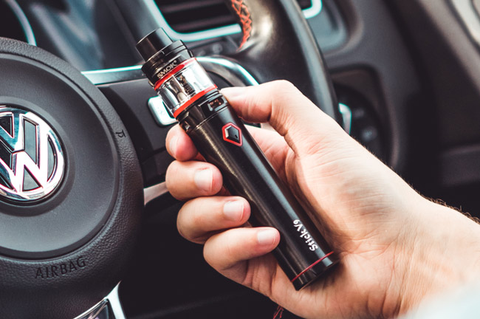 The Smok Stick V9 is a vape pen with a difference –  combining the compact size and ease of use of a pen-style pod device with the power output, battery capacity and cloud production you'd usually find in a mod.
The 60W device has a long-lasting 3000mAh battery and a simple, single-button design that means there's no need to fiddle with settings as the device will set the output for you – just press and inhale to vape. 
The Stick V9 kit pairs the device with the Smok TFV8 tank and Mini V2 coils for a Direct-Lung vape style with plenty of cloud production. The tank's adjustable airflow also means you can tailor the draw between airy or more restricted. 
If you prefer a different vape style, the Stick V9's 510 connection means it can also be paired with most other tanks. 
What's to like:
·Easy to use
·Long-lasting battery
·Large vapour production
What's next?
Smok regularly releases new products with evolving technology and features so expect plenty more from them in the future!

We'll continue to keep this post up-to-date with the best interesting Smok devices so make sure to check back.