SMOK Novo 2S vs SMOK Novo 4 - Latest Small Pod System From SMOK
After half a year since the release of Novo 4, SMOK recently released a new member of Novo family - Novo 2S. To be the 6th member, what's new for the Novo 2S? Today we are going to have a brief comparison with Novo 4.
SMOK Novo 2S
The lines and features of Novo 2S are symmetrically in harmony. An ultra-thin design makes the overall size pleasing to the eye. Novo 2S is equipped with a built-in 800mAh battery and two Novo 2 clear pods (0.9ohm meshed coil), which are perfect for MTL lovers to enjoy the purest flavor.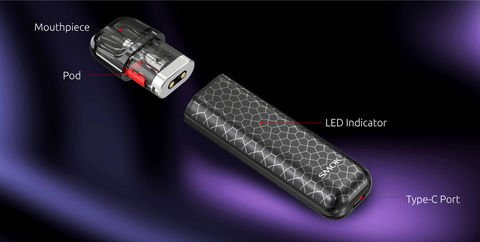 Main Features:
1. 1.8ml Capacity, with built-in 0.9ohm Meshed Coil
2. Bilateral U-shaped airflow channel for smoother smoke
3. 800mAh built-in battery, with stealth LED Indicator,support draw-activated
4. Armor series of patterns & ultra-thin design, pleasing to the eye
Packing List:
1 x Novo 2S Device
2 x Novo 2 Clear Pods (Meshed 0.9Ω) 
1 x Type-C Cable
1 x User Manual
SMOK Novo 4
Novo 4 reserves the delicacy and accessibility of the novo series and promotes itself to a functional pod system with something fresh, including the air-inlet ring facilitating customizing the flavor and vapor, the leak-proof coil design making the messy cleanup and liquid wasting a thing of the past, and the type-c port contributing to optimizing the charging efficiency.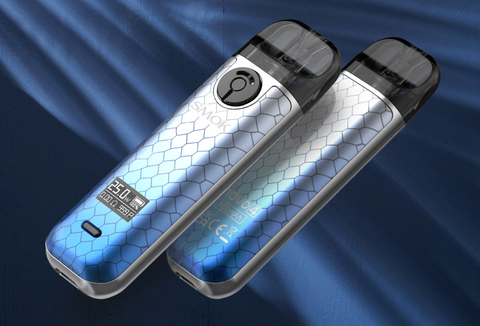 Main Features:
1. 2ml cartridge, side filling system; with airflow valve on the mod
2. LP1 coils with 3-sillicone rings structure to prevent leakage
3. 800mAh built-in battery, output power 5-25W
4. One-to-all button design, click 2/3 times to start power adjustment
5. IML surface craft of fluid-line patterns, beautiful & exquisite
Packing List:
1 x Novo 4 Device
1 x Novo 4 Empty Pod
2 x LP1 0.8Ω  DC Coils
Comparison
1. Novo 2S is obviously smaller. 
2. The coil of Novo 2S is non-detachable, while the coil of Novo 4 is replaceable. 
3. Novo 2S only has a LED Indicator on the body, while the Novo 4 has a one-to-all button(airflow valve & Power on/off & Power adjustment), 0.49'' screen and LED Indicator.
4. Novo 2S only supports draw activation mode, Novo 4 supports both button & draw activation mode.

If you want to have a very convenient device, without any setting, we suggest to choose Novo 2S. It is the best choice for newbies. And the price is more affordable.
Smok Novo 2S vs Smok Novo 4