Smok Nord Series: Which Is Better?
Smok is one of the biggest brands in vaping, they are known for their innovative design and high-quality devices that are available for all types of vapers. Over the years Smok has released a number of sub-ohm, MTL and even disposable kits in recent times including Smok Nord pod system devices.
There have been a variety of Smok Nord released, but how do they work, and which Nord pod vape kit is better? In this article, we compare all of the Smok Nord pod kits, to help you figure out the differences similarities and which one is the best choice for you.
Each kit in the Nord range has different features, but Nord vapes are known for being high-quality pod vapes that are easy to use and maintain offering satisfying flavour and discreet vapour.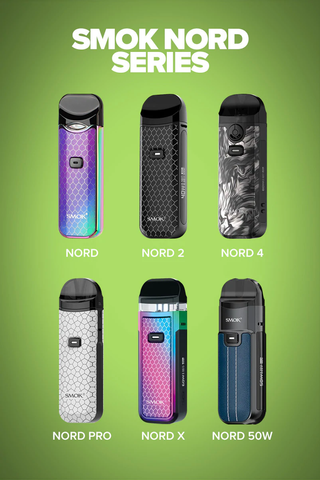 Smok Nord Kit
The Smok Nord is the original Nord vape kit and this kit certainly came through with a bang, setting the bar high for the other Nord devices to come.
Being the first Nord pod vape kit this device may not contain some of the advanced features of the later released kits, despite this though, this kit has some incredible features and is ideal for new vapers and anyone wanting to quit, while also allowing for looser sub-ohm vaping, so vapers can change their vaping style over time.
This kit has a long-lasting 1100mAh battery capacity and allows you to vape up to 15W for a nice MTL experience.
Compatible coils: 0.6ohm mesh coil (for sub-ohm vaping) and 1.4ohm regular coil (for MTL vaping)
Features:
·Size: 94x 30x 18.8mm
·Battery: built-in 1100mAh battery
·Wattage: 10W-15W
·Colours indicates power
This kit also has some very considerate safety precautions to ensure the longevity of the kit, and keep you safe while you vape including Lithium battery protection, 8s cut-off, Short circuit protection and low voltage protection.
Smok Nord 2 Kit
The Smok Nord 2 is the second of the Nord series, giving you many of the features that you loved in the original nord series, with some added extras including a larger battery of 1500mAh, allowing up to 40W and a 0.69inch colour screen that shows you your battery life and charging time. This kit also features smart pod detection and has a nifty side filling port.
Compatible with RPM and Nord pods and coils.
Compatible coils: 0.4ohm RPM Mesh Coil (best at 25W)0.8ohm Nord DC MTL Coil (best at 16W)
Features:
·Size: 95 x 30.5 x 20mm
·Battery: 1500mAh built-in battery
·Wattage: 1-40W
·Smok Nord Screens: 0.69 inch OLED display
Similar to the original Smok Nord, this kit also has some super considerate safety precautions including; 8S cut-off, Low-voltage Protection and Short Circuit Protection.
Smok Nord X Kit
The Smok Nord X kit has truly added value to the entire collection. This kit is tri-proof, meaning it's IP67 rated, allowing it to be waterproof, dustproof and shockproof for fantastic durability.
This kit has a large 1500mAh battery, that allows for up to 60W, and fully charges in 75minutes, letting you vape for longer. The OLED screen allows you to see your wattage, battery life and the intelligent coil recognition, lets you clearly see your resistance.
Compatible coils:  RPM 2 pods with all RPM coils, allowing you to easily switch between MTL and DTL vaping.
Features:
·Size: 100 x 31 x 23mm
·Battery: built-in 1500mAh battery
·Wattage: 5-60W
Again you can put your mind at rest with the safety features: 8s cut-off, Short circuit, Over-heating protection and Low-battery warning.
Smok Nord 4 Kit
The Smok Nord 4 kit certainly stands out from its predecessors, it is a very versatile kit that has a clever design and allows for a satisfying MTL or sub-ohm experience.
The very powerful and long-lasting 2000mah battery gives you a max 80W output allowing the ability to enjoy a powerful sub-ohm vaping experience.
It also features two airflow rings on both sides making it easy for you to adjust your airflow for a more restricted or looser airflow.
This kit features a clear screen, smart Pod detection and a Side filling design.
Compatible pods: Nord 4 RPM 2 Pod (RPM 2 Mesh 0.16ohm Coil Preinstalled) and Nord 4 RPM Pod (RPM Mesh 0.4ohm Coil Preinstalled).
Features:
·Size: 33.7 x 24.4 x 104.9mm
·Battery: built-in 2000mAh battery
·wattage: 5W-80W
Safety precautions include; 8s cut-off, Short circuit protection, Low voltage protection
Smok Nord 50W Kit
The Smok Nord 50W is arguably the best kit out of the entire collection and is certainly the most popular.
It has a 1800mAh battery ensuring a long battery life, making it easy to vape on the go. It also has super-intelligent Atomizer recognition, that cleverly recognises the coil and adjusts the wattage accordingly giving an optimised experience, hassle-free!
Compatible pods and coils include; the Nord Pod, compatible with the Nord coil series, and the LP2 pod, compatible with the LP2 coil series.
·Size: 31 x 22.6 x 97mm (regular) 32 x 23.9 x 98mm (leather)
·Output wattage: 5 - 50W
·Battery capacity: 1800mAh
safety precautions include all of the loved protections we have seen before, plus some additions considerate features: Lithium-ion protection, Low voltage warning, 8 seconds cut off, Over temperature protection and Short circuit protection.
Smok Nord Pro Kit
The Smok Nord Pro is the newest so far, out of the Nord series vape kits and contains many of the familiar features we have grown original Nord kits in this collection, with some upgraded features.
It features a button or draw inhale depending on your style, and an upgraded airflow system allowing you to twitch from DTL or MTL vaping.
This kit has a slightly smaller battery, going back to basics, similar to the Original Nord, giving you a 1100mAh battery but this time going up to 25W. 
Compatible coils: The new Nord Pro coils, and all other Nord coils.
·Size: 96 x 29 x 18.9mm
·Button/ Air Switch
·Child-resistant Pod Design
·1100mAh Built-in Battery
·Intelligent LED Indicator
Smok Nord Pods Comparison
The original Nord pods were extremely popular and was truly revolutionary when it was first released, it was one of the first small pod systems that had the ability to allow you to choose between DTL and MTL inhales.
The Smok Nord pro pods are similar to the original Nord pod but features a new child-resistant system that locks the coil firmly in place. The Nord Pro pod also allows you to change the airflow depending on what way around you insert the pod.
The Nord X pod was the first from the series to have a transparent window, allowing you to clearly see your vape juice levels - a very welcomed upgrade.
All pods are disposable, so can be easily replaced once you are ready to, they also have a comfortable mouthpiece that is pleasant to use, and helps you disassociate from the traditional round cigarette-like mouthpiece.
Smok Nord Battery Comparison
The battery can make a massive difference to your vaping experience. Wattage increases generally as battery size increases, which does mean the overall size of the kit increases. So if you are after a smaller more compact vape, then go for one of the Nord kits that have a smaller battery size, but bear in mind you might need to compromise on wattage power. 
Having a large battery in your kit, can not only mean power but also allows you to vape for longer without the need to charge, depending on what wattage you select. However, the charging time can be longer with a bigger battery, so it's important to consider all of these factors when selecting your perfect kit.
This series features amazing kits that will give you a fantastic experience no matter which one you choose, but, ensure to consider what you want out of a kit, versatility, ease of use, compact size, battery longevity or coil compatibility can change your vaping experience so decide what feature stands out to you when selecting your Nord device.