SMOK Nord Pro vs SMOK Nord 50W
Here comes another new member of Nord family from SMOK - Nord Pro. The last new member is Nord 50W. They have a very similar appearance. You may be curious about the differences between them. Today we are going to have a brief comparison between them.
SMOK Nord Pro
The Nord PRO is a new pod system that offers two activation modes: auto-draw and button-triggered. Powered by a built-in 1100mAh battery, it can reach a maximum output of 25W, which is suitable for vaping enthusiasts who pursue the ultimate taste. By switching the pod installation direction to easily adjust the airflow, you will obtain DL and MTL styles through two Nord PRO meshed coils.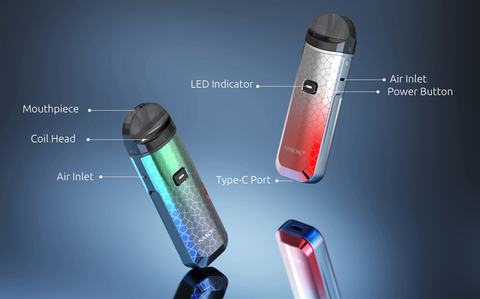 Main Features:
1. Side-filling cartridge, with child-resistant design
2. Compatible with Nord Pro Meshed Coil 0.6/0.9ohm Coils, and also Nord series Coils
3. 1100mAh built-in battery, with intelligent LED indicator, support both button/air activated
4. Adopting in-mould labeling(IML) technique, with prismatic
ular 2 series of shape
Physical Parameter:
Size: 96 x 29 x 18.9mm
Capacity: 3.3ml/2ml(TPD/UK)
Resistance: 0.6Ω
Battery: 1100mAh
SMOK Nord 50W
Thanks to continuous optimization and stable iterations, the new nord 50W sets new standards for the nord series with an internal 1800mAh battery bringing you up to 50W of power to your satisfaction. The kit includes two versatile pods that work perfectly with the upgraded airflow system to deliver scrumptious flavor and massive vapor: one is the nord pod compatible with nord coil series, and the other is the LP2 pod compatible with LP2 coil series with enhanced leak-proof technology.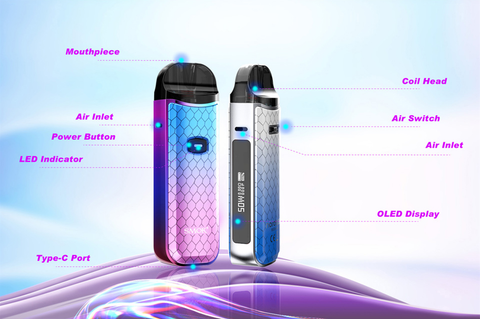 Main Features:
1. Translucent cartridge, side filling system, with two-side adjustable airflow
2. Nord 50W LP2/Nord/RPM Cartridge, compatible with LP2/Nord/RPM series of Coils
3. 1800mAh built-in battery, output power 5-50W
4. Adopting in-mould labeling technique(IML Series) & premium leather pattern(Leather Series)
Physical Parameter:
Size: 31 x 22.6 x 97mm(IML Series) / 32 x 23.9 x 98mm(Leather Series)
Capacity: 4ml/2ml(TPD/UK) (Nord 50W LP2 Pod) 
4.5ml/2ml(TPD/UK) (Nord 50W Nord Pod)
Resistance: 0.23/0.6Ω
Battery: 1800mAh

In conclusion, the biggest difference between Nord Pro and Nord 50W is that the Nord Pro is without screen, while the Nord 50W has an OLED screen. Their airflow adjustment method is also different. For Nord Pro, you just need to switch the pod installation direction. For Nord 50W, there is a slide button on the body for all-around airflow. And the Nord Pro supports both button/air activated mode, while the Nord 50W only supports button activated mode.

Besides, the Nord Pro comes with a child-resistant design. The safety pod lock uses the ingenious lock design to prevent kids' access to the pod. What's more, the Nord Pro is smaller, you can easily put it in your pocket, very convenient to carry.