SMOK VAPE PODS
Smoktech has a significant collection of refillable vape pod kits. While many are more powerful models like the Smok RPM80 or mid-range 40w models like the Smok Nord 2, their bread and butter remains lower wattage MTL vape pods that are optimized for nic salts. Smok has a huge range of vape pods to meet the needs of every vaper. It turns out there are plenty of max-VG vapers looking for a convenient pod and nic salt vapers who are looking to vape the less potent 25mg/ml strengths. 
The newest addition to their lineup is the Smok Nfix. A compact device, it is comparable in performance to the Smok Novo 3 but has a totally different form factor. It also has a few innovative technologies that make it stick out from its more established stablemate and the array of competition it faces in the crowded refillable vape pod segment.
SMOK NFIX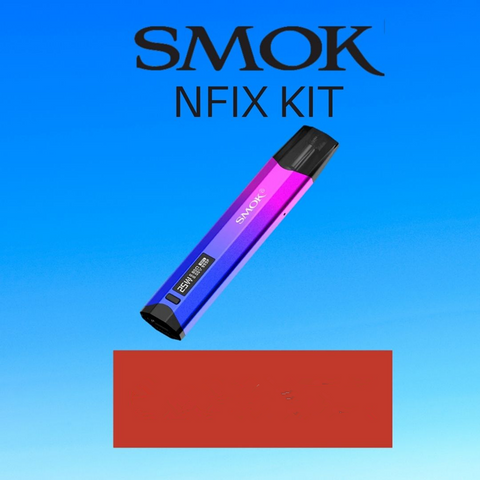 The Smok Nfix is a rectangular vape pod kit with a 0.69" OLED screen.  This is a nice feature because although the Smok Novo X also has a small display, the more popular Smok Novo 2 does not. This screen allows the Smok Nfix to offer variable wattage. This is a great call, as it is powerful enough and has low enough resistance coils to easily handle max-VG eliquids.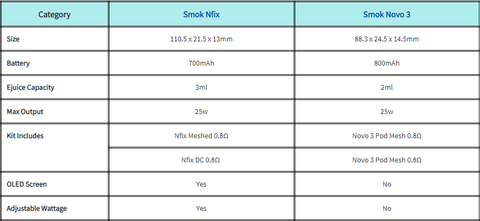 The Smok Nfix weighs a feathery 32g but still manages a 3ml eliquid capacity and is powered by a 700mAh battery. With an output of 25w, it matches the Novo 3 in output although the battery is slightly smaller. The Smok Novo 2 and Smok Novo 3 are both powered by 800mAh rechargeable batteries.
But an edge that the Smok Nfix does have is the use of USB-C. This reduces charging time to less than hour. The Nfix also has excellent airflow, a dual design which really pays off when it comes to autodraw activation, draw and flavor. 
As far as shape, it comes down to personal preference when comparing the Nfix and Novo 3. The Novo 3 is a stubbier device, measuring 88mm versus the 110.5mm long Smok Nfix. The Nfix is slightly slimmer but the primary reason for the size differential is the inclusion of the OLED Screen. But fans of the Juul and Vuse Alto form factor are likely to prefer the slimmer Nfix.
SMOK NFIX PODS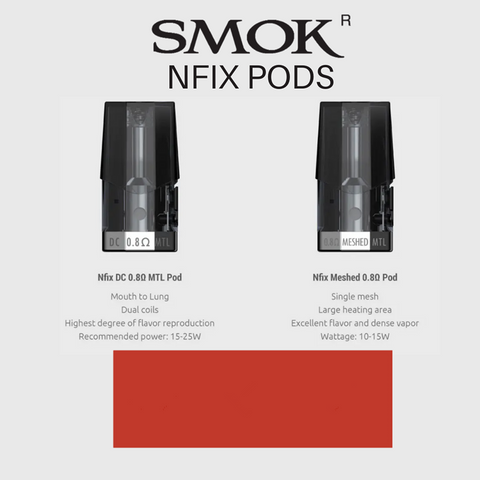 There are three pod designs that are compatible with the Smok Nfix and two are included in the kit. Each Smok Nfix vape pod kit comes with a single Nfix DC MTL 0.8Ω pod and one Nfix Meshed 0.8Ω pod. In both cases, the eliquid capacity is 2ml.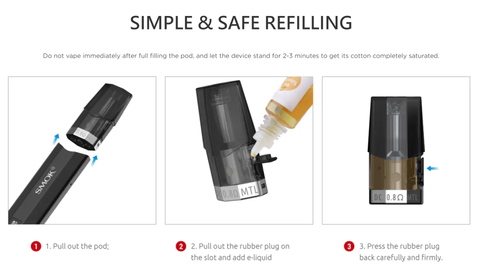 The Nfix DC MTL pod is optimized for a higher wattage and runs best between 15 and 25w. The dual coil design has a nice and tight draw. The state of the art in coil design has advanced to a point where the flavor is very clean and the pod itself extremely long lasting. 
The Nfix Meshed pod has a quicker ramp up speed and generates denser vapor. It is listed as running best between 10 and 15w, but I ran it at around. Either pod can handle max-VG eliquids.
But there is little doubt that most Smok Nfix users will gravitate towards nic salt eliquids and this is where this autodraw vape pod kit really shines. It extracts perfect flavor from 50/50 VG/PG nic salts and delivers the smoothness that adult vapers are looking for. It is a thoroughbred and a great pod kit. 
The final pod is not included in the kit but will appeal to nic salt purists and those looking for a studier throat hit. The Nfix SC 1.0Ω MTL pod also operates best between 15 and 25w. This single coil design has a tighter draw and bold flavor.
SMOK NFIX FINAL THOUGHTS
If you are looking to switch from prefilled vape pods or disposable ecigs to a refillable device, the Smok Nfix is a great starting point. Easy to fill, efficient and small, it delivers great flavor and the pods last for a ton of fills before they need replacing.
The battery is fine for most purposes but if you run it at 25w all day, it is best practice to charge it overnight.  The OLED screen is not a gimmick but a great feature, as the adjustable wattage controls are hugely convenient. The Smok Novo 3 may seem to be the simpler device because it lacks a screen but day-to-day, there is basically no drawback to the additional controls that adjustable wattage provides.