September: New Vape Products You Missed
Summer is officially over! So it's almost time to welcome pumpkins, fallen leaves, and all things spooky, but for now, let's have a little look at last month before we get carried away with cosy blankets and rainy days in.
We have handpicked 5 extra special vaping products that were released last month that will blow you away. We have something for everyone in this selection, whether you're new to vaping or an advanced expert you are sure to find something you'll love.
Check out September's best new e-cigarettes and e-liquids released last month!
Cotton & Cable 50ml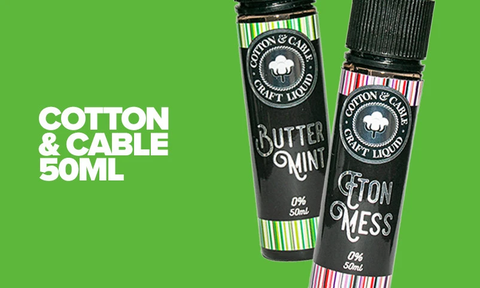 First up is Cotton & Cable shortfill e-liquids.
This collection consists of 8 unique desert-inspired flavours that are perfect for anyone with a sweet tooth. With these liquids you can get the same sweet treat tastes you love all day long without dealing with the extra calories that come with indulgent desserts. Cotton & Cable contain zero nicotine however there is 10ml of room for your favourite nicotine shot.
Flavours:
·Baked Apple- A sweet blend of baked apples, butter, cinnamon and brown sugar
·Buttermint - Decadent cream and butter folded into mint, for that nostalgic Buttermint sweetie taste.
·Custard Tart - Rich and creamy vanilla custard heaped into a flaky buttery pastry.
·Eton Mess - Tart raspberries and succulent strawberries folded into sweet meringue and mellow cream.
·Fruit Fool - Juicy Apples, Pears, Oranges and bananas topped with whipped cream.
·Hot Cross Bun - A moist spiced bun flavour with citrus currants finished with a sugar glaze.
·Liquorice Allsorts - The distinctive taste of fruit, coconut and liquorice, almost identical to the original.
·Upside Down Cake - Sweet and tangy tropical pineapple with a fluffy cake base.
These mouth-watering vape juice flavours were designed with the advanced vaper in mind, with their high VG content, this e-liquid works best in high powered sub-ohm devices that use large strong coils.
Features:
·0mg Nicotine
·70VG/30PG
·50ml Shortfill
·Nic Shot Ready
·60ml Bottle
·Made in UK
·DTL Vaping
Aegis Solo 2 Kit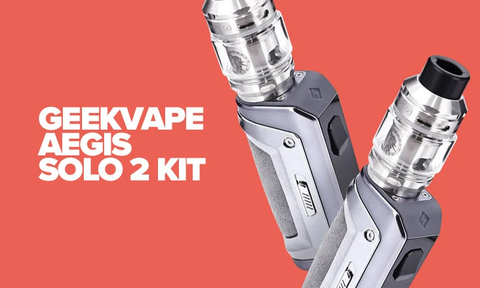 Now you have your Cotton & Cable dessert e-liquid, all you need is a high-quality sub-ohm kit to use it in. Welcome to the Aegis Solo 2 Kit by Geek Vape, also known as the S100 Kit. This kit has drawn a lot of attention from sub-ohm vape lovers due to the popularity of its predecessor the Aegis Solo Kit. This kit has some of the amazing qualities you loved in the last device plus some more upgraded elements to give you a truly elevated experience.
The Aegis Solo 2 kit comes with the Geekvape Z Sub-ohm tank that gives you a direct top airflow, a large filling hole and leak-free vaping.
Although both the Aegis Solo and the Aegis Solo 2 have a maximum wattage of 100W, you can clearly view and customise your modes on the large full-colour screen with the Solo 2, it is also IP 68 rated making it waterproof, drop shockproof and dustproof, delivering a truly robust and reliable kit wherever your adventures may take you.
Features:
·Size: W40.46 x H137.60mm
·Wattage: Up to 100W
·Longest Vaping Time: 10s
·New Tri-proof
·Charging Port with Flip Cover
·1.08" fullscreen
·Type C Charging
Uwell Caliburn A2 Pod Kit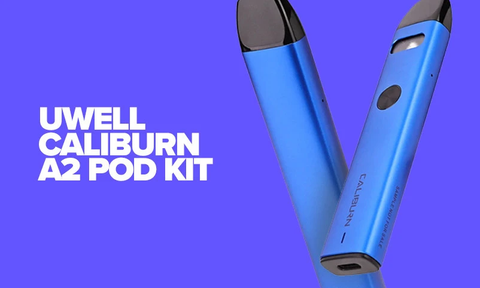 The Uwell Caliburn A2 kit is great for current smokers and anyone that wants to quit smoking traditional cigarettes or tobacco products. This electronic cigarette looks and feels similar to a cigarette in your hand due to its sleek and discrete appearance, allowing it to easily slip in your pocket, but it also works like a traditional cigarette.
The Uwell Caliburn e-cig is draw or button activated, depending on your preference and works best with nicotine salt e-liquid, meaning you can use nicotine levels as high as 20mg to keep your cravings at bay and demolish your cigarette use, so if you loved the original Uwell Caliburn Pod kit, we're sure you'll love the upgraded Caliburn A2 just as much. When combined with nic salts or 50:50 e-liquid you will also get a satisfying throat hit, and yummy flavour.
This kit has an 520 mAh internal battery that gives you a maximum wattage of 15W, and is fully charged in just 35mins, giving you the best out of your kit all day long.
Features:
·Material: Aluminium Alloy
·Size: 110.1mm x 21.3mm x 11.7mm
·E-liquid Capacity: 2ml
·Net Weight: 31g
·Wattage: 15w
·Battery Capacity: 520mAh
Lost Vape Hyperion DNA 100c Mod
The Hyperion DNA 100C Mod by Lost Vape is a highly advanced premium mod for advanced vapers that want the ultimate best vaping experience possible. It has a number of customisable features along with its sleek appearance which sets it apart from a lot of vaping devices in the vaping industry.
This considerate creation is an incredibly robust and reliable kit, perfect for taking away on your travels and vaping on the go, thanks to its tri-proof IP68 rating making it waterproof, dustproof and shockproof.  Its fast-charging USB C port also allows you to charge easily and quickly when you're out and about, or running out of time.
The Hyperion DNA 100C Mod is powered by a swappable 21700 battery that gives you the ability to vape at 100W and  has a clear 0.9inch colour display where you can customise your kit and tailor it to your vaping style.
Features:
·Body Material: Zinc-Alloy and Liquid Silicone Rubber
·Dimension: 44.5 x 34.5 x 95 mm
·Power Range: 1-100W
·Battery: Single 21700/20700/18650 Battery(Not Included)
·Temperature Range: 200°F-600°F
·Screen Pixel: 0.9"
Smok Nord 50w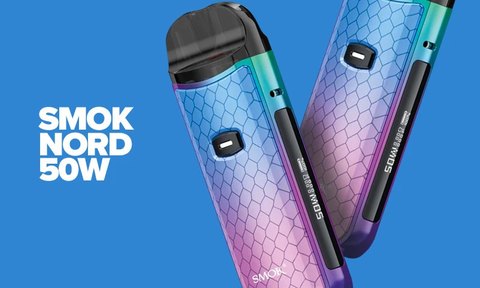 Last but certainly not least is the Smok Nord 50W. The Nord 50W is an awesome MTL and RDL kit by the super popular brand Smok. The Nord series has taken the MTL  (mouth to lung) vaper by storm, giving you an amazing vaping experience for those that love MTL devices, with that little added extra in every device.
The Nord 50W has taken that concept to the ultimate next level. This kit does not only provide an MTL experience, but an RDL (restricted direct lung) option, speaking to those that like an airer inhale while also appealing to people like to switch up their vaping styles from time to time to choose their airflow through the adjustable airflow system making it perfect for a variety of vapers.
It contains a 1800mAh internal battery that gives you up to 50W which is very impressive for its compact and sleek external. Along with its amazing strength, this kit has a number of protections to keep you safe and ensure vaping longevity.
Features:
·Size: 31 x 22.6 x 97mm (regular) 32 x 23.9 x 98mm (leather)
·Wattage: 5 - 50W
·Battery capacity: 1800mAh
·Low voltage warning
·Over temperature protection
·Short circuit protection