Rechargeable Vape Pens for On-the-Go Vaping
Vaping nicotine tends to taste better than smoking. Not only that, but it looks like it's more affordable as well. Not to mention, rechargeable pens make taking your nicotine on the go trivial.

These vaporizers are all sleek and portable, making them easy to stow away while traveling. If you've been searching for something to take on your next trip, perhaps some of our products might strike your fancy.
The Top Rechargeable Vape Pens
Rechargeable pens operate similarly, but they all differ in key characteristics. For example, some products have much longer battery lives than others, meaning you'll charge them far less frequently. People who don't stick near outlets might be better off with a larger battery.
That way, even long days won't keep you from your nicotine.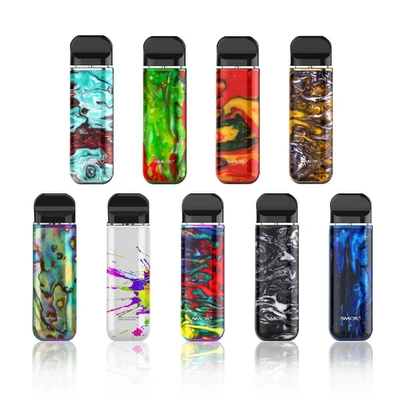 Smok Novo 2 25W Pod Mod Starter Kit
The Novo 2 Is an upgrade on their previous model. Similarly sized, the newest addition is just as easy to hit discreetly. So, we've got to admit the updated mouthpiece was a welcome addition, as comforting as it is.
Product Specifications
- 88.3mm by 24.5mm by 14.5mm:
Small enough to hold in your hands, this vape's size sounds like one of its strongest assets.
- 800mAh Rechargeable Battery:
Sustained by its internal battery, this vape lasts for about 24 hours. Then, charging it only takes minutes.
- Ergonomic Mouthpiece:
How this feels when you take a hint is comparable to a tropical vacation. In other words, it's quite relaxing.
- Zinc-Alloy Chassis:
Zinc is both lightweight and durable, making it the perfect alloy for chassis construction. Thanks to this low-density alloy, feeling way down ought to be far from your mind.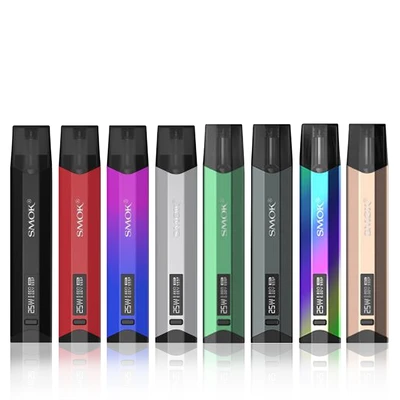 NFIX 25W Pod Mod Starter Kit - Smok
This 25 W rechargeable pen, made by Smok, delivers tasteful hits, one after another. Changing its settings it seems to be just as delightful, owing to its screen's unreal clarity. Miscalculating hits seems impossible with such easy access to the settings.
Product Specifications

- 700mAh Rechargeable Battery:
Enough juice to last for hours, a rechargeable battery satisfies the most-demanding customers. You'll hardly ever recharge it.
- 0.69" OLED Display Screen:
Sure, this screen's dimensions may not be all that impressive on paper. However, when you see it in person, things look much clearer. Figuring out how to set the settings for that perfect hit won't be quite so challenging, anymore.
- Draw-Activated:
Other vapes force users to press a button before taking hits. With this one, on the other hand, hitting it is as simple as taking a breath. Put the vape up to your mouth, and then simply inhale. Its draw-activated mechanism detects when you're pulling in air. At that point, it fires automatically.
- Low Battery Warning:
Vape dead in your hand, scrambling for a charger sends your heart racing, as you search desperately for an outlet. Luckily, on account of this indicator, such crises shouldn't bother you. Instead, you'll know precisely when to plug up.
RPM Lite 40W Pod Mod Kit - Smok
A lightweight model like this could be perfect for the traveling vaper. Moreover, its intelligent chipset delivers crisp flavors without overheating them. Had we known about such devices before, we'd have gone through far fewer coils. The high-temperature protection provides peace of mind, preventing your hits from ever getting burned.
Product Specifications

- 0.96" TFT Color Display:
Lots of displays seem as if they are only available in monochromatic. Fortunately, as large as it is, this display also supports color. Reading your settings hasn't been easier.
- New Intelligent IQ-R Chip:
These chips intelligently distribute electricity throughout your device. Thus, each time you fire it, those flavors ought to explode magnificently.
- High-Temperature Protection:
Enthusiastic users often hit their vamps until the coils are burned, ruining their future hits. Luckily, this device has a built-in feature, protecting against such occasions. As such, you'll hardly ever need to purchase replacement coils. Therefore, saving you even more.
- Side Filling Design:
How many times have you accidentally spilled vape juice on the countertop? For us, it's happened far more times than we'd like to admit. The side filling design aims to limit those frustrations. In our experience, it appears to do the job quite well.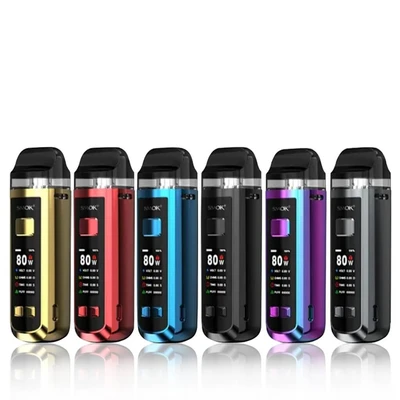 SMOK RPM 2 80W Pod Mod Kit
Following their former successes, Smok has been hard at work, innovating their lineup. Their newest addition updated several flaws, outcompeting most of the competition. Above all, its impressive battery capacity outperforms every other vape on this list.

So, anyone who would rather have the vape with the largest battery can stop right here. Not only does this vape's battery outperform all the others, but it's also got the largest display.
Product Specifications

- 2000mAh Battery:
From our experience, every 100 mAh of battery life provides about one hour's worth of use. So, with some simple mental math, it looks like this vape should last for about 20 hours. That's more than enough time for most to make it through a whole day.
- USB Type-C:
USB type C chargers have become the new industry standard. Our experience with them felt much easier than when we first began using micro USBs.
- 1.14inch TFT Display:
We've never seen such a large display on a vaporizer. We'd suggest checking this one out in person, as sizing it up proves difficult otherwise.
- 7ml Capacity:
For the most part, every milliliter of capacity supplies about 100 hits worth of flavor. So, on a full tank, you can hit this vaporizer about 700 times.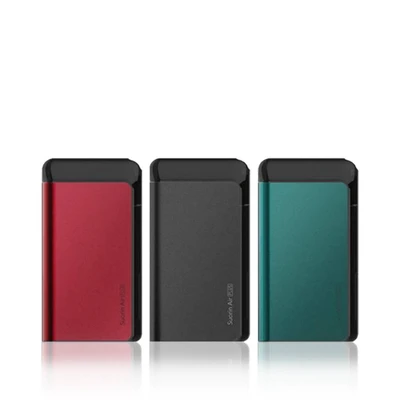 Suorin Air Plus 22W Pod Mod Kit - Suorin
Suorin's Air Plus, an upgraded version of their previous model, is more than just larger than last time. Its enhanced coil atomizer vaporizes anything, turning them into aerosolized mists. Besides their updated coil, they've also improved the design of their pods, minimizing the prevalence of leaks. Now, with that this device in your hand, cleaning up spills won't be a thought.
Product Specifications

- 3.3V - 4.2V:
Would you like a device with a variable voltage? Few vapes combine this device's size and customizability. That would make it a winner in our book.
- Horizontal Coil Atomizer:
Most atomizers are aligned vertically. Changing its orientation seems to have affected how the flavors develop, making them even better.
- Oil Baffle:
On their previous model, the oil baffles didn't seal properly, causing frequent leaks. They've redesigned their baffles, and those problems have become a lot less common. Instead of cleaning up spills, your time will be spent savoring the flavors.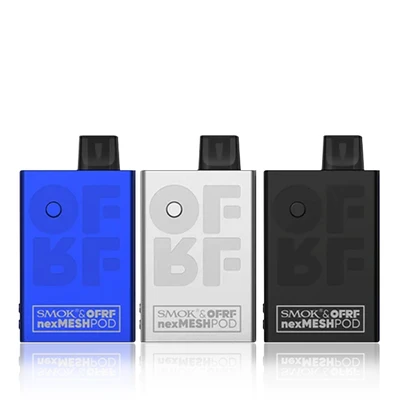 Smok OFRF NexMesh 30W Pod Mod Kit
Smok's 30W device breaks the mold by including a sizable battery inside of an aluminum chassis. Overall, this combination creates something lightweight, yet durable. Breaking your vaporizer shouldn't be something you worry about, as these seem to last forever.
Product Specifications

- Integrated 1200mAh Rechargeable Battery:
Battery life happens to be a primary concern of ours. Unless vape lasts for at least today, we'd never bother with it. Fortunately, this has surpassed our expectations.
- 0.69" Display Screen:
Although larger screens exist, they've still crammed more than enough info on the smaller screen. So, if you find visual displays make vaping easier, check this out. It won't disappoint.
- Aluminium Alloy Chassis:
Long ago, aluminum was an even more valuable material than gold, thanks to its low-density durability. It's a lot cheaper now, but those characteristics are still just as powerful.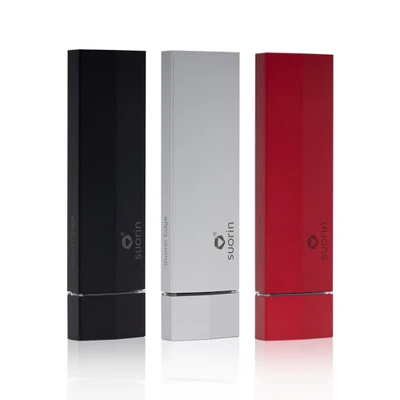 Suorin Edge Pod Mod System - Suorin
Suorin's newest addition happens to be our favorite, and we've yet to find a stronger competitor. The small pods and low-density battery hardly weigh a thing. So, anyone who loves lightweight devices should take a gander at these. 10W packed inside the bay, you'll never feel like its power is lacking.
Product Specifications

- 230mAh Battery:
Recharging a battery this small happens in a flash. Then, you'll be right back where you left off, except with a full battery.
- 1.5ml refillable Suorin Edge pods:
The coils inside of these pods disperse your vapors evenly, distributing the taste across your mouth. We've never enjoyed such flavorful hits from anything this small before.
- USB-C Charger:
Charging this vape has been as simple as tying your shoelaces while sitting in a recliner. To phrase that differently, it's hard to do wrong, thanks to the updated USB C-type design.