Innokin Sceptre Tube Review: Good Coils and a Long-Lasting Battery
Product intro and specs
Today I'll be reviewing the new Innokin Sceptre Tube kit. Innokin doesn't pump out products as fast as most companies, but their output is usually really good. Even dating back to their Coolfire and Endura kits, they have been known as a company that caters to beginners with solid products.
The Sceptre Tube is a low-wattage MTL to restricted DL pen-style kit. It is an internal battery device listed at 1300 mAh, uses a fire button, and has a 2 mL capacity. It's a tiny device, measuring just 118 mm x 20 mm. The tank is refillable, and the coils are replaceable on this AIO.
The definition of sceptre is "a staff or wand held in the hand by a ruling monarch as an item of royal or imperial insignia". Keep reading to find out if the Sceptre Tube kit lives up to its name.
Price: $24.99 (at Element Vape)
Colors: Silver, black, white, red, pink, purple.
Specifications
·Device dimensions: 20 mm x 118.2 mm
·Pod capacity: 2 mL
·Coil: S-Coil 0.5 ohm
·Resistance range: 0.4-3.5 ohm
·Battery: 1300 mAh / 4.81Wh / 3.7V
·Min/max wattage: 18/20 watts
·Min/max voltage: 2.65-3.40 volts
·Charging current: 5V/1A
Kit contents
·1 x Sceptre Tube mod (1300 mAh)
·1 x Sceptre Tube pod (2mL / 0.5-ohm S-Coil installed)
·1 x Spare S-Coil 0.5 ohm
·2 x Mouthpiece O-Rings
·1 x Type-C charging cable
·1 x Quick start guide
Build quality and design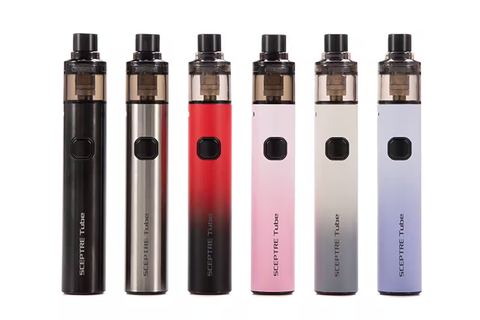 The Sceptre Tube feels very light, and while it doesn't have a "solid feel" to it, I have dropped it a few times with no issue, and it appears to be more than durable enough for everyday use. It features a square fire button on the front as the only button, and it has no rattle on the button if you shake it.
There is an LED around the fire button to let you know the battery charge and it will blink a few times after you are done with your puff which is awesome. It makes monitoring battery life pretty easy, unlike many devices where the light shuts off quickly after your puff.
Branding is pretty simple with a "Sceptre Tube" on the front and a barely noticeable "Innokin" engraved on the tank. Very lightly branded which is nice. The tank part of the AIO is held in by magnets that are strong and keep it in place. You spin the entire tank to adjust the air which can go from a solid MTL to a restricted DL.
Getting started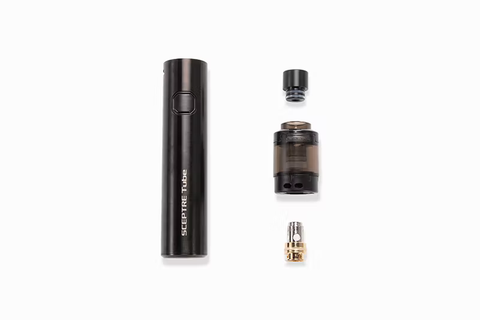 The Sceptre kit is a pretty typical pen system that's simple to use. There is one button on it which does everything. You can click it three times to turn it on or off. There are also two modes: high and low power. Pressing fire twice will switch modes and the LED blinks to let you know. Red is high mode and blue is low mode. With the included 0.5-ohm coil, it's 20 watts on high and 18 watts on low. Then you just use the fire button to vape.
The included tank is meant to be a hybrid tank/pod. It uses plug-n-play coils from their S-coil line (the same coils used by the Sensis kit and the original Sceptre) and it attaches to the base via magnet, which means that it is proprietary. Only one is included in each kit, which is fine since it's pretty much a tank anyway more than it is a pod. I wouldn't have complained about a spare tank though.
Air is adjustable by rotating the entire tank and lining it up with the air holes cut into the tube. Refilling the tank is kinda easy. It uses a slide back top-fill and there is a faint arrow on the top to let you know where to push (it also lines up with the Innokin logo.) The fill hole is a good size, however, the drip tip can get in the way when filling if the bottle has a short nozzle. The tank is fully exposed, and while it is technically tinted, it's a very light tint so easy to see your juice level at all times. Still, would have preferred a clear tank. Not sure why the tint is so popular—I'd rather see the juice level easier.
Coil replacement is mostly easy as well, although there is an adapter on the coils that does complicate things a bit. With the tank removed, just pull the coil out from the bottom. Then unscrew the adapter from the bottom of the coil and screw it on the new coil before installing. I could have done without this personally. It's been a while since I saw an AIO that needed an adapter, and it's easy to not know that and throw it out. The coils however are easy to pull out thanks to the adapter sticking out a bit, which is nice. No need for any tool or screwdriver, which is a bonus as that's been an annoying part of some kits lately. So, it's a tradeoff there. Still, overall it is an easy-to-use beginner pen system as it should be.
Performance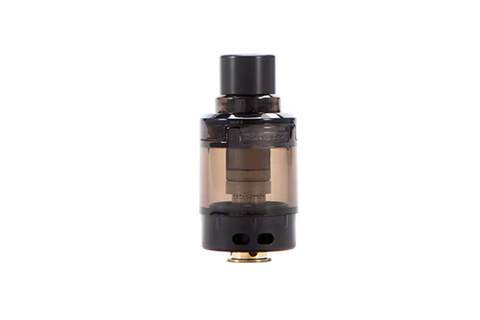 The Sceptre Tube uses the S-coil line and comes with two coils but both are 0.5-ohm coils. The 1.2-ohm coil is sold separately, but I was sent a pack of those to test as well. I'm happy this kit came with a spare coil as some kits still don't for some reason. There is one other coil (a 0.65-ohm one) but I wasn't sent any of those.
I hadn't used any of these coils before so it was nice to test them out. Typically, Innokin makes really good low-wattage coils. I started with the 0.5-ohm coil and used 50/50 and 60VG juices. I used high mg salt nic ones due to the low output of the device. The flavor I got from the coil was really good for a 20-watt coil and I got 30 mL of juice out of it so really good life. Typically, you expect about 20 mL from a coil like this.
Then, I used the 1.2-ohm coil. The flavor was solid. Not bad but not great. It's more MTL than the 0.5-ohm coil but not a huge difference. As for coil life, I expect around 10 mL from a coil like this and got 16 mL, so good life as well. Overall, both coils are good, but I found the 0.5-ohm one to be better, so you can just stick with those.
Battery life and charging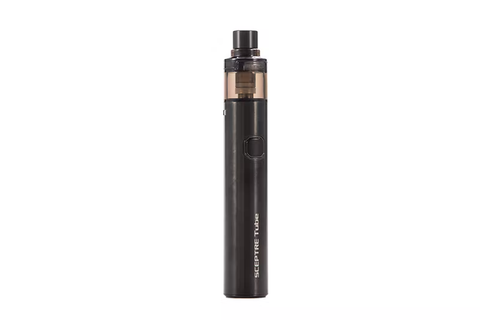 The battery on this device does seem to last long and should be an all-day vape for most. You'll get more life with the 1.2-ohm coil, but even with the 0.5-ohm coil, you can vape several tanks before needing a recharge.
They list the battery capacity at 1300 mAh and the charge rate at 1A, but they don't list a charging time. It uses a Type-C port to charge. In my testing, the max charge rate I got was 0.79A which is good enough for a 1A rating as most companies round up. For capacity, I got 1232 mAh, which is really good and worthy of the 1300 mAh rating. Many companies will overstate battery capacity, sometimes up to 20%. This is 5% overrated which is more than ok.
As for charging time, I clocked it at 1 hour 44 minutes, which is a little long for a device like this. Typically I'd expect about an hour, maybe 90 minutes tops. I would have liked a faster charge rate on this device but part of the reason it takes so long is its large capacity. If it had a 750 mAh capacity it would charge in about an hour.  It does have passthrough vaping as well.
The LED around the button will light up after every puff and its color will function as battery indication:
·Green: 50-100%,
·Yellow: 10-50%
·Red: 0-10%
That spacing to me is a bit off though, and wish it was spaced out better. Three-step indication is the standard, but most devices have it spaced out differently. Green should be 70-100%, yellow should be 30-70% and red should be under 0-30%. So I'll ding them on that. I would also like to see companies add a fourth step in and do it in 25% increments. That would be ideal, but no companies seem to do that yet.
Pros / Cons
·Good build quality
·Lightweight and durable
·Nice throwback pen/tube design
·Tank is held in firmly by magnets
·Lightly tinted tank (easy to check juice levels)
·Adjustable airflow
·Two power mode options (low and high)
·Three coil options
·Uses an existing good coil line so it's easy to find coils
·0.5-ohm coil is really good (and the 1.2 is solid)
·Great battery life
·Good rating for charge rate and battery capacity
·Passthrough vaping
·LED stays lit for a while (easy to check battery level)
·Only one coil type is included
·A coil adapter should come with every coil
·Battery meter is poorly spaced out (and could use an extra step)
·Charges slowly
·Capacity is kinda small for a tube AIO (2 mL)
Gallery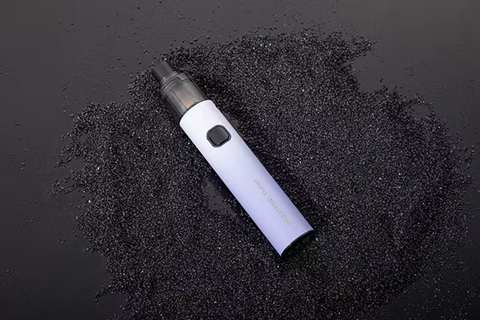 Verdict
Overall, Innokin did an excellent job with this kit. Sure, it has its quirks, like the battery meter spacing, the coils needing an adapter, and the charging being a bit slow. But all in all, it's an affordable and easy-to-use device with long battery life and good coils, which makes it a great option both as a beginner kit or as a backup low-wattage portable device. Really hard to go wrong with this kit if you are looking for something of this style.