Innokin Sceptre Switch Kit with Ohm Brew
Choosing the right device and e-liquid to get started on your switch from smoking to vaping can seem daunting, with so many different flavours and styles to choose from. Innokin and Ohm Brew have joined forces to make the search a quick and easy one with their Switch Kit; specifically designed to have everything you need to get started with vaping.
Inside the box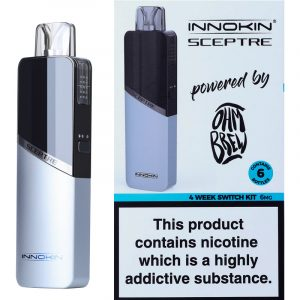 Each kit comes with an Innokin Sceptre device and pod, two coils, a micro USB charging cable, 60ml of Ohm Brew e-liquid in your chosen strength, and a four week switching guide.
You can choose between a 6mg, 12mg or 18mg kit, depending on how heavy of a smoker you have been, so you can match the nicotine strength to your needs.
The kit is designed to have everything you need to get you through your first 4 weeks of using an e-cigarette, and the handy guide will offer lots of information and advice about your first 4 weeks without cigarettes.
The Innokin Sceptre kit
The Sceptre device is an ideal starter kit; easy to use and intuitive for those who are new to vaping. The switch kit comes with two of the 1.2 Ohm coils, which are perfect for new users as they are designed for a mouth-to-lung vaping style which is similar to the way in which you would smoke a cigarette.
The device has a built-in 1400mAh battery, which is easily charged via the micro USB port of the side of the device, and offers quite a large battery life for the size of the device. I tend to charge the device through my laptop while working, but found I didn't need to charge it often during the day due to the large battery, which is always really handy! There is also an LED battery indicator light that shows when the device is turned on and off, and when it fires, so you can keep an eye on when you will need to charge the device. A green light shows 100-50% battery, blue is 50-10%, and red is 10-0% battery.
Then Sceptre is both button activated, or inhale activated, meaning you can hold down the button to fire it, or you can simply inhale through the mouthpiece and it will automatically fire. One of the features that I really like is that it offers two different wattage settings, so you can turn off the device and then hold down the fire button to cycle through the two options to select your preferred power. They are also indicated by two different coloured lights, so it's easy to tell which setting you have it on. This feature is really intuitive, because the device will sense which coil you are using and adjust the settings to suit. For example, the switch kit comes with wo 1.2 ohm coils, and for this the two power settings offered are 9w or 10w, so as not to burn out the coil prematurely. However, if you are using the other coil available for this device, which is a 0.5 ohm restricted direct-to-lung coil, these settings will change to 18w or 20w.
The pod for this device has a really nice mouthpiece that feels comfortable to use, and the pod is held in by magnets so it is secure in the device, even if it is rattling around the bottom of your bag! The device has a really nice, sleek finish, with an ergonomic design. There is a window section on the side of the pod, so you can keep an eye on how much e-liquid is left, and helps you know which way to insert the pod if you are new to using the device.
Ohm Brew e-liquids
The Sceptre device is best used with 50/50 e-liquids, so the Switch Kit comes with 6 bottles of 50/50 Ohm Brew e-liquids in a variety of formulas and flavours.
The 6mg and 12mg Switch Kit options come with 2 x Ohm Brew CORE freebase e-liquids in the flavours Sensation X and Twister, 2 x Ohm Brew 50/50 nic salts in the flavours Raspberry Sorbet and Blue Slush, and 2 x Ohm Brew Menthol Blast in Iced Tobacco and Cool Blackcurrant.
The 18mg Switch kit comes with 1 x Ohm Brew 20 mg/ml Signature Blend in the flavour Passionfruit & Mango, this is a combination of freebase and nic salt nicotine formula, 2 x Ohm Brew 50/50 nic salts 18 mg/ml in the flavours Rockin' Raspberry Sorbet and Lemon & Lime Lolly, 1 x Ohm Brew Menthol Blast in the flavour Iced Tobacco, and 2 x Ohm Brew CORE freebase e-liquids in the flavours Sensation X and Blue Slush.
Having the different flavour options and formula types allows you to experiment and work out which flavours work for you, and whether you prefer a nic salt or freebase nicotine formula. Finding the perfect e-liquid for you is a great way to ensure you keep picking up your e-cigarette and aren't tempted to revert back to smoking.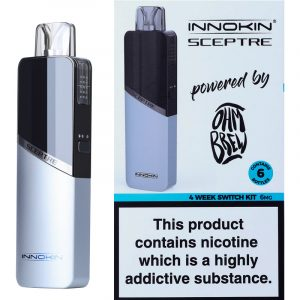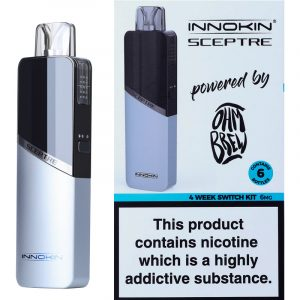 Why make the switch?
Using an e-cigarette to assist with a stop smoking attempt is a great way to keep nicotine cravings at bay, it also feels familiar as an e-cigarette replicated both the feel of smoking and the physical habit. E-cigarettes have been found by Public Health England to be 95% less harmful than smoking, as they do not contain the many toxic ingredients that traditional cigarettes do.
Research has found e-cigarettes to be up to twice as effective as other nicotine replacement therapies such as nicotine patches at assisting with a successful stop smoking attempt. The 4 week switch guide provided in your Switch Kit will also let you know about the positive impact that quitting smoking can offer, from the money you can save to the health benefits you may start to see during the first 4 weeks.
Evidence shows that if a person can stop smoking for 28 days, they are five times more likely to quit for good.