Innokin Sceptre Pod System Review
The Innokin Sceptre is the latest addition to the holy selection of vaping devices in Innokin's famed collection. It is just another big hit Innokin has created, and boy has it created quite a few. The company used to present a shock and awe in its earlier days with devices like the MVP series and Cool Fire series, and we believe the Innokin Sceptre is the next device to fall in line.
In this brief Innokin Sceptre Pod System Review, we are going to share information, and our thoughts, on the new Sceptre Pod System. We give you a closer look at the appearance, features, and the performance this remarkably fascinating device is able to offer.
Appearance / Construction
The Innokin Sceptre looks outstanding from top to bottom. It offers up a sleek, minimal design with a small footprint, making even the most seasoned vet fall in love. The device is available in five different designs, all to deliver a visually striking appearance. It stands just 106.8mm by 29mm by 18mm, making it very compact, and very portable. The Sceptre boasts a zinc-alloy chassis construction, meaning it offers great durability and will last even longer due to its unbeatable quality.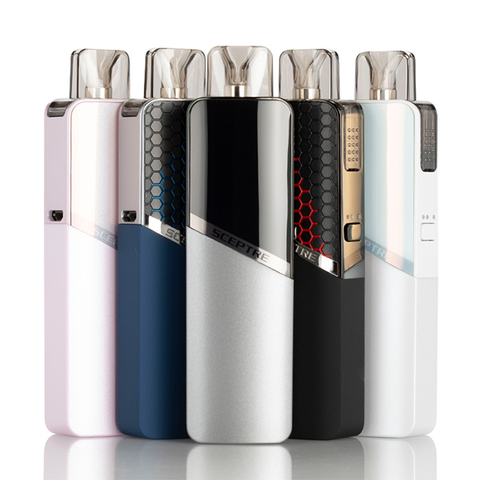 From its appearance to its construction, everything is perfect and seamless about this new Innokin-made device. It is a perfect size and offers a pleasing visual that should be enough to spark your interest. We were sent all five colors of this device, and we must share, the white is incredibly elegant, classy, and flawless.
Features / Specifications
With such a compact device, you would expect the features to be lacking. However, they are quite vibrant on this device. The Innokin Sceptre Pod System is loaded with different features, from its integrated 1400mAh recharge battery to its Normal and Boost modes that allow you to range from 9W to 10W using the Sceptre 1.2-ohm MTL Coil or from 18W to 20W using the Sceptre 0.5-ohm RDL Coil.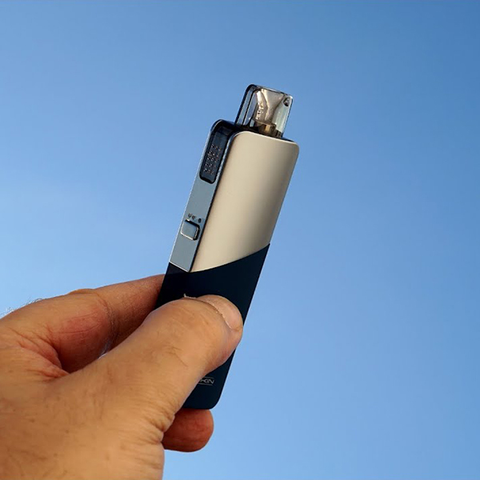 Aside from its most prominent features, the Sceptre comes with a Sceptre Pod Light, an LED battery life indicator light, intelligent coil identification, a single firing button (auto draw also available), a micro-USB port, and a refillable pod (2ml / 3ml) that offers adjustable airflow, an ergonomic drip tip, magnetic pod connection, and a side-fill system. All of this while being completely protected with overheat protection, charging protection, short circuit protection, and over-discharge protection.
Performance
When it comes to the performance of the Innokin Sceptre Pod System, you will be blown away. This little device offers unbelievable vapor production and was built around delivering the best flavor experience. As Innokin shares, the key to great vaping is in the coils, and they couldn't have said it any better. The coils are perfectly engineered to provide the perfect vape experience, depending on the coil you use.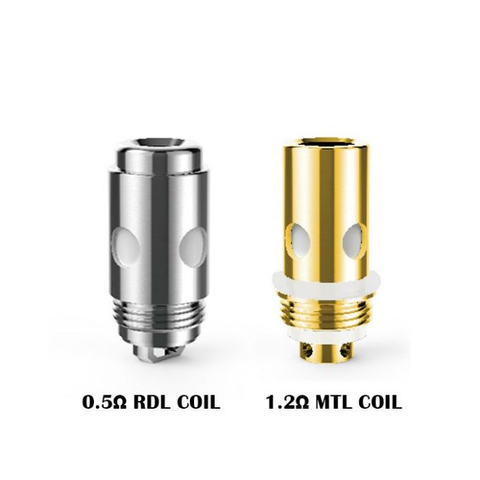 ·Sceptre 1.2-ohm MTL Coil: The Sceptre MTL coil has a tight airflow with a focused draw that highlights e-liquid flavors. The higher resistance and tighter draw will reduce e-liquid consumption while also maintaining battery life.
·Sceptre 0.5-ohm DRL Coil: The Sceptre DRL coil is a mesh coil that has expanded airflow to deliver a flavorful direct-to-lung experience, while also conserving battery life and e-liquid.
To add to its performance, the Normal and Boost modes are very helpful, especially when you are taking advantage of the Sceptre 0.5-ohm RDL Coil. The airflow control is also very helpful when using both coils, as it allows you to better define the type of experience you prefer most, whether that be a mouth-to-lung draw or direct-to-lung draw.