Innokin Sceptre 2 Pod Vape Kit Review
It has been almost two years since the Innokin Sceptre arrived on the market, can you still recall the impressive performance that the first Innokin Sceptre brought to us? With the long-lasting 1400mAh battery, compact body, max 20W output, auto-adjustment wattage, suitable with high VG e-liquid, and MTL&DTL vaping, all the functions are pretty useful and helpful in the first Innokin Sceptre pod vape kit, delivering much fun and cosy vaping experience, as well. Finally today we received the latest Sceptre 2 pod vape kit from Innokin, let's see if we can get more surprises from it.
Appearance
Innokin Sceptre Pod Vape Kit (above); Innokin Sceptre 2 Pod Vape Kit (below)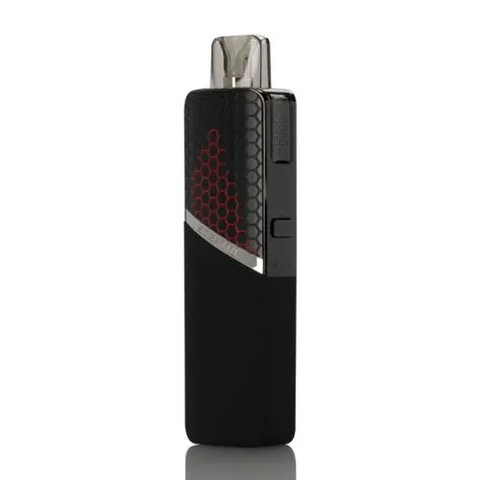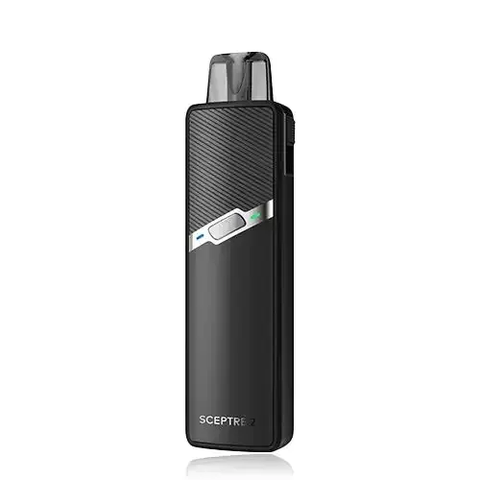 The shape of the two generations of Innokin Sceptre kits are pretty similar at first sight, however, as you look at them for a bit, the differences between the two Sceptres are evident. The first thing I noticed is the place change of the fire button, it is placed in the centre of the Sceptre 2 and surrounded by two LED indicators. The airflow control slide is on the right side which helps create a loose RDTL vaping experience or a tight MTL vaping experience. And the newly designed Type-C charging port is placed on the left side. The Innokin Sceptre 2 pod vape is constructed of high-quality zinc alloy with a slim rectangular shape, measuring 90.6mm tall (excluding the cartridge), 27.9mm wide, and 17.6mm deep, weighing 85 grams for the body. The LED indicator lights will glimmer when vaping, changing power modes, or being charged, and they also tell the current battery status. What's more, there are 8 colours available for the Innokin Sceptre 2 range, including Black, Blue, Grey, Pink, Purple, Rainforest, Red, and White.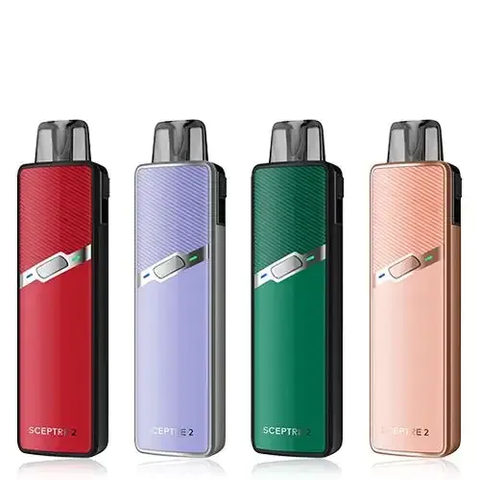 What's in the box?
·1 x Sceptre 2 battery device
·1 x Sceptre 2 pod
·1 x 6ohm MTL S-Coil(pre-installed)
·1 x Spare 0.5ohm RDL S-Coil
·1 x Type-C USB charging cable
·1 x Quick start guide / 1 x Warning booklet
Like any other Innokin product package, the package of Innokin Sceptre 2 pod vape kit is 100% recyclable. Within the package, there are a Sceptre 2 device, a Sceptre 2 pod(cartridge), a 0.6ohm S coil(pre-installed), a 0.5ohm S coil, a Type-C charging cable, a quick start guide, and a warning booklet. Except for the e-liquid, this kit sets everything ready for vaping. Please note, there is only one base for the coil in the kit, so be careful for the base.
Main Features

·Compact size and lightweight
·Improved adjustable airflow
·Type-C USB charging capabilities
·Dual activation
·MTL & RDTL vaping
·Dimensions: 104.3 mm x 27.93 mm x 17.62 mm
·Min-Max Voltage Output: 2.65V - 3.40V
·Resistance Range: 0.4ohm - 3.5ohm
·1400mAh built-in battery
·2ml e-liquid capacity
The Innokin Sceptre 2 is a medium compact-sized pod vape. It is powered by a large internal battery of 1400mAh. It supports auto draw and fire button activation, you can also switch from MTL vaping to RDL vaping with the adjustable airflow slide on the side of the device, the coils are replaceable and the pods are refillable - fill from the side. Innokin Sceptre 2 has a compact body yet brings long-lasting run and powerful output, it can provide different power modes and MTL & RDTL vaping styles, offering a more flexible and enjoyable vaping experience. The pre-installed 0.6ohm S-Coil can deliver smooth and authentic MTL vaping and the spare 0.5ohm S-Coil can bring a warm and cloudy RDTL vaping experience. Both high VG e-liquid and 50/50 nic salt e-liquid are suitable for the Innokin Sceptre 2 pod vape kit.
Performance
The Innokin Sceptre 2 cartridge features a side filling port, it is easy to squeeze your favourite e-liquids in it. Since it is pre-installed with a 0.6ohm MTL S-Coil, so I filled it with a balanced nic salt e-liquid at 20mg nicotine strength for MTL vaping. For the 0.6ohm MTL S-Coil, the output of different modes are 11.5W(Normal Mode) and 16.5W(Boost Mode) respectively. For the 0.5ohm RDTL S-Coil, the output of different modes are 18W(Normal Mode) and 20W(Boost Mode) respectively. What's more, the LED light will glimmer Blue in Normal mode and Purple in Boost mode.
With airflow all closed, I felt a rather tight MTL inhale and it was so much close as if you were smoking a cigarette. As I wide opened the airflow, I felt a loose and intense draw along with great nicotine satisfaction and intensive throat hit, it was a little bit to the RDTL vaping but with higher nicotine content. The flavour and vapour were well produced by the Innokin Sceptre 2. After that I also changed to a 0.5ohm coil and tried 70VG 30PG e-liquid, it turned out a fluffy vapour production and warm vaping experience. Wide open airflow can get the best DTL vaping experience.
Since there are so many operations realized by the fire button and different statuses displayed by the LED indicators, here is a brief introduction:
Turning the Sceptre 2 On/Off: To turn the Sceptre 2 on, press the fire button 3 times in quick succession;
Power Modes: Pressing the fire button twice in quick succession. And the LED will illuminate Blue for "Normal" mode or Purple for "Boost" mode.
Battery status:
·Green: >30%
·Yellow/Orange: 10% – 30%
·Red: <10%
When charging
·Red: <90%
·Green: >90%
·No LED: Fully charged
For the safety features of the Innokin Sceptre 2, the internal intelligent chip provides the following prompts such as:
·10 seconds timeout (vape cut-off)
·Low battery voltage
·No coil/pod detected
·Short circuit and low resistance cut-off
Pros and Cons
Pros
·Compact body with powerful output;
·Convenient airflow control system;
·MTL & RDTL vaping methods;
·Large battery capacity of 1400mAh;
Cons
·The LED indicators are too varied to know the current device status;
Verdict
The Innokin Sceptre 2 pod vape kit is definitely a good option for those who want to experience MTL & RDTL vaping in a single compact device. It is also a great starter kit since it features a dual activation, side e-liquid refilling port, and side Type-C charging port, and the all-around protections can avoid most vaping problems for novice vapers. Consequently, if you are looking for an easy and multi-functional vape kit, the Innokin Sceptre 2 is worth your while.