How to properly dispose of your wasted disposable vapes in the UK?
Disposable vape has seen significant development and fast growth during recent years, and according to the analysis and predictions from Future Market Insights:
"[301 Pages Report] The global disposable e-cigarettes market size is expected to be valued at US$ 6.34 Billion in 2022. With growing demand for non-tobacco products owing to rising health concerns among others, overall demand for disposable e-cigarettes is projected to grow at a CAGR of 11.2% between 2022 and 2032, totaling around US$ 18.32 Billion by 2032."
However, with great growth comes great responsibility. It is not a secret that disposable vapes have been under fire for making up a considerable amount of waste sent to landfills. Since the release of disposable vapes, the effect on the environment has remained an ongoing controversy. On average, it is estimated that it takes 1,000 years for disposable vapes to decompose, for this reason, it is important for us to properly dispose of disposable vapes. RYE(Recycle Your Electricals) said that:
"Materials in disposable vapes thrown away every year could power 1,200 electric vehicles. That is 10 tonnes of lithium are wasted each year when disposable vapes are simply thrown away. And the lithium could make batteries for whole fleets of electric cars."
As responsible and eco-friendly vapers, we must know how to properly dispose of a single-use e-cig and put it into practice.
What is a disposable vape made from?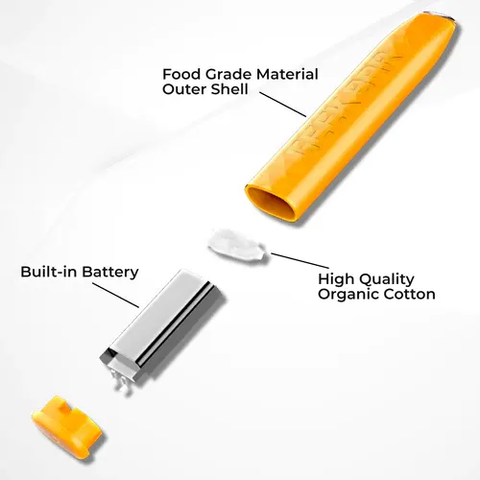 Let's take the Geek Bar 575 Disposable vape as an example, it mainly consists of 3 parts - food-grade material outer shell, organic cotton, and built-in battery. It is easy-made and just as easy to use, but the problem is that disposable vape is not exactly made with the environmental-friendly in mind, because almost every component in the disposable vape can not be replaced, refilled, or recharged. And the e-liquid, coil, pod, and battery are integrated inside. Consequently, the materials used in disposable vape are quite difficult to recycle. Whilst many have argued that disposable vapes can not be recycled, in fact, they can be - they need to be dismantled into their separate parts and then recycled. Where there is a will, there is a way.
How to recycle disposable vapes?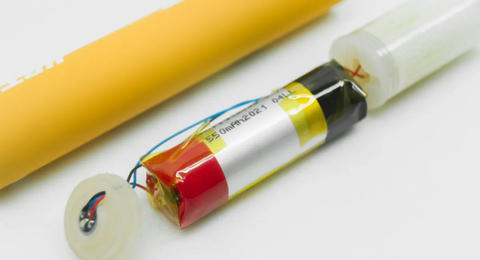 There is no doubt that disposable vapes and pre-filled vapes are troublesome parts for recycling. The pre-filled pod vapes are equipped with single-use pods, as well, once the e-liquid runs out, they will need to be properly disposed of. Due to their integrated construct, it's quite tricky to dismantle them into their single elements (metal, plastic, and cotton) so they will need to go in a waste bin. Therefore the pre-filled pod can be generalized as a mixed material byproduct which can not be recycled.
A disposable vape is a kind of pod vape kit and it is slightly different from the other ones - the battery is not rechargeable and the pod is not refillable. Consequently, once the e-liquid runs out or the battery is depleted, the disposable vape should be properly disposed of. And here are some simple steps for you to recycle a depleted disposable vape in the UK:
1.Firstly, we should open the device before we recycle the parts. Usually,there is a piece or an unconspicuous part that can help open the shell and allows access to the internal parts;
2.After you open the disposable vape, then you'd better put on a pair of gloves - in case the remaining e-liquids soak into your skin via your hand. Next, simply remove the battery from the device with extra precaution;Remove the cotton and plastic e-liquid tank.
3.Remove the cotton and plastic e-liquid pod from the device;
4.Last but not least, it is advised to cover the wasted battery in insulated rubber tape, then your wasted disposable vape is ready to be recycled;
Where to recycle disposable vapes?
In the UK, battery recycling can only be done at your local recycling centre or supermarket. The cotton and plastic can be recycled via recycling bins and will eventually be given an all-new purpose. And there are some helpful organizations online that can further help you recycle your wasted disposable vapes, for example, the Recycle Your Electricals show you a set of process to properly recycle vapes:
1.Can you remove the battery from your vape kit? If so, take it out and recycle separately. Can't remove the batteries? Add the whole vaping kit to your electrical recycling.
2.Find a bag for all your old electrical bits and pieces until you can go to the recycling centre – or until collection day, if you have one. Put the electrical bit of your vape kit in the bag.
3.Find your nearest recycling point. Enter your postcode in our recycling locator. And away you go.
Protecting the environment is everyone's responsibility, and the responsibility turns heavier when it comes to our vapers' shoulders.