Freemax Maxus Max 168W Review: A Powerful AIO with Great Coils
Product intro and specs
The Freemax Maxus Max 168W is the latest AIO kit by Freemax, a company that's known for making some of the best tanks and coils in vaping. The Maxus Max is the latest in the line of Maxus devices, a few of which I've reviewed in the past. Out of the line, this one has the word "max" in it the most—maybe a little too much. All jokes aside though, they have been great devices.
The Maxus Max takes two 18650 batteries and can fire up to 168 watts. It has a full screen, adjustable watts, and temp control mode, while the Maxus DTL pod that comes with it has a 5 mL capacity. The included pod comes with a proprietary connection, although on their site it looks like they are going to make it with a 510 adapter at some point allowing it to be used on any device.
Price: $57.99 (at Element Vape)
Colors: Black, blue, silver, gold, gunmetal.
Specifications
·Dimensions: 43 mm x 30.9 mm x 128.5 mm
·Weight: 200 grams
·Battery: External 2x18650
·Output wattage: 5-168 watts
·Output voltage: 0.7-8.4 volts
·Pod capacity: 5 mL
Kit contents
·1 x Freemax Maxus Max 168w mod
·1 x Freemax Maxus DTL Pod 5 mL
·1 x MX2 mesh coil 0.2 ohm (pre-installed)
·1 x MX1 mesh coil 0.15 ohm
·1 x Type-C cable
·1 x Warning card
·1 x Warranty card
·1 x User manual
Build quality and design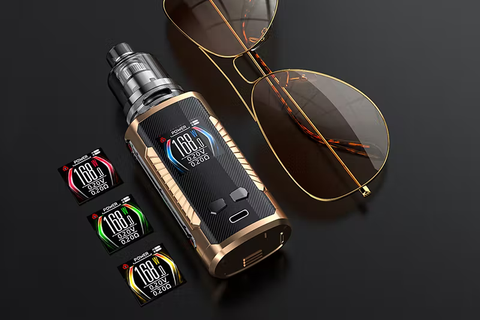 Measuring at 43 mm x 30.9 mm x 128.5 mm, the Maxus Max is relatively large as far as AIO systems go, but it is still pocketable. Due to the dual-battery configuration, it's about the size of a dual-18650 mod and sub ohm tank kit. Kind of like the SMOK Alien kit that was popular many years ago. In fact, it reminds me of that device quite a bit—and in a good way.
I received the black color option. Unlike many systems where the frames are all the same color and the color difference is just the panels, the Maxus Max actually has fully different color frames and the only colors that stay the same are the firing bar and the up and down buttons, all of which are gunmetal. It really is a great-looking device and I've experienced no paint chipping or issues with it at all.
The up and down buttons are on the front right below the screen, while the firing bar is on the left side of the device. I personally prefer firing bars over buttons because you can just squeeze the mod to fire it with either hand. It's a very symmetrical design that works good for both right and left-handed vapers.
On the front of the device, you have a beautiful 1.3-inch square color screen with four UI color options: blue, yellow, red, and green.  One of the nicest looking screens I've seen on a device for sure. Branding is very simple with a small Freemax logo under the screen and a Maxus logo protruding off the back. There's also the Maxus info on the lower side of the back, which would have been better on the bottom of the device.
The battery door is a latch style. It's easy to open and close when changing batteries and fits back nicely with no gap. Really well-made and works great. All the buttons feel solid in place. There's no rattle and they have a nice click to them. All in all, it's really a good-looking and well-built device.
The pod tank it comes with is held in place by magnets and pops in and out. To adjust the airflow there is a typical airflow controller between the pod and the mod. It's nice and smooth, has a stopper, and is easy to adjust. The pod is tinted but thankfully not too dark, and since it's fully exposed it's easy to see your juice level. Still, clear would just be better.
Getting started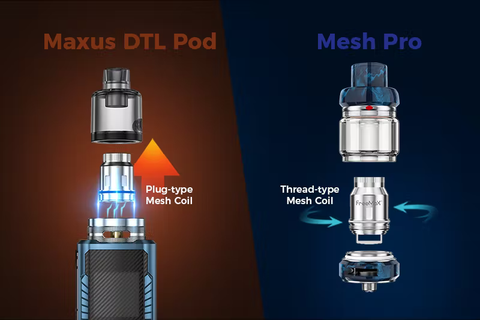 The Maxus Max is pretty simple to use compared to a mod kit, but a little more complex with more features than many AIOs out there. Here's a rundown of basic operations:
·Click fire five times to turn it on or off.
·Use the up and down buttons to adjust wattage.
·Holding down and fire will cycle to the next UI color.
·Holding up and down locks the adjustment buttons (the device can still be fired but you can change that in the menu.
·Click fire three times to enter the menu.
The screen displays the wattage, live voltage when firing, battery meter, and resistance. As for modes, you have Power mode, Temp control mode for SS, Ni, Ti, and TCR, bypass mode, and VPC.
I'd normally like the various TC modes, but since none of the coils are listed as being TC-compatible with Ni or Ti and there is no RBA deck, it doesn't make full sense on this device. They do have an SS316 coil, so having that and TCR mode is all that's needed. Bypass mode is, in my opinion, a thing that doesn't need to keep existing in mods, but VPC is a great mode. It's a "watt curve mode," allowing you to set your wattage in ten increments so you can fine-tune your vape a little more.
There is also a settings menu and an info menu. They are pretty basic, but the info does show you the live battery voltage of each cell which is really nice. There is also an ability in settings to change your puff cut-off between 5-15 seconds (10 is the default).
The pods feature the same plug-n-play coil system that we've seen on many of these devices. Just pull the coil out from the bottom and pop in a new one. Then put it back in and refill it. You do need to pretty much empty the pod before replacing the coil, but if you do it sideways a little juice can stay in there. Sadly, like many of these devices, the coil is hard to remove with your hands and you are much better off using something to pop it out. They didn't include a tool and it does stick out more than most so maybe some people can remove it by hand, but my fat fingers aren't great for that so I would pop it up with a screwdriver. Putting in a new coil is easy though.
As for refilling, you don't need to remove the pod which is nice. There is a rubber plug on the bottom front, just pop it open and expose the large fill hole. Nothing groundbreaking, but it's a proven great method for refilling these tanks.
Performance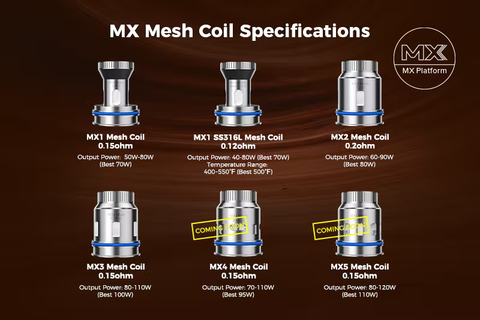 The Maxus DTL Pod uses the new MX line of coils. And there are quite a few of them available. The two included are:
·The MX1 single-mesh 0.15-ohm coil rated at 50-80 watts (best at 70)
·The MX2 dual-mesh 0.2-ohm coil rated 60-90 watts (best at 80)
The other options are sold separately, and the collection includes an MX3 triple-mesh, an MX4 quad-mesh, and an MX5 penta-mesh coil. Basically, there are options for everything ranging from about 60 to 110 watts, so that's really a higher-wattage DL device. They also have the MX1 SS316L which is a single-mesh TC-compatible coil that can be used in temp control mode on this device.
For the coil performance, I started with the MX1 coil and found it best to be around 70 watts. The flavor was great, and I got 100 mL of juice out of it before it went bad, so it was an excellent coil. Then I used the MX2 coil. I found it best around 80 watts, which proves that both coils are very accurately rated. And it performed very similarly to the MX1. Not much of a difference. Both are excellent.
I also tried the optional MX1 SS316 coil and in temp control, it works great. I set it to 80 watts and 550F and it hit as it should at 450F. So their TC mode is not very accurate, but the dry hit protection is good and the cut-off is smooth. It is really a good performer overall despite having to set the temp higher than expected. Since it does work when set right, it's a pass for me and it's nice to have an easy-to-use TC option on an AIO. The coil can also be used in Power mode at 70 watts. Overall, as expected with Freemax, these coils are right up there with the best of them.
As far as charging the device goes, The Type-C port is located on the bottom front of the device. They list the charge rate of 2A. In my testing, the max I got was 2.16A so a great rating there for sure. You can also vape while it's plugged in, and it'll pause charging for the duration of your puff.
Pros / Cons
·Solid build quality
·Decently sized for a dual-18650 device
·Nice large and bright color screen
·Good capacity (5 mL)
·Pods are easy to fill
·Firing bar is great
·Tank is lightly tinted
·VPC mode (watt curve) is nice to have
·TC mode with compatible coil is great option
·Two coil options included
·Four other coil options usable in this kit
·Excellent flavor and life from all the coils I tested
·Adjustable airflow
·Supports passthrough vaping
·Fast charge rate (2.16A)
·Coils can be hard to remove by hand
·No real need for Ni and Ti TC modes
·Not sure who the audience is for this
Gallery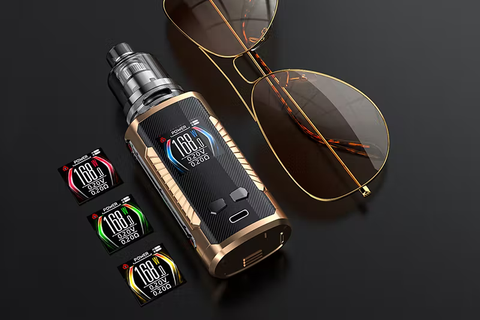 Verdict
Overall, this is a great device. As expected from Freemax the coils are excellent. It's well-built, looks good, works well, and has plenty of features. The tank itself is also excellent. With that said, I'm not sure who the audience is. If they made the device with a 510 pin instead and sold it with the tank version of this pod, it would have been a great dual-18650 mod and sub ohm tank kit. Instead, it's limited to this proprietary pod design while being too big and possibly too powerful for most beginners or typical pod users. With that said, and since I have to review the device for that it is, it's an excellent kit. If it's something that you are interested in, you won't be disappointed.