Flexus Blok Kit by Aspire
Aspire Flexus Blok Kit – These AF coils are awesome AF!
Hello, vapefam! I am inviting you all once again to take this journey with me, as we take a look at one of Aspire's latest releases: the Flexus Blok!
Huge thanks to Aspire who have sent this kit to me for the purposes of a review.
You may remember that a few months ago, we had a look at the Aspire Flexus Q. It received a Yay rating from yours truly, for being a seriously awesome MTL device. It was also on the release of this device that the AF coils were introduced, which really, really impressed me!
Now, Aspire add one more device that will use the AF coils platform, the Flexus Blok. How different is it from the Flexus Q, you might ask? Let's find out!
As always, I will be reviewing this kit as an average vaper, as most in our community are.
Packaging and Contents
I was sent a sample pack of the Snow Mint Aspire Flexus Blok that included:
§The Flexus Blok device.
§1 x 3 mL Flexus Blok pod that is refillable via a side fill port.
§1 x Aspire Flexus (AF) 0.6-ohm mesh coil.
§1 x Aspire Flexus (AF) 1.0-ohm mesh coil.
§USB-C cable.
§User Manual.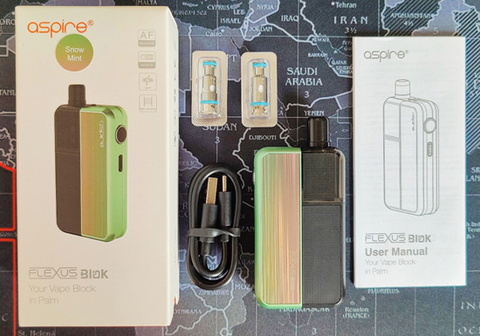 Salient Features include:

§The device with a 1200 mAh battery – a definite increase in battery size versus the Flexus Q!
§Reads 0.5 to 2.6 ohms of resistance.
§One LED light that changes colour to indicate power level and battery life.
§Green = high, Blue = medium, and Red = low in terms of power levels via the ASP chipset.
§And in terms of battery life: Green = > 60%, Blue = 30-60%, and Red = <30%.
§Dimensions at around 41.6 x 17.5 x 88.5 mm. So, it is shorter but wider than the Flexus Q.
§Has both button and auto-draw firing.
§Top airflow control.
§1A Charging via its USB-C port, versus the 3A fast charging we saw in the Flexus Q. I do wonder why Aspire didn't incorporate the same fast-charging technology in the Flexus Blok?
Impressions and Experience
A white and orange box now almost automatically means Aspire to me, and the box the kit came in was no exception. A coloured photo of the device adorns the front along with key kit features and the device slogan of "Your Vape Block in Palm". The outer packaging lists the kit contents and manufacturer information. An orange cardboard box slides out which reveals the device on a foam tray, with kit accessories found underneath. No big changes here versus how Aspire have packaged their pod kits of late, but I did wish that Aspire included a spare, narrower MTL drip tip in the packaging. This is particularly because they are marketing this device for both MTL and RDTL, and while the supplied drip tip is relatively OK for MTL, a narrower one would help for a true MTL experience.
The kit as a whole looks beautiful, particularly in the design I received! It looks solid and sturdy. It is also quite lightweight despite packing in 1200 mAh of battery, which really helps in the ergonomics of this device. It is very comfortable to hold and use, and definitely easy to slip in one's pocket or purse.
Flexus Blok Device/Battery
As with the Flexus Q, the device has only one button to fire, adjust the wattage (3 clicks), and turn the device on or off (5 clicks). The USB port is below the fire button. Branding is also done in a stylish way, with these printed on the device stealthily, which makes it even more appealing to me. What I mean is that it's not obvious at first glance, you'd have to stare at it to make out the branding.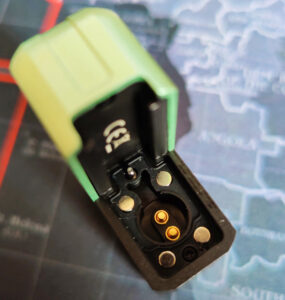 The pod slides into place at the top of the mod that houses the coil contacts and microphone for the auto draw function. In addition to the classic magnetised "drop-in" method, the mod also has a sort of rail system to which the pod slides in securely. Having both magnets and contours to secure the pod is a major pro for me as that means the pod will hardly fall off the device!
The device fires quickly, whether on auto-draw or using the fire button, and it is very easy to change the wattage settings. Overall, Aspire kept to the concept of simplicity when it comes to this device and they have executed it wonderfully.
One thing I did notice about my unit (remember that I received a sample unit), is that there is a slight rattle with the fire button. It's not a "play", per se, as the button works every time I use it. But it is definitely something I hope Aspire will address when they release more units for retail.
The device charges for about over an hour, as it has 1A charging. And with most pod systems coming out these days with 2A charging or better, I do feel that Aspire kind of missed a trick here by limiting this device to only 1A. Saying that though, battery life was perfectly fine during my use: it drained roughly when I expected it to given the coil I was using and how much I was using the kit. There wasn't also a significant drop in flavour with decreasing battery life.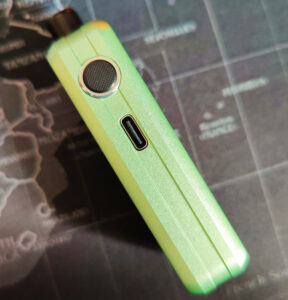 Flexus Blok Pod and AF Coils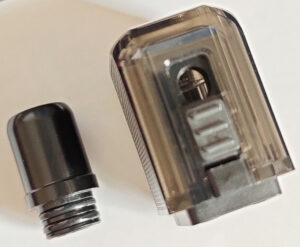 The pod is made from what seems to be PCTG and is tinted enough to not appear out of place with the device, and yet still allows the vaper to see the e-liquid levels even in low light. There is also a dimpled texture on two sides of the pod for added grip, which is the same texture that can be found on parts of the mod.
Versus the Flexus Q, the pod now uses a standard 510 drip tip which is a major pro for me as adds customisability to the pod. The fill port is revealed and sealed via a sliding button on the side of the pod. Now, I didn't really have the best experience with slider side fill ports are they tend to leak, but I am happy to report that the Aspire Flexus Blok pod did not leak from this fill port during my testing. In fact, there was no leaking at all even at the bottom of the coil!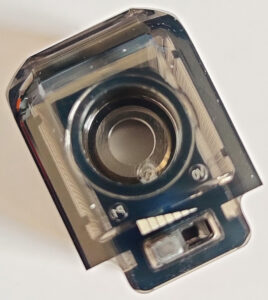 The airflow control is now on-top via a sliding button that has a relatively narrow travel/width. I was sceptic at first as to how effective this will be given the narrow travel, and so I was pleasantly surprised that it actually works as it should! I achieved a tight MTL with the slider almost closed, and a very loose MTL/RDTL with it fully open.
And with it being top airflow, I was also wary about the effect that would have on the flavour output of the AF coils I know to be very flavourful. I am happy to say that it hardly affected the flavour, if at all, and that's because Aspire has cleverly designed the airflow travel to direct it from the top to the bottom of the coil via a narrow passage on the side of the pod. Again, very well done here by Aspire!
The coils press fit from the bottom of the pod securely.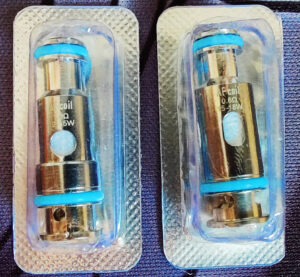 My flavour ratings for both coils remain unchanged, but to give you some highlights and to share my experience as well from extended use:
§The 0.6-ohm coil (15-18 W) is still my preference for both flavour and warmth. It's a perfect MTL coil as far as I am concerned, and with the Flexus Blok, I used this coil with the airflow setting about a third of the way open. For RDTL, this will really be down to your preference as it will be great in flavour but of course, it won't be as warm being limited to 18W.
§The 1.0-ohm coil (12-15 W) still gave an excellent MTL vape, although it is of course not as warm as the 0.6-ohm coil due to lower wattage capabilities.
§In my non-review usage, I found the AF coils to have amazing coil life. Roughly speaking, they lasted for about 20 mL + of nic salts, bearing in mind that 1) I have changed flavours at least 3 times within this 20 mL usage, and 2) I vaped purely in MTL (20 mL might not sound like a lot but it is in MTL). So, in theory, they could have lasted longer if I kept to the same flavour. But I am who I am and I like changing up my flavours all the time!
Overall: Yay or Nay?
I think the Flexus Blok Kit is another winner from Aspire, and thus gets a Yay rating from me! In my eyes, it is a more palm-sized alternative to the Flexus Q that packs an extended battery life. As a starter kit, you wouldn't really go wrong in selecting the Flexus Blok as it is easy to use and maintain, with the battery lasting a long time after a full charge.
The star of the kit for me has to be the AF coils, once again, as these are really tremendous for flavour!