Pod systems are a personal favourite of mine. As a previous user of mechanical mods, I have now settled nicely with simple, discreet and inexpensive devices that suit me perfectly.
Eleaf has a good reputation when it comes to hardware – especially pod systems. Their new device, the IORE Lite, is presented in a small box that includes information leaflets, a USB C cable and a pod with a 1.6ml capacity.
IROE Lite Device Specifications:
·Pod capacity – 1.6ml
·Coil resistance – 1.2 Ohm Kanthal (fixed)
·Battery capacity – 350mAh
·Output modes – Constant voltage
·Max charging current – 500mAh
·Dimensions – 112mm x 21mm x 12mm
·Assembled weight exc. packaging (approx.) – 25g
Pods are sold separately and feature a side fill port that will accommodate gorilla bottle style nozzles with no issue.
Each pod claims to last roughly 3,000 puffs before needing to be changed, depending on what e-liquid you are using.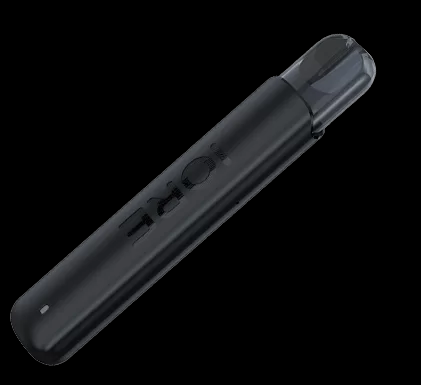 How does the Eleaf IORE Lite perform?
I found it incredibly simple to fill, and it was easy to see how full it was, due to its translucent finish. Despite only being a 1.6ml capacity, the e-liquid in the pod seemed to last a fair while before needing to be refilled. I didn't experience any leakages at all.
This kit has a rechargeable 350mAh battery and is quickly powered up again within 40 minutes via USB C.
It continues to hold power for around half a day of moderate vaping which is a decent amount of time in my view. A small LED light indicates when the device is activated.
Having a resistance of 1.2Ohm, this kit works best with high-strength nicotine e-liquids – especially nicotine salts. The hit when using 20mg/ml was intense and warm, and the flavour it gave was pretty impressive for such a device.
Cloud production was both modest and discreet, ideal for day-to-day vaping.
What are the main benefits of the Eleaf IORE Lite?
The IORE Lite is a true MTL (mouth to lung) set up and it replicates the inhale found with cigarettes very well, so is a perfect choice for new vapers wanting to quit smoking. To add to its straightforward nature, there are no buttons needed to operate this kit, it is simply draw-activated when you puff.
Ergonomically, the IORE Lite is tiny in stature, and fits easily in the tiniest of pockets. It weighs just 25g – half the weight of a pouch of tobacco and much smaller in size too.
The Eleaf IORE Lite comes in a variety of attractive colours and has a smooth, rubberised finish gives a solid grip and does not mark easily.
One of the most appealing features of this kit would be its price point, it has a recommended retail price (RRP) of just £9.99 – less than a pack of cigarettes.
What type of vaper would best suit the Eleaf IORE Lite?
Charging is speedy, filling the pod is simple and the tight draw manages to mimic the inhale found with cigarettes. I would highly recommend this kit to smokers who are looking to quit or beginner vapers.
Overall thoughts on the Eleaf IROE Lite
Easy to operate with an impressive performance and an affordable price, the IORE Lite is a perfect choice for new vapers.
Pros
·Straightforward to operate
·Very affordable 
·I enjoyed the MTL inhale
Cons
·I would like to see removable coils
·I would like there to be another spare pod included in the box