Disposable Vape Pod System Benefits & Puffs Capacity
Before we talk about what a disposable vape pod is, it is important to understand what a pod system is, since these vapes are very similar to disposables.  Pod systems and disposables are the most useful electronic vape device that is available today for vaping. These are best for the people who want to quit smoking and find a better solution to traditional cigarettes. A vape pod system is traditionally made up of two parts, a battery, and a pod. They are popular among people who want to try vaping for the first time.
Pod vapes are the front-line vaping products that are best suited for the vaping market which has become very popular and trendy these days. People are moving towards vaping as a healthy alternative to combustible cigarettes.
What is a Disposable Vape Pod System?
A new trend in the vape industry came with the use of disposable vape pod systems. Disposable Vape pods are simply single-use vapes that are prefilled for the best user experience. They are more convenient and popular among people, giving vapers a hassle-free experience.  Unlike pod vapes, there is no need to buy a bottle of e-liquid to fill them up or a charging cord.  A Disposable pod system delivers the same great satisfaction as a pod vape except it can be fired up as soon as you take it out of the package!
Maintenance Free Vaping
The disposable vape comes with a compacted and maintenance-free design for an easy user experience. It is comprised of a battery and the e-liquid is pre-installed or prefilled in the mouthpiece. It can be used directly after opening the package, thus making it easier to use for many people. No setup or maintenance is needed in the case of a disposable e-cig, making it certainly convenient and portable for users. Some of the best disposable vape pods come in over 20 flavors to choose from, so they are suitable for all different types of personal tastes. There are also different shapes and designs that have different use and functions.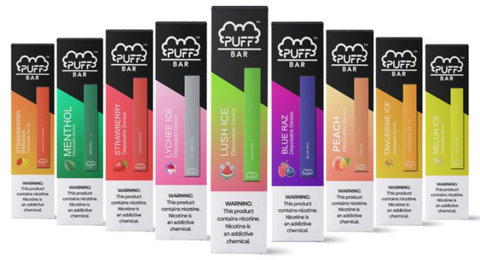 The Popular Puff Bar
Disposable vapes are especially best for taking on a night out or when going clubbing, ensuring that everything is ready for on the go, no need to refill or maintain anything, simply use right away. If you are looking to quit smoking, disposable e-cigs are literally made for you. The strength of nicotine in the vape pod system is varied and allows you to choose what is best for you or your needs.
Prefilled Flavor Cartridge
Unfortunately, the disposable pod is pre-filled with e-liquid in the pod cartridge and cannot be refilled even if the user desires to put their bottle of fruity pocket full of clouds inside. It consists of non-removal and non-replaceable parts, which is part of the luxury of ease of use but can also be seen as a drawback. Non-recharging makes them available for only one-time use, once the battery or e-liquid runs out you can easily just throw them away.
NOTE: Disposable Vapes are not for you if you wish for a vape that you can refill and recharge.  Hence the word "Disposable" in the name.
How Disposable Vapes Work
A disposable vape is comprised of a battery, atomizer coil, and flavored cartridge which contains e-liquid. When a vaper inhales on the mouthpiece the battery power activates the atomizer coil, which heats up the e-liquid and turns it into a vapor.  The vapor is what a vaper inhales and exhales.  Every disposable vape has a different number of puffs, but the greatest number of puffs one can take from a disposable vape is around 300 puffs from each disposable vape you use.  This is based on the most mainstream and popular disposable pods.
A disposable e-cig works in a way that as soon as the users put the vape in their mouth to take a puff the liquid in the atomizer heats up. This heating system in return turns e-liquid into a vape that can be inhaled by the user. The frequent use of the Vape causes the coil to overheat which overall alerts the users that they should take a break between taking puffs. This allows the heated coil to cool again and makes it ready to be used once again. Disposable vapes produce an inhalant that lasts until the e-liquid lasts.
Disposable Vaping Designs
The design of most disposable vapes features an LED light indicator. When the users inhale in the lights switch on telling the user that the vape is working. It is designed in a way to show the image of a burning cigarette tip. When a user buys a new disposable vape it does not have a switch-on button to activate the heat. As soon as the user takes it out of the box, they can use it and start vaping.
Disposable vapes do tend to come in a variety of 2 designs. There are simple designs that are all in one device, which means they include the battery, e-liquid chamber, and mouthpiece are all contained as one. This design is very useful for the user as they do not need to be refilled with e-liquid and they can simply be disposed of after the e-liquid has been exhausted or the disposable battery has been depleted. 
The second design, which is far less common is the disposable pod vapes where you only need to dispose of the pre-filled pod, this meaning you can refill the vape pod with more liquid of your choice. This in fact allows a user to experiment and test different flavors of their choice on the device, rather than buying a whole new disposable vape pod.
How Many Puffs Are In Disposable Vape?
How Long Does a Disposable E-Cig Last?
The disposable vape comes with an already filled e-liquid for one-time use. The amount of e-juice-filled usually depends on the cost of the disposable itself and the company that made it.  Some companies are more generous and affordable than others. The amount of e-juice inside also depends on the size of the disposable e-juice pod container inside of the vape.
The maximum number of puffs useable from a disposable vape depends on the amount of flavored e-juice contained within.  So, when buying a new Disposable e-cig always consider the amount of e-liquid offered by the company in their vape.  This is found on the vape products specification list.
Average Disposable Puffs:
·0.5 mL E-Juice = 100 puffs
·1 mL E-Juice = 200 puffs
·2 mL E-Juice = 500 puffs
·4 mL E-Juice = 1500 puffs
·6 mL E-Juice = 2500 puffs
INFO: Notice how there is no real direct relationship between mL size and puffs.  This is because total e-juice capacity is usually in direct relationship to the size of the disposable itself.  Larger disposable vapes tend to have larger heating coils yielding fewer puffs as larger coils consume more e-liquid.  This is also due to a higher wattage setting needed for larger coils.
NOTE: Estimates given by Manufacturers.  Actual puffs may vary. The disposable battery may deplete before e-juice containment is emptied. 
On average a 0.5ml of E-liquid juice can give up to 100 puffs for users. However, this is subject to many different vaping conditions and will largely vary based on vaping habits and disposable e-cig brands.  It may change depending on the amount of vape inhaled.
Disposable vapes usually last for around 3 days depending on the number of puffs that are advertised per bar.  It will also depend on the manufacturer or brand of a vape pen,  some brands have a reputation of lasting longer than others. Different vape pens have varied qualities of eliquid and battery capacity, so it would only make sense that the best quality disposable vapes will last longer than their competition.
Benefits of a Disposable E-Cig
A Disposable E-Cig comes with many user-friendly benefits but the most important are:
·Healthy experience compared to a combustible cigarette
·Simple function
·Maintenance-free use
·Easy and convent to carry
·Prefilled e-liquid
·Compact design
So, if you are looking to put an end to smoking and be more health conscious a disposable pod system would be ideal for you to use. You don't need to put an end to fun night outs, just purchase a disposable vape pod and continue having fun.
Disadvantages of E-Cigs
The aerosols found in e-cigarettes contain ultrafine particles, which affect the lungs. Electronic cigarettes contain some heavy metals like arsenic, and tin can also damage your lung.
An electronic cigarette contains nicotine, which is addictive as a traditional one. However, keep in mind this addiction is not permanent; when you stop smoking, nicotine receptors in the brain become normal.
Disposable vapes contain nicotine, which can damage our respiratory, nervous, and cardiovascular systems.