Disposable Vape Pens – Are they worth it?
This week we sent our Marketing Manager out with a simple task to try out our newest disposable vape pens alongside his old faithful Drag X mod.
Dale has been vaping for many years and as such as a wealth of experience with different devices, e-liquids, and vaping styles. Recently though, as we all do, he has become fixed with one device day and day out. We wanted to see if we could change that.
Set out with the two devices below, asked him to keep a note of which device he was using as he went along with his day as normal.
Since Dale as already vaping the Fantasi Watermelon, we also gave him the watermelon flavour from the Elf Bar range. Both are bursting with juicy fresh flavours, so we get to see if his vaping style changes throughout the day!
"I started my morning as usual, feeding the kitten, feeding myself, and then making my commute to work. I had all three devices ready to go and I instinctively chose the Drag X with the Fantasi Watermelon as the coil was fresh, the pod was full of that juicy flavour, and battery fully charged.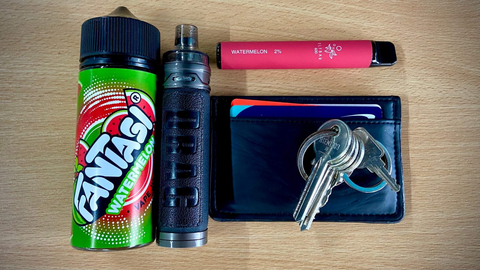 After that I got to the office, made a coffee, and started to prepare for the first meeting of the day.
This meeting was focused on a new product branding campaign, so it is very much all hands-on deck for the marketing team, with new strategies, merchandising, designers, and web developers all raring to go with fresh ideas.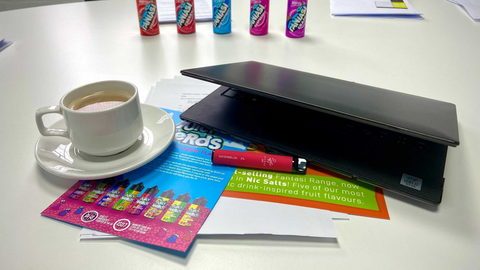 Is cloud chasing really acceptable in a meeting?
This is where I first noticed that I grabbed the Elf Bar disposable rather than the Drag X. Since we were in a meeting environment, I did not want to start sub-ohming my vape and making massive clouds (no matter how fun it might be). I was able to still enjoy the fresh watermelon without it becoming a distraction in the meetings throughout the day.
Which one for a long relaxing vape?
Once the day is done, and back home, this is where I picked up my Drag X again and enjoyed those big, tasty clouds. That evening though, my friend and I decided that we would try out a new outdoor restaurant that had just opened around the corner from us.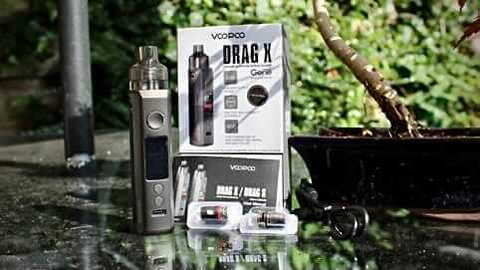 Disposable vape pen or Drag X kit?
When I was leaving the apartment, I started to do my usual routine of making sure my vape battery was charged, I had enough e-liquid to last me the evening, ensured that my coils were still clean, and then it occurred to me, that I didn't need to do any of these things! The disposable vape pen already had all that equipped! This meant I didn't need to carry a bulky device, big bottles of e-liquid or anything. Just the compact elf bar in my jeans pocket.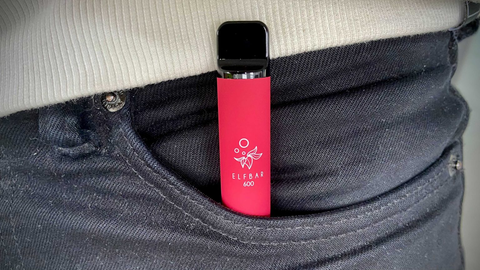 My friend though, had their Drag Max Pod Kit, he likes that one as it has double the battery power and lasts a lot longer. What I did notice is that every-time we went for a vape we would wait for him to find his e-liquid bottle, fill up his pod, and put everything back in his bag before we could sneak off for a vape. I forgot how long it would take to do those things when you are out and about! Initially I was worried that the disposable pen wouldn't last all day and I might be caught out, but those trusty little things have a powerful battery and delivered time and time again.
After our meal and I arrived back home, I switched back to the Drag X again as I has time to relax and take the time to fill the pod kit and enjoy the experience."
So, The Drag X or the Elf Bar Disposable?
Remarkably, Dale seemed to have forgone his old-faithful device throughout his busy day in favour of the pocket friendly disposable vape pen. We asked him to sum-up the pro's and cons of the two devices and when he would now choose between the two.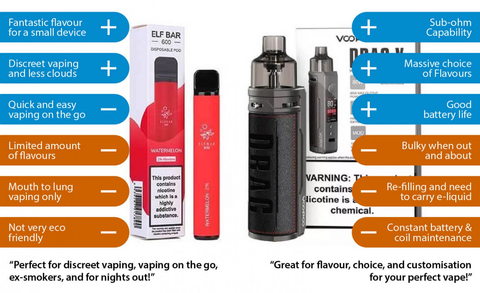 Disposable Vape Pens
The disposable vape pens are a great choice for those who are on the go, looking for a quick and easy vaping experience. Both our disposable devices feature compact and sleek designs with a powerful battery life to last you all day long (and in most instances, longer!).