Coil Building Guide: How to Build/Wrap Vape Coils
Coil Building Guide: How to Build/Wrap Vape Coils
Vapers build vape coils to their liking, whether its huge clouds or just clear hits of flavour you're looking for, building enables the user to find balance, of course with repetition and practice. It's also a hobby. Some people find it relaxing to build their own coils. It can also be a lot cheaper than buying disposable coil heads every week or so. This article primarily focuses on how to build/wrap vape coils.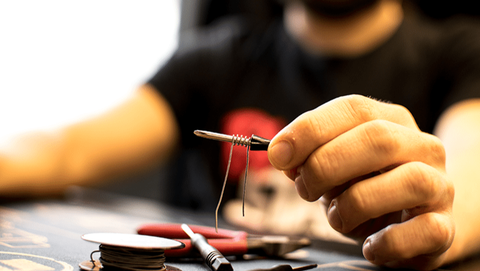 How to Build/Wrap Vape Coils
Supplies Needed to Wrap a Vape Coil
Although there are plenty of good coil building kits on the market that supply you with everything you need, a lot of these items may already be on hand, like a screwdriver. Here are the supplies needed to wrap a vape coil:
·Resistance wire: any vaping wire would do.
·Flush cutters: wire cutters that can cut close in small spaces.
·Ceramic tweezers: to pinch your coils while pulsing.
·Small metal rod: a small screwdriver or coiling tool.
·Organic cotton: any wicking material you prefer.
·Scissors: to trim the cotton.
You can also get accessories like an ohm reader that accurately detects resistance, or a coil jig to help you wrap your wire.
Micro & Macro Coils
Some of the most common coil builds are micro and macro coils and they are created the same way, all you need to do is take a single piece of wire and wrap it around a screwdriver, drill bit or coil jig. The only difference between the two is the size of the inner diameter of the coil.
For example
·Micro: this coil build has an inner diameter of 1mm-2mm.
·Macro: this coil build has an inner diameter of 2.5mm and above.
Remember, the bigger the inner diameter of the vape coil the higher the resistance is going to be. The thickness of the gauge of the wire used will also have an impact on the resistance, the thicker the gauge of the wire, the lower the resistance will be. If you are new to wrapping coils, we recommend using some basic 26 or 28-gauge Kanthal for your first vape coil build.
Using a Coil Jig
A coil jig is a tool used to help you wrap perfect coils every time with minimal effort. They come with detachable rods, allowing the user to change between different rods for different wire and diameters. Wrapping coils with a coil jig is really straight forward. There are a lot of videos online showing you how to easily wrap a coil with a coil jig. Remember it's not a necessity to have one, you can use a screwdriver from home to wrap a coil as well.
Dual Coils
Some atomizers are designed for two coils, which usually means more vapor produced than that of a single coil, but dual coils require double the power to perform. When building a dual coil, make sure the coils are identical to one-another, in size and in form to ensure they heat up and work properly.
Remember when using dual coils, that the resistance of each coil should always be in half, since there are two coils. For example, when you're building a dual coil using two 0.6 ohm coils, your build should be 0.3 ohms. If you take out one of these coils, your resistance will go back up to 0.6 ohms.
Building a Coil for an RDA
·First examine the deck.
·Check the size of it to see how large your build can be (remember, the coils cannot touch the top cap as this will cause a short).
·Establish if this atomizer is dual or single coil driven.
·Check the position of the posts (some decks need the leads to point in the same direction, while others the opposite direction).
·Some postless decks might require cutting the leads beforehand.


How to Build/Wrap Vape Coils

Once you have the number and sizes of the coils established, you can now wrap them then place the leads in the post holes, secure them in place using the screws and then you are ready to start wicking.
RBA or RTA
They are pretty similar to building on RDA's, but they do come with limitations. In most cases, there is no space for large builds. Again, if you think your coil would end up touching the top cap, go with a smaller diameter build.
Building Twisted Coils
Yes, like the name suggests, it's just like a normal coil, but twisted. Before you wrap it around your screwdriver or coil jig tool, you need to twist the wire. They will produce better flavour than single wire coils because of the large surface area. Your resistance will be lower, but not halved due to the use of more wire per strand.
Parallel Coils
Parallel coils are also made with two wires like the twisted coil, except they are not twisted but parallel to each other. The resistance is divided by the number of wire strands, so make sure you are aware of your device's limits. We recommend using a dual 26-gauge Kanthal coil for beginners.
Final Thoughts
Building/wrapping coils really isn't rocket science. If you ever feel stuck with a certain coil build, there are a lot of great videos online showing you step by step how to build/wrap coils for all different types of builds. Looking for a new hobby? Coil building can be the answer.