Best Vape Pens to Quit Smoking - For Good
The best vape pen to quit smoking is the one you like the most. Outside of that, nothing else ought to matter.
Vaporizers come in a variety of styles, each of them a bit different. Depending on your personal preferences, the right one might differ. Perhaps, you'd rather try something powerful. Then, you've got to find whatever has the highest voltage. On the other hand, you might be looking for something else, subtler.
Vaping Compared to Smoking
Why would someone start vaping if they do like to stop smoking? Compared to smoking, vapes have a few benefits, on top of their lower price tags.
Vapor vs Smoke:
The largest difference between these two habits would be what they produce. Vaporizing something is much different than burning it. Vapor is an aerosolized mist, waiting to condense. Smoke happens to be made of the after-products of combustion.
Fewer Carcinogens:
Although vaping isn't healthy per see, there are a lot more carcinogens contained in smoke, urging your cells to replicate.
Better Flavor:
Above all, vaping tends to taste much better than smoking a pack of cigarettes. Multiple flavors line the shelves of most vape shops, so there are plenty of options for you to try. Trying them all out seems like a lot more fun than picking up another pack.
The Best Vape Pens to Quit Smoking
How many different Vapes could there possibly be? Each year, new products enter the market, giving us even more options. Picking the best of the punch sounds like it'd be rather monumental.
Fortunately, our years in the industry have honed our sense of worthwhile products.
So, we've narrowed down whatever's been released lately. That way, instead of sifting through duds, you'll go straight to the top.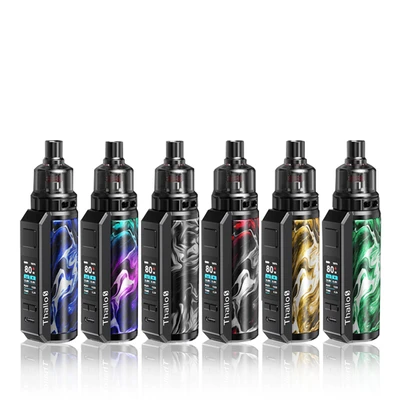 Smok Thallo S Starter Kit
Smok's Thallo S starter kits include everything you need to get started. Its 5 mL pod has ample room for your favorite juices, delivering one flavorful hit after another. Packed inside the tank, the MTL coil vaporizes anything you've tossed in.
Product Specifications
- IQ-XS Chipset:
Flavor tasting appears to be rather consistent, thanks to the upgraded chipset. Firing rates have been reduced even further. Now, within mere seconds, this heats up perfectly.
- Color Display Screen:
Fiddling around with the settings feels much less like guesswork, on account of this intuitive screen. Simply take a look at the display, and it'll tell you precisely how many volts you should expect.
- 5mL THALLO RPM Pod:
These pods feature several advanced innovations, making certain nothing leaks from them. Even hitting them frequently won't liquefy your juices.
- 0.6ohm RPM 2 DC MTL Coil:
Perhaps, you'd like to vaporize some salt-based nicotine. Using this coil vaporizes those juices nicely. Instead of tasting something burnt, it sends cascades of flavor to your bloodstream.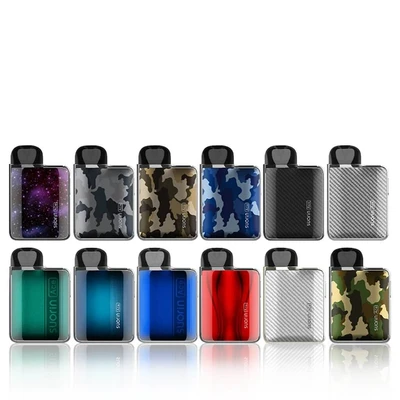 Suorin Ace 15W Pod System Kit
Suorin excels at making small, pocket-sized devices. These are easy to bring along on your travels, especially compared to larger devices. This 15 W vaporizer packs more of a punch than you might expect, generating some pretty huge clouds. Sought after by enthusiasts, their dual-firing mechanism ensures anyone can use them easily.
Product Specifications
- Dual Firing Mechanism:
By providing multiple methods of use, they've made their vaporizers easier to use than ever. Anyone who has one of these could use them by simply inhaling. Or, the fire button presents an alternative.
- Integrated 1000mAh Rechargeable Battery:
The larger the battery is, the longer the device ought to last, negating the need for midday refills. Built with an integrated battery, recharging isn't as common as you might expect. The 1000 mAh provides sufficient power for about a dozen hours.
- Zinc-Alloy Chassis:
The zinc alloys Combined strength, durability and affordability. Ultimately, the end result is both long-lasting and affordable. Even dropping this vaporizer won't take it out of commission.
- 3.3V - 4.2V:
A wide enough range simplifies your favorite hobby. For thicker juices, crank up the volts. Then, drop them down when you change to something else.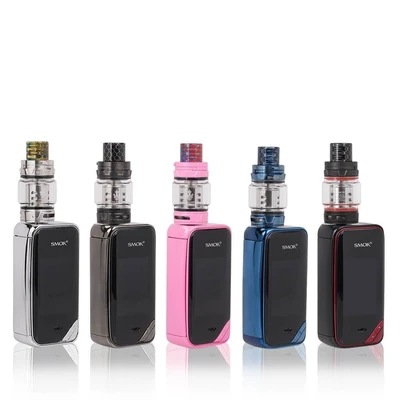 SMOK X-Priv 225W Starter Kit
Smok's most powerful vape yet, the X-Priv produces a staggering 225W of power. Vaporizing anything with ease, these devices have impressed even the most ardent users. Besides, with such a large tank, stopping your day just for a refill ought to become a thing of the past.

Instead, you can spend your time appreciating its beautiful stainless steel chassis. Even reckless behavior doesn't seem to leave a scratch.
Product Specifications
- Dual 18650 Batteries:
More than one battery powers this device, adding even more power to the package. Built with a dual-battery design, keeping this vaporizer powered on sounds like a piece of cake.
- 8ml Capacity:
How often have you had to refill your last vaporizer's tanks? Less than half of all manufacturers create tanks with more than 5 mL capacities. Using one of these provides about 60% more space than its most-expansive competitors.
- 225 W Max Output:
225 W looks like it's among the most powerful devices on the market. Massive clouds slipping through your lips, after each hit, the taste is simply overwhelming.
- Stainless Steel:
Stainless steel starts by forging iron at extremely high temperatures, reducing impurities. Enough time spent in those conditions purifies the iron-based alloy. Thus, stabilized by ionic bonds, the new alloy is stronger and lighter.

Assuming it's been processed correctly, the final result reflects light almost like a mirror. Plus, it's tough to stain.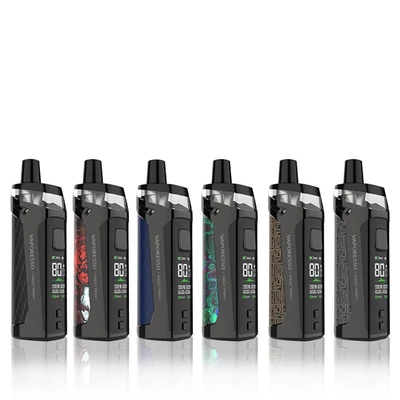 Target PM80 Pod Mod Kit - Vaporesso
Vaporesso's latest innovation appeals to nearly everyone. Reading how hot each hit will be is as simple as taking a peek at its color screen. Based on the AXON chipset, efficiency seems to be this device's number one priority. Even running out of power doesn't look like it'll slow you down for long, thanks to its fast-charging design. Within less than half an hour, your battery ought to reach over 80%.
Product Specifications
- 0.96" TFT Color Screen:
Measuring 1 inch diagonally, this color touchscreen displays everything you'd like to know about how the next hit should taste. Suppose you'd like to adjust your vaporizer's resistance level. Looking at this screen dispels any uncertainty, letting you fine-tune with precision.
- AXON Chipset:
Have you ever thought about how electrical pathing affects the flavor produced by a vape? Even if you haven't, the engineers over here have been one step ahead. Thankfully, you'll be the one who benefits from such foresight.
- Smart Coil Recognition:
Anyone who has switched coils on a vape understands how they impact the experience. Failing to correct for resistance level variations is an easy way to burn something, typically your next hit. Although tasting burnt vapor doesn't sound like the worst thing in the world, we'd rather avoid it.
- 2A Micro USB Charging:
This vaporizer's integrated battery charges far more rapidly than most of its competitors, thanks to its 2A charging. The higher your device's amperage, the less time it'll take for the battery to charge, minimizing downtime.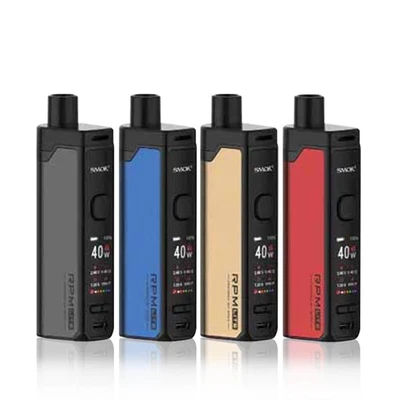 RPM Lite 40W Pod Mod Kit - Smok
40W seems mild compared to some of the higher-wattage devices on this list. Yet, after trying the RPM Lite, we've got to hand it to Smok. This vape's integrated 1250 mAh battery supplies enough juice for 16 hours.

Even your favorite RPM coils ought to be compatible, meaning you won't have to replace them. Plus, once the tank runs dry, the side filling design ensures refills are a breeze.
Product Specifications

- Internal 1250mAh Battery:
How long has your current vaporizer tended to last? A battery this large beats everything other than the largest of its competitors.
- Compatible With All RPM Coils:
Each RPM coil has its own set of characteristics. Switching between them changes how your experience tastes, contouring it effortlessly. Anyone who prefers customizable experiences is going to love this.
- Side-Filling Design:
Spilling juice always annoys us, especially when refilling a pond. This side-filling design limits how much juice is spilled, eliminating most headaches.
- 0.96" TFT Color Display Screen:
Comparatively, this would be among the largest screens on any vaporizer. People who struggle to read color displays ought to find these easier to read than most.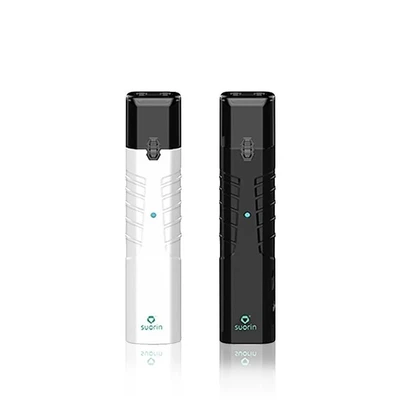 Suorin iShare Single Starter Kit
Suorin loves sending its users home with simple devices. Our opinion would be that the iShare outperforms most vapes at being the most portable. So, if you'd like something discrete, taking this anywhere shouldn't be challenging. Despite its smaller battery, you'll hardly notice the vape run dry. It charges so fast even a few minutes gives quite a boost.
Product Specifications

- Draw Activated System:
Taking hits off this vape is as simple as breathing. Simply put the device up to your lips, and begin to inhale, pulling in more vapor with each breath. To hit it again, simply pull on the vape another time.
- All-in-One System:
Buying this package provides everything needed to get started vaping. So, if you'd like to get everything all in one place, this would be the place to start. Spending money on a single package sounds much simpler than picking up multiple products. For that reason, we've found beginners tend to love this one.
- Built-in 130mah Battery:
Sure, this battery doesn't look all that impressive on paper. However, after plugging it in, only a few minutes of charging provides several hours of life. That way, even though its capacity is limited, those limitations won't seem to affect you.
- Refillable 0.9ml Suorin Pod:
Whatever vaporizer you decide to use, the size of its pods will impact how often you need to refill them. An ample pod, such as this, minimizes how often you've got to fill them back up. Not to mention, even forgetting your juice at home won't ruin your day. Since the pods have plenty of space, a single refill can last for days.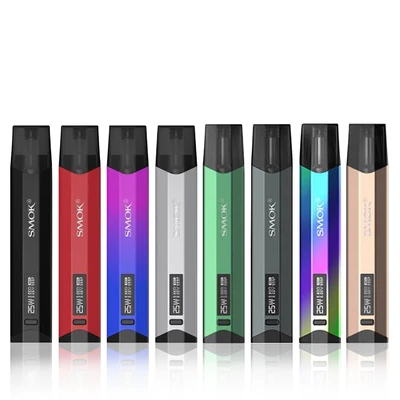 NFIX 25W Pod Mod Starter Kit - Smok
Smok's NFIX kicks out a meager 25W. Yet, even though it doesn't look like much, it hits like a mule. So, people who like unassuming packages might want to take a gander at these. Its small display has crystal-clear clarity, never leaving you in the dark. Even adjusting the resistance level is simple because of it.
Product Specifications

- 0.69" OLED Display Screen:
Sure, other display screens might have a bit more real estate. However, compared to these, their clarity comes up lacking most of the time. We'd rather see something as clear as the bright blue sea than struggle reading a large green screen.
- Integrated 700mAh Rechargeable Battery:
Amply sized, this rechargeable battery should never let you down. Even a few moments plugged into the wall supplies enough of a charge to get you through the day. That way, on the off chance those batteries die, solving the problem isn't an ordeal.
- Intelligent Atomizer Recognition:
How often have you burnt a hit because someone forgot to compensate for the new atomizer? When that happens, coils don't last. Fortunately, this feature eliminates such problems entirely, erasing them from the picture.
- Type-C USB Port:
Type-C chargers are easier to use than other types of USB, thanks to their universal design. It's impossible to plug them in the wrong way.