BEST SMOK RPM COIL FOR SALT NIC ELIQUID
RPM is Smok's acronym for Real Pod Mod. It is also the name of both a line-up of refillable vape pod kits and a family of coils. Starting with the Smok RPM40, Smoktech began to offer all-in-one vape pod kits that came with two pods. One coil being compatible with RPM coils and the other with Nord or RGC coils in the case of the RPM80. The advantage of using RPM coils for nic salts is that they are larger, work at higher wattages and are compatible with devices such as the Smok RPM80 and Fetch Pro which have much larger batteries than smaller refillable vape pod kits. To be able to enjoy potent salt nics at lower wattage settings on a device with a battery the size of a mod is a huge benefit if you are worried about your battery giving up the ghost. 
NORD COILS VERSUS RPM COILS
The Smok Nord 2 and Smok RPM40 are both 40w vape pods that are compatible with Nord and RPM coils. The Nord coils are a smaller and older design but extremely popular. We have already examined the Best Nord coils for max-VG eliquids and the best Nord coils for salt nic.
The larger RPM coils have fewer options for nic salt vapers. Their larger size allows for bigger juice ports and this is ideal for max-VG eliquids. Their larger size is also conducive to lower resistance designs and subohm vaping.
Many of the lower resistance RPM coils really take advantage of the 40w output offered by the Smok Nord 2 and RPM40. This is why we focused on the best RPM coils for max-VG eliquid in a previous edition. But the fans of Smok devices like the Smok Pozz X, Fetch Pro and RPM80, which are not compatible with Nord coils, are not out of luck.
There is a Smok RPM coil that is perfect for nic salt vapers. And because it is compatible with larger refillable vape pod devices, you have the advantages of adjustable wattage and a larger battery. This is no small deal. The Nord 2 has a battery nearly twice the capacity of a Smok Novo 2 or Smok Novo 3.
SMOK RPM COILS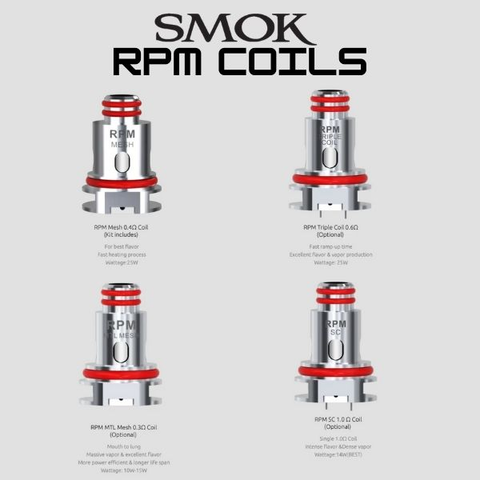 The most popular RPM coils are not really meant for nic salts. The Smok RPM Mesh Coil 0.4ohm and Smok RPM Triple Coil 0.6ohms have fast ramp up speeds and work best at 25w. This is probably too stiff for any vaping potent nic salts, which should be not vaped at higher wattage settings with subohm coils.

SMOK RPM SC 1.0OHMS
If you are looking to extract intense flavor and thick vapor from a lower nicotine salt nic, the Smok RPM SC 1.0ohms is worth considering. SC stands for "single coil" and this is a robust and big coil. Vapers who prefer 50mg/ml nic salts might still be better off sticking with the higher resistance Nord coils. But there are higher-VG nic salts, such as those made by VGod, that really shine in this coil.
Operating at best at 14w, the single coil design is a bit airier than the Nord 1.4ohm Regular Coil. But with a 50/50 VG/PG nic salt, especially a 25mg/ml or 35mg/ml nic strength, the Smok RPM 1.0ohm SC coil is just about perfect.