Best Small Vapes for Convenience and Discreet Nature
Small vapes are worth their weight in gold. We all have the same dilemma - carrying around too much stuff in the handbag or pockets. Wallets, keys, makeup, mobile phones…it's an endless list of things to hold and a vape is no different. Therefore, with so much stuff to carry, a lightweight compact vape for many is a necessity. Below we have some uber-convenient e-cigs for transporting around with minimal fuss alongside your busy schedule. The kind of low-maintenance discreet kits that may get lost because of their compact nature but prove their usefulness nonetheless.
Top 6 Small Vapes for 2022
Voopoo VMate E - Great for Stylish Pod Vaping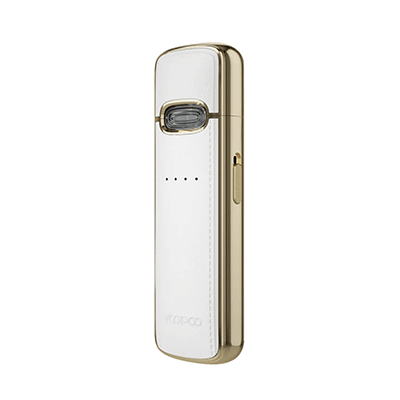 This vape has everything you could need in a deceptive piece of kit. Following on from the popularity of the original Vmate with VThru pods, the VMate E is only slightly bigger but boasts a whole number of new features that fit comfortably in the pocket.
Considering its diminutive size, it holds an impressive 1200mAh battery, which is more than enough for all-day vaping. In addition to that, it features upgraded 1.2 Ohm atomised coils for enhanced flavour and multi-layered leak-proof pods.
Dual hole air inlets improve airflow plus you can see your vape juice remaining levels through the clear design of the pods. And to top it all off, there is a welcome hygiene cap acting as a dust protector to give your mouthpiece that continued freshness time after time. All in all, for a vape that weighs 94g and stands at just 100mm in height, it delivers across the board.
Elf Bar FB1000 - Great for Easy Carrying
What we love about the Elf Bar FB1000 is its portability. Originally known for their delicious disposables, Elf Bar has taken it one step further with a couple of different reusable kits where you can either change the pre filled pods and keep the battery-powered device or take it one step further and swap the coils too.
The FB1000 is, fortunately, the latter, fitting everything you need in one of the most compact vapes on this list. It's tiny and best of all supports a lanyard which comes with the kit, so you can hold the pod kit around your neck and never have to search for it in your pocket or bag. It's the quickest accessible vape we've seen for everyday use, and you can read a full review of it here.
A surprising aspect nobody can complain about is the large battery capacity of 1500mAh, which impressed us considering how tiny the device is! It vapes a decent MTL throat hit and works equally well with 50/50 e-liquids and nic salts.
Smok Nord 5 - Great for Compact Sub-Ohm Vaping
The Nord 5 from Smok is another stylish closely packed vape in a long line of interchangeable kits. Starting with the Nord original which was more of an MTL kit with the potential to loosely DTL vape, it holds many of the great attributes that Smok enthusiasts love today in the latest Nord.
However, the fifth version of the Nord is different because it's tailored toward direct lung vaping and not in the slightest bit compatible for beginners who seek mouth-to-lung vaping like you would when smoking. This is perhaps one of the best Sub-Ohm compact vapes we've seen to date, especially for 2022 so far.
Easily fitting in the pocket, it has a comfortable mouthpiece for vaping large clouds whenever you like throughout the day. It's light to carry and airy to vape. Some other useful features include a lock on the latest set of coils to prevent leaks from happening. Overall, it's a reliable Sub-Ohm vape that's easy to carry around whatever task or event you have during the day. Just remember to be courteous around others and not puff large clouds of vapour in a crowd of faces!
Uwell Caliburn A2 - Great for Easy Filling
Alongside being a tiny little pocket vape, e-cig users prefer a kit that's easy to fill on the go. Conveniently designed, the Caliburn A2, much like the similar highly-rated Caliburn G with sleek pods easily fit wherever you prefer to store them. The pods pop straight off with no difficulty and a decent-sized top fill port hole to replenish your vape juice when needed is conveniently situated. It's light to carry and comfortable to grip.
Although its battery capacity isn't the largest at 520mAh, it should still be enough for vaping MTL most of the day without needing a charge, but this depends on the frequency you vape and the amount of nicotine you use.
Elf Bar Mate 500 - Great for Lightweight Vaping
It only weighs 23g! As far as weight goes, the Elf BarMate 500 is such a lightweight MTL vape that's the complete opposite of those bulky DTL mods you see in the street puffing huge clouds of vapour (which some love for adjustable features but less so for carrying around).
When paired with Elf Mate prefilled pods that have the same great flavours as the disposables, the Elf Bar Mate 500 is vaping at the most simple of levels. When you're done with the 600 or so puffs stored inside each pod, just discard it and pop in another. Carry a couple of those around and the small compact battery for vaping with no knowledge required.
It's the perfect introductory vape for mouth-to-lung newbies just entering the wonderful world of vaping after giving up smoking. In addition, even if you tend to have more experience vaping it's still a super portable and affordable primary or secondary kit. At a bargain price of £7.99 for the initial kit and a fraction of that for a pack of pods, you can't go wrong!
Smok RPM 25W - Great for Upgrading From a Starter Kit
Vapers tend to start with a disposable or simple starter kit because it's the easiest way to get started after quitting smoking. With no screen settings to alter or e-liquid tanks to think about filling, you can go through the motions of testing your nicotine strength at your pace. Some even like basic pod kits for this purpose.
But eventually, you'll want a step up. To transition from novice to testing what works out for you in the next step of the journey. Features like having that visible screen to change features and a puff counter to track your progress all help. The Smok RPM 25W not only has these but so much more, yet most importantly remains true to the convenience of an e-cigarette - in a small compact nature. Fitting in the pocket or bag, ready to vape at a moment's notice.
Which Will You Pick?
After looking through this list we've compiled, it barely covers the surface of the vast amount of compact vapes you can select and use on the go without a slight hesitation because you need to fill it up or change the coils with difficulty. 
All of these kits are ideal for beginners but resonate with all levels of vaping experience because they require very little maintenance. You can refresh or change the flavours of any e-liquid you like whether at home or outdoors with minimal fuss because these are not bulky devices.