Aspire Cleito Shot Tank Review | Enormous Vapor and Rich Flavor
If you're going for the disposable tank categories, why not try the Aspire Cleito Shot tank? There're plenty of tanks that bear the Cleito badge, but if you're looking for an ultra-portable sub-ohm pack, you can have around as a spare of your favorite, the Aspire Cleito disposable pack of tanks have got your back.
A disposable tank is basically a refillable platform but with a fixed heating mechanism so that if the coil burns out or wears out, you have got to replace the entire tank.
Specifications
Aspire Cleito Shot Tank
Coil Resistance:0.3Ω mesh coil
Recommended Wattage:35-45W
Thread Type:510
Airflow:Non-adjustable
Available Color:Cloud, Night, Mango, Lime, Cyan
Package Contents
·3 * Aspire Cleito Shot Tanks
·Six extra O-rings
·Refilling manual and warning card.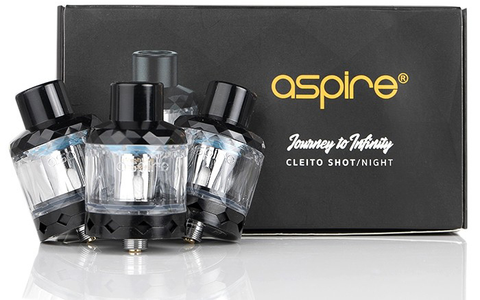 Description
The Aspire Cleito Shot is a disposable 4.3ml leak-free e-juice platform with top-fill design and runs on a mesh coil system. The tank boasts of colorful diamond-style design with the top cap edges surfaced like a clean-cut diamond to complete the exquisite look.
The tank can be filled conveniently from the top; screw and remove the top cap away then directly add your favorite vape juice via the filling port. The design itself is leak-free so don't worry about messy droplets accumulations in areas they're not supposed to be.
The heating mechanism is the impressive mesh coil design, with the Cleito shot boasting of an inbuilt mesh coil that clocks in at 0.3ohm, which is low enough for massive clouds production.
Design and Build Quality
To begin with, the Cleito shot comes in a various assortment of stylish color finishes that easily form matching combos with fan-favorite mods. The top of the tank features a non-removable drip tip machined directly onto the top cap resulting into a single unit. The tap cap edges feature a diamond-like surfacing that enables a comfortable grip. The plastic used is the high-grade PCTG that is resistant to cracking.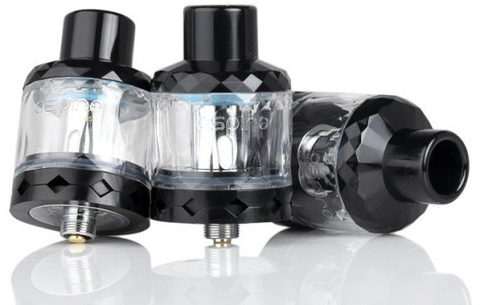 Inbuilt Mesh Coil
The heating technology is that of a coil. The tank makes use of irreplaceable mesh coil design that clocks in at 0.3ohms, which are low enough and produces substantive vaper amounts.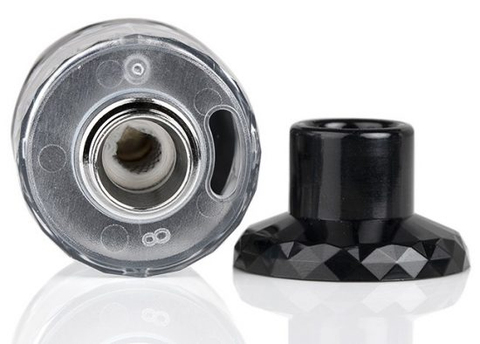 Top Filling Mechanism
The Cleito shot boasts of an easy top filling design that makes it easy to switch between favorite vape juices. To get your e-juice in, unscrew the top cap off and pour the e-juice into the tank directly via the filling slot and you don't have to worry about leaks.
Non-Adjustable Airflow
This comes as a surprise, considering that the tank is a Cleito Shot! This is a possible con as the vaper is denied control over the vape. But you if you accept that the tank is a basic one, you're going to sit back, relax and vape it easily without the hassles of playing with settings or dialing something in as you search for a "sweet spot".
While the airflow slots are not totally open, the airflow is still descent for a Direct to Lung (DTL) draw. Generally, therefore, this is what you can expect from the Cleito Shot tank.
Performance
The Aspire Cleito Shot has got a fairly conservative wattage range with most people locating their "sweet spot" between 35W-45W. The recommendation is that you break in your coil at about 30W then increase it as you search for that "favorite" puff.
Expect to receive the full flavor range, all the individual notes of the vape juice and a smooth hit. The mesh coil design guarantees even and efficient vaporization while the blended organic wicking material preserves flavor integrity.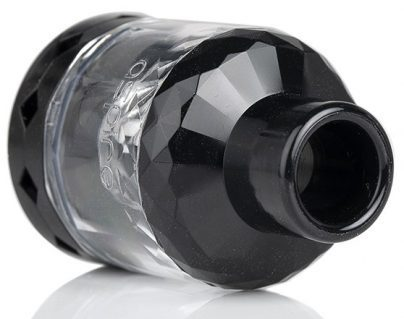 Pros and Cons
Pros
·Can be kept as backup tanks
·Great flavor
·Cheap
·Easy to refill
·Descent coil lifespan
·Increased heating surface area
·Prismatic diamond appearance
Cons
·Non-adjustable airflow
·The drip tip tends to pick fluff from the pocket when in transportation.
Overall Experience
Once you accept that the Cleito Shot is a basic tank, you're going to vape it happily. It packs a punch; putting out great flavor and clouds. It may not be a replacement for your favorite RBA, but it's an excellent backup to have around.