Aspire BP80 Pod Kit Review - Preeminent Performance
Let's welcome our new member of Aspire BP series, BP80 Pod Kit! ElegoMall had a real review about BP60 kit that the flavor of it is absolutely amazing! It got great or even better flavor compare to the hot and popular Breeze serise kits from Aspire too, but someone will probably do not like it's thick outline compare to other small pod kits. 

So, here comes Aspire BP80, with better flavor as usual and smaller and better outline design. Let's check it out now!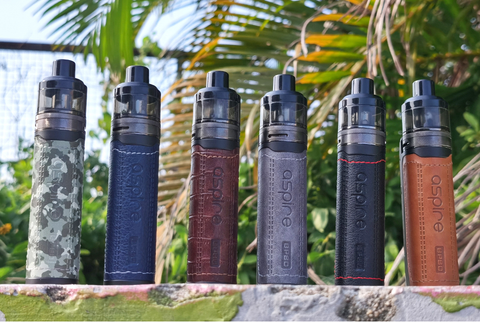 First, What You Can Get From Aspire BP80?
1 x BP80 Device
1 x BP80 Pod
1 x BP coil 0.17Ω
1 x BP coil 0.6Ω
1 x Type-C Cable
1 x User Manual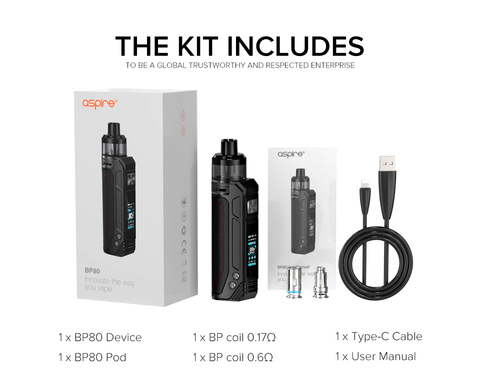 Design and Outline
Although it is a brother of BP60 kit, the appearance is quite different from BP60. Designed with metallic zinc alloy and soft leather, the BP80 achieves the combination of sleekness and ruggedness, it exudes not only a strong visual impact at first glance, but also a great and ergonomically comfortable hand feel.

Actually at the first glance of BP80 kit, it just reminds me Drag X and Drag S from Voopoo, for they all got leather material on appearance. What to know more about them? We will have a brief comparison between them at the end of this review.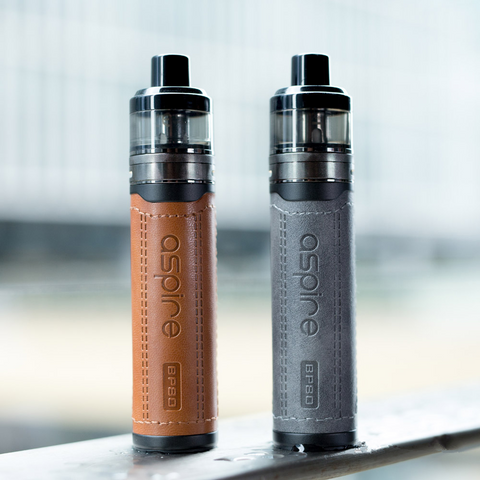 Pod and Coils
The BP80 standard version comes equipped with both a 0.17Ω Mesh coil and a 0.6Ω double-shot coil, the TPD version comes a 0.17Ω and a 0.3Ω Mesh coils. The new 0.17Ω coils can suit for higher output power from 45W-55W.

*Innovative Aspire coil technology
*Intense flavor and dense vapor comparable to an RDA
*100% vaporization of the original taste of your e-liquid
*Fully tested and durable quality for long lasting coil life

BP80 is compatible with all of the BP60 coils, even the RBA system! Get more flexibility with your different coils!

Filling the BP80 from the bottom of the pod, just lift the silicone seal to refill. With 4.6ml e-juice capacity to perfectly meet your daily needs.

Due to ingenious airflow system, the BP80 suits a wide range of vaping styles from wide-open and cloud-capable, to a tighter, more refined, MTL setting.
Mod
The most different and impressive feature of BP80 is the personalized UI setting of its 0.96'' TFT screen. With the selectable UI color options and adjustable brightness, maximized to meet your personalized needs. There are 5 colors to let you choose and you can also adjust the scree brightness based on your needs.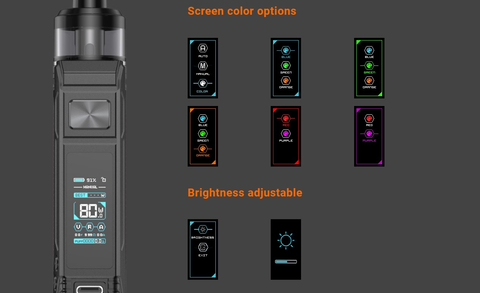 It also come with larger 2500mAh built-in battery with 2A Type-C quick charging for long working time. 
Main Features:
1. Bottom filling cartridge with precise bottom adjustable airflow
2. New 0.17ohm BP coils, compatible with BP60 coils and RBA
3. 2500mAh built-in battery, output power 1-80W, support 2A fast charging
3. Creative and smart chipset system, including auto mode & manual mode
4. Combination of sleekness and ruggedness for a strong visual impact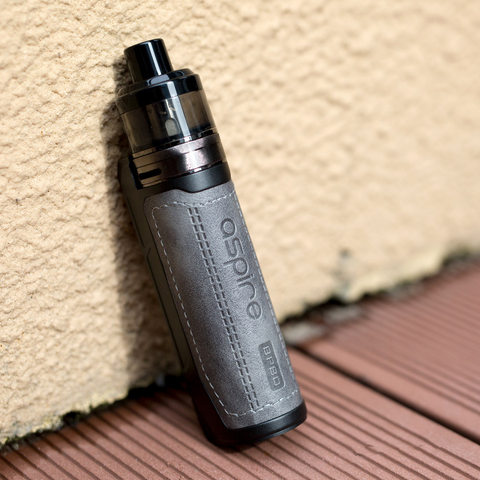 As we mentioned before, this BP80 kit really looks like Voopoo Drag series, so let's have a brief comparison of them.
Aspire BP80 vs Voopoo Drag S vs Voopoo Drag X