A Beginner's Guide to Picking The Best Vape Mod
During the early days of vaping, the devices were designed to be disposable, just like regular cigarettes. These days, however, vaping devices have become more sophisticated, packing some power and other features to customize your vaping experience. We're talking about vape mods.
This article takes an in-depth look at this type of vaping device and hopefully will help you find the perfect first vape mod.
Vape Mod: What Exactly is It?
A vape mod is a "modified" ("mods") or upgraded version of the core components of an e-cigarette or vape pen to include certain sophisticated functions. Think of it as the bigger, hunkier sibling of vape pens, built with more power and customizability in mind.
In addition, vape mods tend to have bigger batteries and hold more e-liquid. Since they have more power, they tend to produce more vapor and bigger clouds.

According to Vapor Chasers, a popular retail vape shop in Virginia Beach, vape mods are one of the most preferred vape devices since they can increase throat hits and enhance the overall flavor of the e-juice.
Types of Vape Mods
1. Box Mods
Box mods are the most popular type of vape mods and the best option for beginners. They are also heavier since they house 1 – 3 lithium batteries, which provides them more power.

The main advantage of a box mod is that it is very customizable. They often come with a universal 510 threaded connection which allows you to change the juice tank.

In general, box mods also have an OLED digital display showing your volts, wattage, and ohms. Some also come with a chipset providing more settings and features for customizing your vaping experience.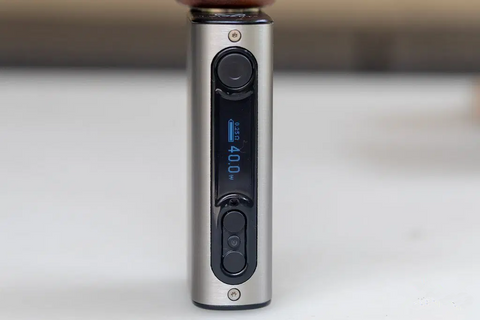 2. Mech Mods
As its name implies, this mod is entirely mechanical. Mech mods are not suitable for beginners because you need enough knowledge of Ohm's law to use a mech mod.

Mech mods have a similar size to a vape pen or box mod but don't have any fail-safes or safety features, thus they are considered unregulated devices.

A mech mod features a removable battery with a tank attached on top. The batteries in the mech mod send a current into the coil when pushing the firing button. Mech mods are durable, reliable, and easy to fix.

Also, since they have minimal circuitry and hardware, they can be relatively light and easier to carry around.
3. Squonk Mods
A squonk mod is a more advanced type of vape mod that uses the dripping style of vaping.

It features a built-in squeeze bottle used to free vape juice from within your device up through the 510 connection or your atomizer. Most use an RDA as the preferred atomizer since it removes the need to frequently drip through the mouthpiece.

Squonk mods are best for the mid to advanced-level vapers.
5 Features to Consider in A Vape Mod
Getting a vape mod allows you to completely modify your vape device and overall vaping experience. You can pick accessories and features that go with your mod instead of getting a full kit.

Some of the features you need to consider include:
1. Power Range
Most mods have a feature that can adjust the wattage that connects to your atomizer. It is often labeled as "variable wattage". The higher wattage, the more powerful a mod is. Typically a higher wattage is much better, but most beginner vapers don't really need it.

In general, vapers don't go above 75W. However, if you're a fan of devices that produce big clouds, then choose the higher power mods.
2. Tanks
Depending on the mod device you choose, you can choose from a variety of tank types. If you go for the bigger box mod, you can choose a tank with a larger diameter.

If you choose a squonk mod, then you can pick from a variety of bottom-feeding drippers. For mechanical mod, any tank should work as long as you keep an eye on your coil resistance.
3. Coils
A variety of tanks can also mean a variety of choices for coils. If you pick a vape mod with high power output, then you can choose a sub-ohm coil, which allows you to produce huge clouds and vapor.
4. Battery
If you choose a mod with a removable battery, you can also choose from different battery types. This can vary in terms of amp limit, capacity, and discharge rate.
5. Temperature Control
Choosing a vape mod that comes with temperature control functionalities can help you set a specific temperature when vaping. With better temperature control, you can avoid the "dry puffs" and get the best flavor out of your e-liquid.
Take Away
And there you have it!
The world of vaping continues to evolve, and vaping innovators are constantly producing and introducing new devices with advanced features into the market. Today's vape mods are becoming more powerful and customizable to provide the best vaping experience.