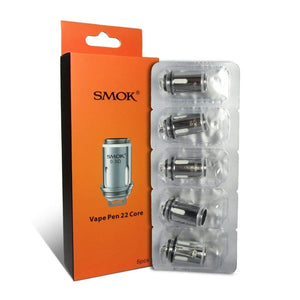 Nicotine-Free, 0mg Nicotine

Authentic and Genuine with the Verification Sticker located at the package box

CE and ROHS Verified

Pack of 5 0.3ohm Dual Core

Replacement Coils for SMOK Vape Pen 22
The SMOK Vape Pen 22 Replacement Coils utilizes the new Vape Pen Coil System that features an elongated design, catering specifically for the Vape Pen Starter Kit. It is equipped with quad wicking ports to ensure rapid and consistent wicking, while utilizing 3mm NiCr heating element for auxiliary performance. The 0.3ohm Dual Core is rated for low to mid wattage outputs, intended to be flavor-orientated delivery.
SMOK New QR Code Verification System
Open Vapingtour App, scanning both barcode A and B to check.If you are using the system for the first time, please check following instruction:http://www.smoktech.com/hotnews/announcement/new-anti-counterfeiting-system.
Warm Tips to avoid potential issue
 Please kindly read the user manual carefully to ensure the proper use.
 Please screw your coil and thread base tightly before fill eliquid. 
 Make sure the liquid is absorbed by the cotton wick at least stand for 10minutes to avoid a burnt taste. 
Coil should be replaced regularly based on how often it is used. 
Please close the airhole when you fill in the e-liquid 
No nicotine.