Smok Nord Replacement Coils Review
Searching tirelessly for new coils for your groundbreaking and conveniently compact Smok Nord? Relax, with the Smok Nord replacement coils you can enjoy every bit of your vaping. This 5-pack of top-quality Novo Smok has been engineered to keep your Nord operating at its performance peak!
Smok Nord Replacement Coils are available in three options: Regular, Mesh, and Ceramic, the Smok Nord Replacement Coil 5 Pack is highly recommended for this device. The 0.6-ohm NORD Mesh Coils comes standard with a honeycombed mesh design and is specifically designed for lower wattage vaping, and for those who prefer mouth-to-lung vaping, the 1.4-ohm NORD Standard Coils offers a traditional single-coil design to maximize even airflow and a high concentration of vapor. The all-new 1.4-ohm NORD Ceramic Coils are designed for flavor and longevity. All in all, there is a coil for every vaper in the SMOK NORD family of coils. The 0.8-ohm NORD Mesh MTL coil is a new meshed version of their mouth-to-lung NORD coil.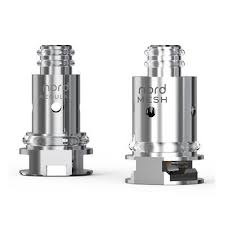 They also provide incredible build quality from top-of-the-line materials and have been designed to deliver intense, flavorful, and satisfying vapor when used with the Nord ultra-portable pod-based system.
The packaging is tight and attractive. A simple box is just perfect for such a product. The yellow and black colors on the packaging box is a great match and compliments each other very well. The front of the box has the image of the falcon in yellow and Falcon is boldly written at the top of the box. Behind the box, you have a description of the type of coil inside the box. Also, inside the box is the 3-pack falcon coil. Overall, the packaging looks great and you can get enough room in your bag or pocket to carry it around should the need be.
These coils are specifically used with the Smok Nord pod system. The Smok Nord replacement coils have been built for better performance of your device. Smok Nord range is currently available as the most popular range of pod systems. They started with an excellent Smok Nord kit in their early days. Even though the pod system is such a small device you can easily conceal in your hand, it has an amazing 1100mah battery. A superb portable pod system.
Building on the popularity of the Smok Nord pod system, they subsequently released the Nord AIO 19 and Nord AIO 22. The 19 and 22 are vape pen style kits but they all use the same coils as the original Nord.
You can purchase the five-pack Smok Nord Replacement Coils at $14.99 which is good value for the features it comes with. Again you can save 40% when you buy your Smok Nord Replacement Coils from ejuice.deals. Place an order today and enjoy a smooth experience on your vape device.